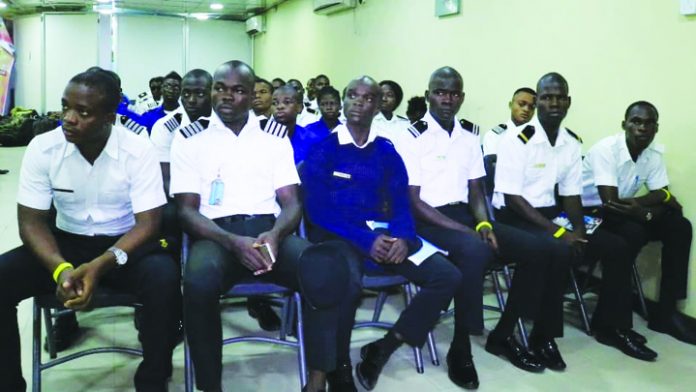 By Ferdinand Ekechukwu
A three day programme on maritime training tagged GMT 2018, organised by Ginai Integrated Ventures, had students of Certified Institute of Shipping, Badagry, Lagos, with diverse resource persons in attendance to share with the students, different perspectives on what they have learnt in school. The students numbering 106 were trained on health, safety and techniques on board a vessel.
The organiser of the programme, Mrs. Regina Jideonwo, stated that GMT 2018 – Ginai Maritime Training 2018 – was geared towards maritime training outside the school. "The Ginai Maritime is designed to impart skills outside the maritime schools to the students. We have some maritime skills that we want to impart to them. These include training on vessel cleaning and maintenance, vessel docking and mooring, and vessel survey and inspection.
"We have different kinds of
skills that we are training them on so as to be self-reliant after leaving school before getting a job. Apart from that, we are also trying to bring in entertainment into the marine industry. A whole lot of youths don't know about maritime. When you just call a youth that just finish high school and ask them what they want to be, you hear them say 'I want to be a lawyer, I want to be a doctor'. You hardly hear someone say 'I want to be or I want to study nautical science'.
"So, we want to create awareness for youths out there to know about the maritime sector; they will get to know most of the skills. We want to use this platform to marry entertainment with maritime so that we are be able to create awareness for them to be interested, hence comedian Koffi as the programme anchor, lightening the atmosphere with jokes."
Mrs. Jideonwu further stated that the yearly programme would take participants to different cities with maritime schools. "GMT 2018 is going to Warri; we will go to Port Harcourt. We intend going all over the places we have maritime schools to create the awareness and train them. It's not as if  it is a programme where we are really charging them for it. We take a token for logistics."