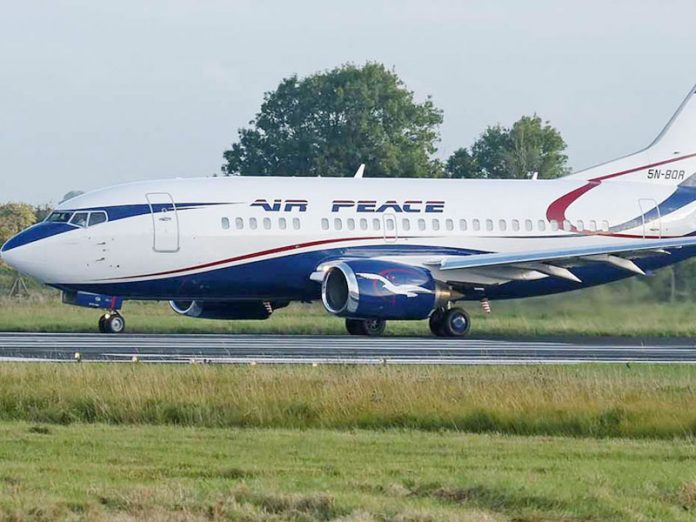 Chinedu Eze
Air Peace has resumed its Lagos-Asaba-Lagos operations with the addition of Abuja-Asaba-Abuja to the service. The airline pledged to deliver the best flight experience to the travelling public on the routes.
The airline, which pulled out of the route more than two years ago due to safety concerns with respect to the runway of the Asaba airport, said it was delighted to return to the Asaba route to end the hardship travellers had contended with since its exit.
Meanwhile, Delta State First Lady, Mrs. Edith Okowa and the Special Project Director, Asaba Airport, Mr. Austin Ayemidejor have assured Air Peace that its return to the Asaba route would be a success story.
Speaking moments after the re-launch flight touched down at the Asaba Airport, Air Peace Chairman/Chief Executive Officer, Mr. Allen Onyema said the airline had proved in four years of its flight operations that it was in the airline business to make a difference.
He hailed Delta State Governor, Dr. Ifeanyi Okowa for intervening in the challenges of the Asaba Airport and making sure it was once again safe for flight operations.
He said he was personally attached to the state, where he grew up, adding that the airline planned to add Warri to its Delta operations soon.
Onyema, who was represented by the airline's Corporate Communications Manager, Mr. Chris Iwarah, said: "About three years ago, we took the painful decision to suspend our flights into the Asaba Airport. It was not an easy path to go for us. But Air Peace is a place where matters bordering on safety are regarded with uncompromising discipline.
We, therefore, had no choice than to halt our Asaba operations when audits confirmed that it was no longer safe for us to operate into the facility with our fleet of Boeing 737 aircraft. That decision brought a lot of pain to the flying public, who however showed understanding. Today, we are glad that all that hardship has finally come to an end. Your darling airline, Air Peace is back to you, the good people of Delta," he said.
For her part,. Edith Okowa, said the state was pleased with the decision of the airline to return to the Asaba route. Air Peace, she said, would be supported to succeed in Delta.