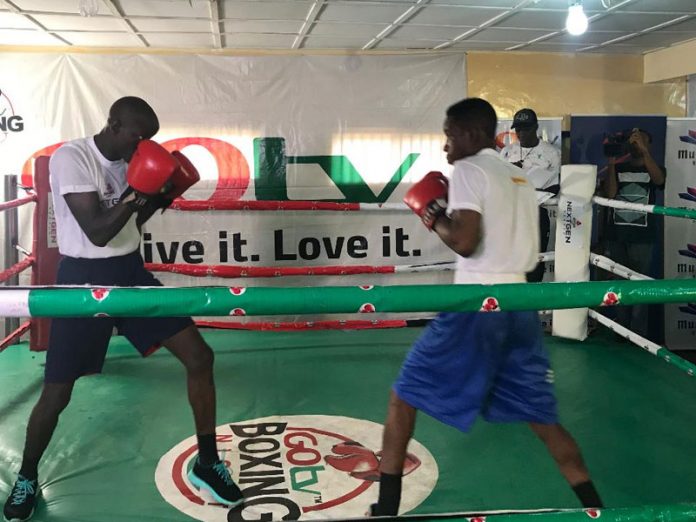 GOtv Boxing Night organisers have assured fans coming to watch the 16th edition of the show of adequate security in and around Teslim Balogun Stadium in Lagos, venue of the event.
The show, managed by Flykite Productions, will hold on Sunday.
Speaking in Lagos on Wednesday, Managing Director of Flykite Productions, Jenkins Alumona, stated that the organisers have always prioritised security, the reason none of the previous 15 editions did not record any untoward incident.
Alumona explained that the attention given to security is evidenced by partnership with KSquare Security, a leading private security firm with vast experience in handling high-profile events which has made fans feel safe since GOtv Boxing Night debuted in 2014.
"We could not have been having the crowds we are having if fans don't feel safe. Security tops our priority list. People need to feel safe to enjoy the show. It is the reason one of our partners is one of the country's leading security firms. We are assuring fans that they have nothing to fear in and around the venue. We are inviting families to come and enjoy the show and they can be assured there is nothing to fear," said Alumona.
GOtv Boxing Night 16, for the first time, will feature nine bouts. Two of these are international encounters in a rekindling of the age-old Nigeria/Ghana sporting rivalry. In the headline bout, Nigeria's Rilwan "Real One" Oladosu will seek to add the West African Boxing Union lightweight title to his honours when he takes on Ghana's Benjamin Lamptey. The second international fight, a challenge duel, will see reigning African Boxing Union lightweight champion, Oto "Joe Boy" Joseph take on Anama Dotse.
Two grudge rematches are also lined up. One will see Chibuzor "T Boy" Obi attempt to exact revenge for his loss to featherweight king, Waidi "Skoro" Usman, three years ago. The other, a light heavyweight title clash, offers Adewale "Masevex" Masebinu the chance to grab a title by avenging last year's loss to Kabiru "KB Godson" Towolawi.
The other fights will feature a crop of graduates from the last two editions of GOtv Boxing NextGen Search, a few of whom are already attracting rave reviews from boxing coaches on account of their impressive showing at GOtv NextGen Search and performances at the training camp.
The pairings will see Opeyemi "Sense" Elijah, best boxer at GOtv Boxing NextGen Search 4, vs Sheriff "Oshe" Ogunbanjo; Taiwo "Esepo" Agbaje vs Tope "TP Rock" Musa; Azeez "Who Say So" Tijani vs Waheed "Showmax" Shogbanmu; Isaac "I Star" Chukwudi vs Adeyemi "Spirit" Adekanla and Aminu "Lucky Boy" Akintayo vs Mutiu "Machine" Lawal.
The best boxer at the event, which will be broadcast live in 47 countries by SuperSport, will go home with a cash prize of N1.5million and the Mojisola Ogunsanya Memorial Trophy.