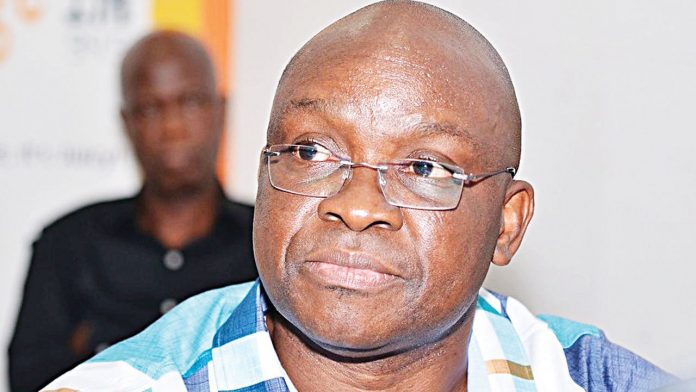 By Victor Ogunje in Ado Ekiti

The Chairman of the All Progressives Congress (APC) in Ekiti State, Paul Omotoso, has told Governor Ayodele Fayose to drop the idea of dumping the Peoples Democratic Party(PDP) to join the party, saying the governor is not wanted by party members.
    But Fayose, has said that he won't leave the PDP for the All Progressives Congress, advising the ruling party to bury the notion.  
Fayose had on Monday threatened that he could dump the PDP, if his rights were being abridged by those who belonged to the camp of Vice President Atiku Abubakar and 2019 Presidential candidate of the party.
The State APC chairman said the chairmen of all wards in Irepodun/Ifelodun Local Government Area, where Fayose hailed from and those in 13 wards where the governor lives and runs his business have told the governor to forget his plans to dump PDP to join APC until he clears himself of several criminal cases hanging on his neck.
Fayose gave a hint of his plans few days ago when he expressed displeasure at the just-concluded governorship primaries of PDP, threatening to dump the party for another party. But the Publicity Secretary of the APC in the state, Ade Ajayi, has advised the outgoing governor to conclude his court cases bordering on alleged sundry crimes before contemplating to join APC.
He said: "We want to prove to the world that APC will not provide sanctuary for criminal suspects, political prostitutes and lepers. We will never admit such character to this party and we advise Fayose to play his politics of destruction somewhere else.
"Fayose's criminal prosecution on 2005 poultry project fraud resumes on November 4, 2018. Fayose cannot turn Ekiti APC to a haven and sanctuary for criminal suspects and we advise him to forget any plan to smear Ekiti APC with criminal records."
Omotoso told Fayose  that APC "is a political party bounded by common ideals of integrity, openness, discipline and commitment to common goal of progressive governance, which Fayose does not possess or believe as can be seen from his style of politics and governance".
But in his reaction, Fayose, has said that he won't leave the Peoples Democratic Party for the All Progressives Congress, advising the ruling party to bury the notion. 
"APC my foot! I will never have anything to do with APC.
"For the party's leaders to be saying that Fayose is coming to APC amounts to unnecessary dissipation of energy.
"I will never, ever, go to APC and will never ever have anything to do with the party," he vowed.