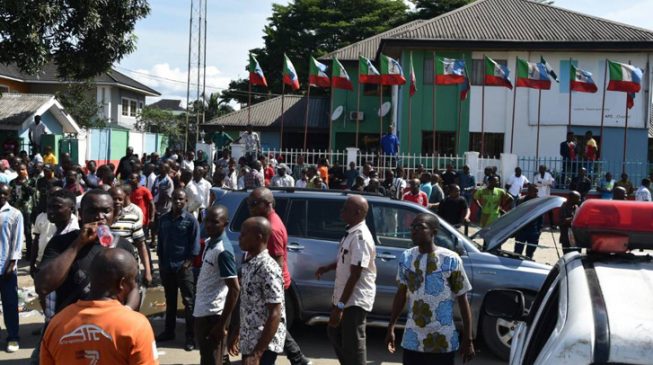 By Ernest Chinwo in Port Harcourt

There were massive protests in some parts of Rivers State at the weekend over the recent decision of the National Working Committee (NWC) of the All Progressives Congress (APC) to recognise candidates elected through indirect primaries by the Hon. Ojukaye Flag-Amachree-led State Executive Committee (SEC) of the party in the State.
 The protesting APC members marched through streets of Bori, headquarters of Rivers South-East senatorial district, and Ahoada-Town, headquarters of Rivers West senatorial district of the state.
Displaying placards with various inscriptions, the protesters called on the NWC of the APC to recognise Senator Magnus Ngei Abe as the governorship candidate of the APC in the state as well as other candidates elected through direct primaries by the Prince Peter Odike-led faction. 
They also demanded compliance with the earlier directive of the National Executive Committee (NEC) of the party on the use of direct primaries for Rivers state APC.
Addressing the protesters in Bori, an APC chieftain, Hon. Austin Nwakoh, said the decision of the NWC of the party contravenes the decision of the party's NEC.
 Nwakoh said: "NWC decision contravened the decision of the National Executive Committee (NEC), which is the highest decision making body of the party after delegates convention."
 He stated that the NEC of the party directed that states with pending legal issues should go for direct primaries, stressing that they would use all legal  means to make sure that the will of the people prevailed.
 The APC chieftain, who recounted the political marginalisation done to the people of Rivers South-East senatorial district for over 50 years, recalled how Abe was attacked with a rubber bullet 
 Speaking also, a youth leader in the area Bethel Oko-Jaja, said no candidate who is less than one month in the party would be accepted to become the party's gubernatorial candidate.
 Oko-Jaja said: "No first-timer will be ordained a bishop in any Church, thus, the said candidate is less than a month in our party we all suffered to build." 
 A rights activist and a candidate who emerged from the direct primaries method, Kadilo Kabari  said: " Injustice anywhere is a threat to justice everywhere."
 Abe had on Friday while addressing journalists, said he would appeal against the decision of the NWC to recognise Tonye Cole as the party's governorship candidate.
 He described the NEC's decision as unjust and vowed to use all legal means to ensure he obtained justice, while remaining loyal to President Muhammadu Buhari.