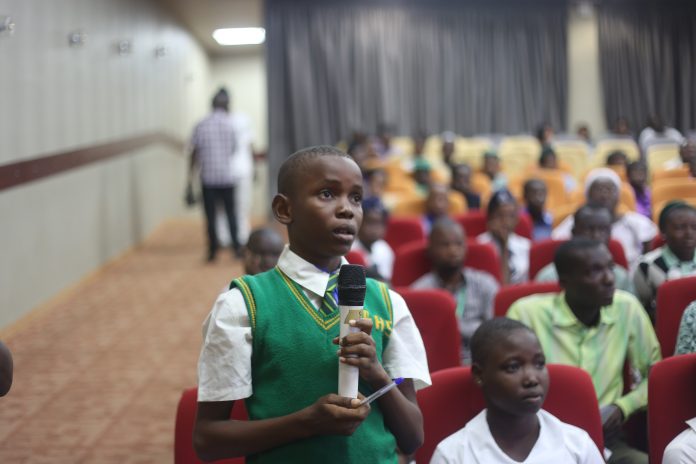 By Vanessa Obioha
In the next few weeks, 40 secondary schools in Ogun state will be contesting in the second edition of the Inter School Debate organised by Park Inn by Radisson.
Endorsed by the Ogun State Ministry of Education, the competition will see students exchanging views on diverse topical issues such as corruption, examination malpractice and technology.
The debate will officially kick off on October 22 and will run till February 28 when a winner will emerge.
At the pre-debate session recently, the representative from the state's Ministry of Education, Martins Akinsolu emphasised on the importance of the debate to the average Nigerian child.
"The debate is not about competition but about educating the students to be critical thinkers. We are using the world's best practice. This kind of debate is  what will develop critical thinking in the students. What we normally observe is that most of the students depend on others thinking to make sound decisions. Some of them are yet to discover  themselves. With this debate, we hope they can express themselves well irrespective of the environment they find themselves in."
The General Manager of the hotel, Kayode Aina echoed similar thoughts while stressing the dearth of education in the country: "There are  serious challenges confronting the educational sector in Nigeria. We can't just close our eyes so that's why we are making this little contribution to the betterment of the sector.
To ensure a credible debate, we partnered with the  State Ministry of Education to select the participating schools which comprise public and private schools; and to train the debaters, judges and other officials on necessary skills to ensure flawless debates. One of our primary goals is the reward  students with scholarship funds as well as provide infrastructural development in the schools. Statutorily, it is the responsibility of government but the private sector can assist. We are starting something with this project and we hope the Federal Government will be part of this."
Launched last year as part of the hotel's CSR initiative 'Education and the Nigerian Child', this year's edition saw an increase in the number of participants. Only 20 schools participated in the first edition with the winner going on a three-day all expense paid educational tour  to Kenya. Aina is optimistic that the debate will get to the national level.
For this year,  the hotel  alongside its Partner Kola Obadimu Jr's Playhouse  intend to increase the reward price this year.
Some of the schools competing at this year's debate include Baptist Boys High School, Abeokuta Grammar School,Victorotti Private Secondary School, Agbado District Comprehensive High School,   The Ambassadors College, among others.