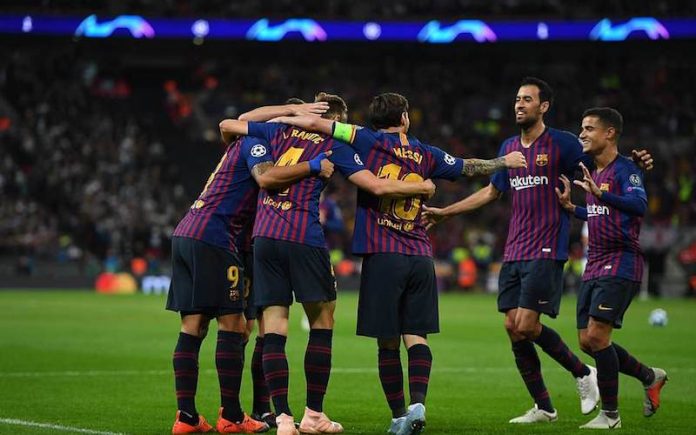 Barcelona face a difficult test on Sunday night as they travel to Valencia in search of their first La Liga win in four games.
Lionel Messi inspired Barca to a 4-2 Champions League win over Tottenham at Wembley in midweek, but the Liga champions need to return to winning ways back in Spain after picking up just two points from their last three domestic outings.
Sunday's clash could be a tight affair given Valencia's strange form. Marcelino Garcia Toral's side have only conceded six goals, but have scored just five to leave them with five draws from seven La Liga games to sit 14th in the table.
Meanwhile, Real Madrid could have been forgiven for watching on with envy as Barcelona lifted the mood with a rousing win over Tottenham on Wednesday.
Spain's established pair have endured a turbulent fortnight, registering just one win between them in six league games. While the Champions League offered Barca some respite, Madrid's dip only deepened.
A strong start saw some predicting the European champions might even improve without Cristiano Ronaldo. After three opening wins, Madrid looked more balanced and better suited to gleaning the best from Gareth Bale and Karim Benzema.
But Benzema was chief among those that failed to deliver in the 1-0 loss to CSKA Moscow on Tuesday, the sharpness of his early-season form gone, just like his team's. It was Madrid's third game without a win, and without a goal either.
"We have to keep pushing, keep creating the chances," Real coach Julen Lopetegui said. "We missed chances but also missed that little bit of luck too."
Bale was absent in Russia with a minor groin strain, which he could shake off in time for today's trip to Alaves and they will be desperate to have him back. However, Isco, Marcelo and Dani Carvajal, who all give attacking impetus to varying degrees, are unlikely to return before the international break.
Ronaldo's name is never far from any conversation about Madrid's offensive edge and president Florentino Perez may be wondering if he should have pushed harder for a marquee replacement. Eden Hazard's electric performances in the Premier League will not have gone unnoticed.
Mariano Diaz is an alternative to Benzema, the 25-year-old who the club re-signed in the summer from Lyon and who enjoys the support of the fans, having started in Madrid's C team. He is more direct than Benzema but may offer less to his teammates.
"We have maximum confidence in Karim," Lopetegui said.
In Spain, when Madrid or Barca do well, the other seems automatically to be doing badly and Real's defeat by CSKA was compounded by Barcelona's victory 24 hours later at Wembley.
Lionel Messi is staying true to his word of an all-out assault on Europe this season. He now has five goals from two games in this year's competition.
"It was important after the recent results," Messi said.
For his team, the task is now to carry the euphoria from London to the Mestalla on Sunday. Valencia held Manchester United to a goalless draw in the Champions League and are showing signs of life after beating Real Sociedad last weekend. That was their first win in five games.
Barca coach Ernesto Valverde may decide to persist with the rotation that seemed to disrupt so much of his side's rhythm last week. Ousmane Dembele and Arturo Vidal were both left out of the line-up that beat Spurs and could be given a chance to reintegrate.
As much as the momentum appears to be back with Barca, the table shows them level on points with Real. Another slip-up and the feel-good factor could instantly be lost.
"Nothing has changed," Valverde said. "When you have not won some games it is difficult to react as the team has done. We have reacted."
Sevilla sit third after three wins on the bounce, a run they will be hoping to continue at home to Celta Vigo, who are without a win in four.
Meanwhile, Atletico Madrid, fresh off the back of their own Champions League win over Club Brugge, host Real Betis, in a battle of fourth against fifth.
Premiership Table
Team P GD Pts
Man City 7 18 19
Liverpool 7 12 19
Chelsea 7 10 17
Tottenham 7 7 15
Arsenal 7 5 15
Watford 7 3 13
Bournemouth 7 0 13
Leicester 7 3 12
Wolves 7 2 12
Man Utd 7 -2 10
Everton 7 0 9
Burnley 7 -2 7
Crystal Palace 7 -3 7
West Ham 7 -4 7
Brighton 7 -5 5
Southampton 7 -5 5
Fulham 7 -8 5
Newcastle 7 -6 2
Cardiff 7 -12 2
Huddersfield 7 -13 2
Fixture
Today
Burnley v Huddersfield 15:00
Crystal Palace v Wolves 15:00
Leicester v Everton 15:00
Tottenham v Cardiff 15:00
Watford v Bournemouth 15:00
Man Utd v Newcastle 17:30
Sunday
Fulham v Arsenal 12:00
Southampton v Chelsea 14:15
Liverpool v Man City 1 6:30
La Liga Fixture
Today
Girona v Eibar 12:00
Getafe v Levante 15:15
Alavés v Madrid 17:30
Leganés v Vallecano 19:45
Sunday
Valladolid v Huesca 11:00
Atlético  v Real Betis 15:15
Espanyol v Villarreal 17:30
Sevilla v Celta Vigo 17:30
Valencia v Barcelona 19:45
  Serie A Fixture
Today
Cagliari v Bologna 14:00
Udinese v Juventus 17:00
Empoli v Roma 19:30
Sunday
Genoa v Parma 11:30
Atalanta v Sampdoria 14:00
Lazio v Fiorentina 14:00
AC Milan v Chievo 14:00
Napoli v Sassuolo 17:00
SPAL v Inter 19:30
Bundesliga Fixture
Today
Mainz v Hertha Berlin 14:30
Borussia  v Augsburg 14:30
Fortuna v Schalke  14:30
Hannover v Stuttgart 14:30
Bayern v M'gladbach 17:30
Sunday
Freiburg v Leverkusen 12:30
Hoffenheim v Frankfurt 14:30
Leipzig v Nuremberg 17:00