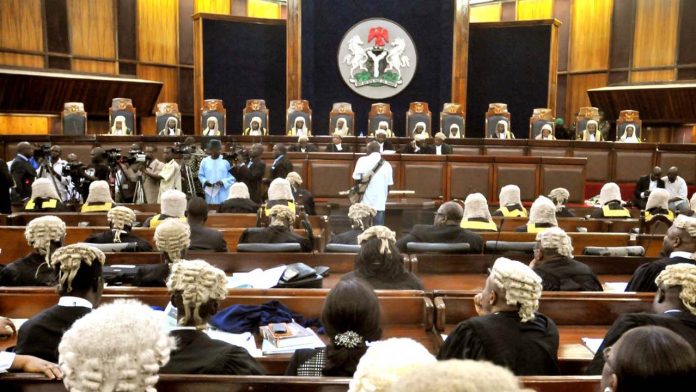 By Alex Enumah in Abuja
The National Judicial Council (NJC) has recommended for appointmen one Supreme Court Justice, three Chief Judges, three other judges of  state High Courts as well as a judge each for the Sharia Court of Appeal and the Customary Court of Appeal.
The NJC took the decision at its 87th meeting of 3rd and 4th October which held under the Chairmanship of the Chief Justice of Nigeria (CJN), Justice Walter Onnoghen.
According to a statement issued by the NJC Director of Information, Soji Oye, "The National Judicial Council under the Chairmanship of the Honourable Mr. Justice Walter Samuel Nkanu Onnoghen, GCON, at its 87th Meeting of 3rd and 4th October, 2018, recommended to President Muhammadu Buhari, GCFR, and Governors of Abia, Benue, Ogun, Oyo and Kwara States, Eight (8) successful candidates for appointment as a Justice of the Supreme Court of Nigeria, Heads of Courts and Judicial Officers".
While the NJC recommended Justice Uwani Musa Abba Aji, (JCA) to President Muhammadu Buhari for appointment as Justice of the Supreme Court, it recommended the following; Justices Onuoha Arisa Kalu Ogwe, Justice Aondover Kaka'an and Justice Mosunmola Arinola Dipeolu to the governors of Abia, Benue and Ogun States respectively for appointment as Chief Judge of their states' High Court.
Also recommended to the Ogun State governor for appointment as judges of the Ogun State High Court are; Oludayo Oluwabamise Osunfisan, Olusola Stephen Oloyede and Olatunde Hassan Oyajinmi.
The council however recommended Zakariyah Abdulrasaq and Eni Esan to the governors of Kwara and Oyo States for appointment as Khadi, Sharia Court of Appeal and President, Customary Court of Appeal of the two states respectively.
The statement noted that the newly appointed candidates will be sworn-in after the approval of the President and their respective state governors as the case may be.