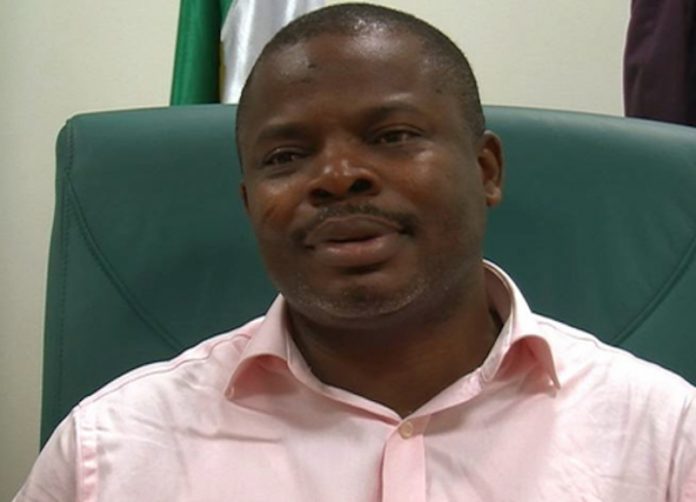 Adibe Emenyonu in Benin City
The lawmaker representing Akoko-Edo in the House of Representatives, Hon Peter Akpatason, has said that loyal members of the All Progressives Congress (APC) will carry out any instruction of the party leadership on Speaker Yakubu Dogara, who recently defected to the Peoples Democratic Party (PDP)
Akpatason, who spoke to newsmen at his country home residence also warned the APC leadership against manipulation of the party primaries.
Akpatason who is seeking a return ticket to the House of Representatives under the platform of APC, said his people were in support of his third term aspiration.
He said the APC was not happy with what Dogara has done.
The former NUPENG President said it was an aberration for a member of another political party to continue to be Speaker.
"We, as party loyalists, will carry out any instruction we get from the party. We will study the situation when we get back. Whatever the situation is is what we will react to.
"We cannot be happy to have a Speaker that belongs to another party. It is an aberration and has to be treated as such", Akpatason stated.
Speaking on the shifting of National Assembly primaries of the APC, he noted that the postponement makes aspirants to loose money as according to him, "any money given out in terms of logistics will not be returned when elections are postponed.
On the argument that direct primaries may be subject to manipulation, Akpatason said the direct primaries was not prone to manipulation like the indirect primaries where delegates could be bribed.
According to him, "Whoever is planning to manipulate this primaries does not love the party. We should watch out for PDP members in our midst.
"The person wants the APC to loose in the main election. If this election is manipulated, the chances of the APC winning the general elections will be slim
"A situation when you sit down and select people based on sentiments and not based on individual popularity and ability to win elections. When you do that the people will have other options."