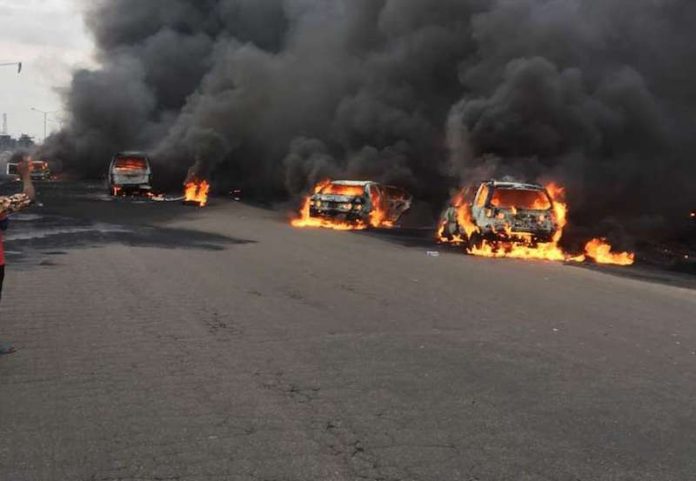 Rebecca Ejifoma
Seven vehicles were burnt yesterday when a petrol tanker caught fire after it spilled its content along the Lagos-Badagry Express Road between Barracks and Onireke Bus Stops in Ojo Local Government Area.
The News Agency of Nigeria reports that the inferno, which began at 5 a.m., destroyed the contents of a Mack trailer conveying crates of drinks from Intercontinental Breweries.
The fire gutted a station wagon Peugeot, one Space bus, a Toyota Hummer jeep, a Mazda bus, a trailer container with food products from Delta and an empty Mack truck.
Reacting to the inferno, the Lagos State Police Public Relations Officer, CSP Chike Oti, said "No life was lost and there was no report that anyone was injured during the incident. No fuel tanker was in sight nor burnt as a result".
He added admitted that in the evening of the previous day, October 1, a fuel truck was seen at the same point where the fire began, with its content leaking uncontrollably from the storage tank.
Oti said: "As a result, the Fire Service, who put out the October 2 fire, was called to attend to the situation. They arrived shortly after and applied some foamy substances on the road. At the end, both the fuel truck and the Fire Service men left without problem."
Meanwhile, the Commissioner of Police, Lagos State, Edgal Imohimi has directed the Disaster Management Unit of the Command to investigate the cause of the fire in collaboration with relevant agencies
A Senior Marshall Inspector of Federal Road Safety Corps, Mr. Ja'faru Anka, told NAN that he arrived at the scene a few minutes after the fire started.
He said that seven vehicles were gutted by the fire, but no life was lost.
"I arrived at the scene few minutes after 5 a.m. and as you can see, I am working with my team to clear up terrific traffic build-up," Anka said.
Some residents, who spoke with NAN, bemoaned the state of the road, which they said, had caused more harm than good to users.
A resident of Onireke, Mr. Folorunsho Dada, said that apart from the fire outbreak, the road had caused untold hardship to commuters.
"Just imagine in front of an Army barracks, there is no access road and this is the situation from the beginning of Alakija and even down to Agbara.
"This fire outbreak started around 5am when that tanker spilt its content on the road and left through another route," he added