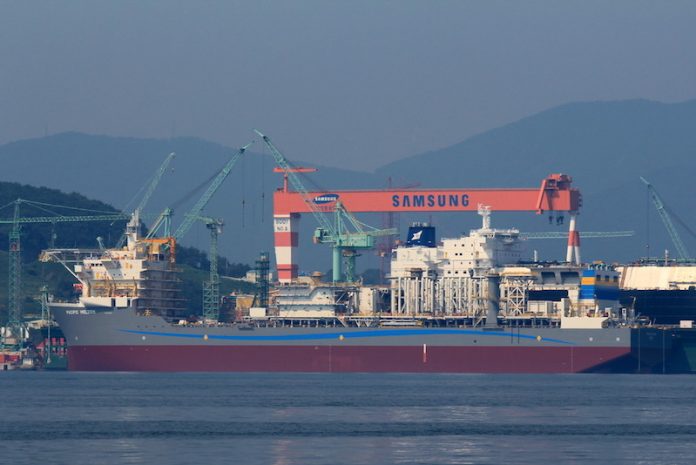 Oluchi Chibuzor
Samsung Heavy Industries Nigeria (SHIN) has disclosed that it built Africa's first ever fabrication and integration yard at the LADOL free zone in Lagos to boost Nigerian content in the oil and gas sector, adding that the facility would remain Nigerian for all times and cannot be removed or carried away.
Speaking to journalists in Lagos, the Managing Director of SHIN Limited, Mr. Yong-ho Jo noted that the fabrication facility was used to execute the Floating Production Storage Offloading (FPSO) vessel for the Egina deepwater field, adding that during the peak period, the yard created over 2,000 direct employment.
According to him, SHIN and its subsidiary, SHI-MCI Fze ensured the transfer of technology through many activities.
He noted that in the development and construction of the state -of-the-art fabrication yard in Nigeria, his company trained more than 600 welders as part of human capacity development (HCD).
Also under the Capacity Development Initiatives (CDI), Jo stated that his company sent 105 Nigerians on six-month training in Korea.
He also disclosed that SHIN paid LADOL $2.7 million to set up training centre at the free zone.
Jo also stated that during the settlement period with LADOL in the year of 2014, SHI-MCI had agreed to pay advance payment of $45million to the subsidiary of the manager of the free zone for the five years' sublease.
"The tariff in 2011 LADOL provided to SHI-MCI was $ 4 per square metre, which LADOL asserted that it was a mistake, skyrocketed to $48 per square in 2013 and this jumped once again to $74 per square meter in 2014, which has been increased 18 times over last three years. The tarrif of $74 per square meter, was based on bare land which did not reflect the market value at that time for a bare land.
"For SHI-MCI's stable operation and cost competitiveness in future EPC projects, SHI-MCI had no choice but to request reasonable tariff for the remaining period of sublease agreement."
According to him, the right to terminate the sublease is expressly stipulated under clause 14 of the sublease agreement.
He identified one of the circumstances for termination to include a 'material breach', which in turn is defined to include a breach of clause 9 ( sub-lessees' convenants).
Jo argued that LADOL has only cited an alleged breach of clause9.6(b), which only deals with situations 'where the consent or approval of the sub-lessor[GRML] is required to any act of the sub-lessee[SHI MCI FZE] under this Sub-Lease Agreement.
He insisted that SHI-MCI is not in breach of any applicable law or the sublease agreement.
"We have commenced proceedings on this dispute. This will be determined by the appropriate body," he added.
Jo also stated that SHIN did not unilaterally fix the cost of the facility, adding that the valuation was based on industries practice and quotation from third parties.
"The option of project finance was not feasible with respect to the facility as it was a Greenfield project without any assets and no guarantee could be provided, except Samsung's own credit. Hence, the option of corporate finance," Jo said.