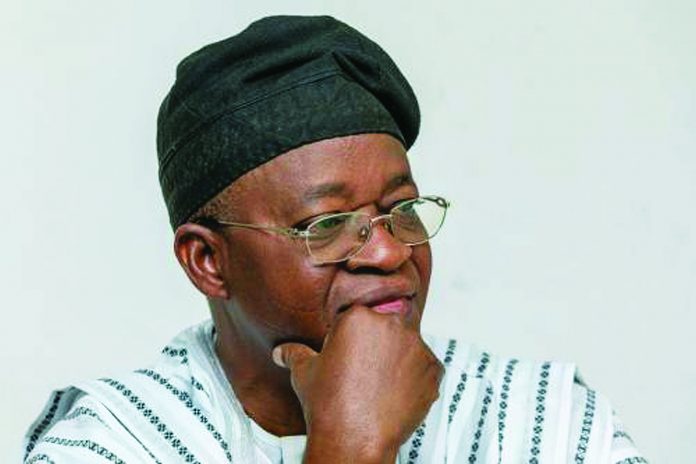 Ring True 
By Yemi Adebowale; yemi.adebowale@thisdaylive.com; 07013940521 (text only)
Pain pours in Osun State. The last seven years have been most traumatic. Governor Rauf Aregbesola represents that pain. No single individual has ever inflicted this much pain on the hapless people of this state in its entire history, with so much hunger, disease, poverty, malnutrition and infrastructural decay. At a point, churches and mosques were providing food for traumatised civil servants. Some of these public servants even committed suicide due to huge unpaid salaries. So, will such traumatised and oppressed people vote for their oppressors to continue managing the state? Well, that was what INEC told us with the voodoo governorship result declared on Thursday, which gave a dubious victory to the ruling APC in the state.
Aregbesola's stooge, Adegboyega Oyetola, will now, according to INEC, continue to run Osun State for another four years. Another four years of inept and coldblooded leadership looms. I still can't understand how a man that spent his entire two terms pauperizing his people would go back to these same people, to ask for 'continuity.' and they would vote for his candidate? Which continuity? This is certainly continuity of poverty and inept leadership? The good people of Osun State could not have voted for this kind of continuity.
The stories from this state in the last seven years are gory. Pensioners here have become beggars after serving for years. The plight of those who retired in the last six years is most pathetic. While they were in service, salaries and allowances were irregular, no thanks to Aregbesola. After retirement, pension and gratuities were also not paid. These retirees are permanently on the streets of Osogbo, protesting.
When I met Aregbesola sometime in 2006 in Lagos, (then, he was Lagos Commissioner for Works), I thought he would make a positive impact in Osun State. He rolled out his great dream for the state, if he emerged governor. I was impressed. He eventually became governor through the barrel of the court and he became a different man. Aregbesola was carried away and forgot about his "Marshal Plan" for Osun. Instead, his son became a major contractor in the state.
It is a shame that everything has been at a standstill in Aregbesola's failed state. Public institutions are as good as dead. Public hospitals and schools are in a mess due to non-payment of salaries and decaying infrastructure. Daily, civil servants die while waiting for salaries. They have lost over 100 of their colleagues to unpaid salaries. At a point, labour leaders in the state had to launch an appeal for donation of foods for the traumatised workers.
I get very angry whenever the Osun Governor attributes his inability to pay civil servants to dwindling windfall from Abuja. Let's look at it this way; if this country were to be implementing resource control, will Osun State be sharing in the oil revenue? It means non-oil producing states like Osun would have to run their states and pay their workers without oil money. Late Obafemi Awolowo successfully managed the defunct Western Region with funds from agriculture and industries. These days, governors are only interested in the monthly handouts from Abuja.
Again, Aregbesola took loans beyond the state's capacity and agreed that deductions be made at source for the lenders. So, his monthly handouts from Abuja are depleted further. How much exactly has he borrowed in the last five years? How much is deducted monthly at source to service the debt? These are questions begging for answers.
This governor has failed on all his promises to the distressed people of Osun State. He promised that the largely rural state would get a desired turn around, adding that the turn-around would be anchored mainly on agriculture. I remember clearly that he said he would turn the state into the food basket of not only the South-West region, but also of the nation as a whole.
He said Osun would tap into the Lagos food market. The plan was to edge out the northern states supplying the bulk of the food stuff in Lagos, by exploiting the proximity of Osun State to Lagos. Seven years down the line, I am yet to see the impact of the money the Aregbesola government claimed to have invested in agriculture to actualize this dream. I can't remember spotting a single tuber of yam entering the popular Mile-12 food market in Lagos from Osun State. Aregbesola's talk about commercial agriculture has remained chiefly a mirage.
Aregbesola clearly mismanaged the economy of the state. He also mortgaged the state to financial institutions. The debt he incurred is shrouded in misery. What the money was used for is also controversial. At a point, he said that the financial crisis of the state was beyond his ability, yet, he refused to resign.
One bogus project he launched with fanfare was the state's airport project located in Iddo. It is appalling that despite all the abracadabra around the project, the airport remains a pipe dream. This governor told the hapless people of Osun State that the airport would be completed in 2012 or early 2013. A visit to the site last week showed that it had been abandoned. What you find on ground today is the haphazard fencing done without any thought for engineering finesse.
The other things on site are heaps and heaps of stones and rubbish.  Billions of Naira has been expended on this white elephant project. The exact figure is a closely guarded secret.  Clearly, Osun State does not need an airport, considering the fact that there is one, just a stone throw in Ibadan. This project does not make any economic sense. Why should a governor, who claims to be a man of the people, waste the state's limited resources on an airport project amidst so much hunger, disease and poverty in the state? Key infrastructure in Osun public hospitals and schools are in a tattered state, yet, Aregbesola wasted money on an airport project. 
Just as Segun Akinwusi, former Head of Service, HOS, of Osun State, said recently, "When a government chooses to indulge in trivialities, the end result is for it to be looking for scapegoats to cover its infamy. Osun state economy today has collapsed, the debt profile has reduced the state indigenes to beggars and destitute." Aregbesola is usually not happy with people like Akinwusi. He could not silence this dogged fighter.
Unfortunately, this governor's stooge will now be in charge of Osun State for the next four years. This is what INEC said and not what the people of Osun state said. The true story of Osun State's finances will be further delayed. However, it can't be covered forever.
The Anguish in Numan
As I pen this piece, hundreds of Internally Displaced Persons from Numan, Adamawa State are languishing at Numan  Central Primary School. The IDPs are mainly from Gon, Bolki, Nzumosu and Yanga villages. These communities were raided by unknown gunmen early this month, resulting in the death of scores of people. Hundreds of terrified residents had to flee the communities to this IDP camp, where facilities have been overstretched. There is hunger in this camp, but these fear-stricken people can't return to their homes because the killers now control their communities.  The federal government must urgently deploy security men to secure the affected communities, so that these traumatised Nigerians can return to their homes. The story is that marauders usually come from a border community called Abare in Taraba to attack the communities in Numan.
For now, Adamawa State Government has to step up provision of relief materials to victims in the Numan camp. There is so much hunger there.
Perpetrators of the killings in Numan must be arrested and dealt with according to the laws of our land. Otherwise, the killings will continue. That was why the Deputy Chief of Mission and Charge de Affaires, US Embassy in Nigeria, David Young, attributed the incessant killings in Nigeria to the absence of justice.
The US diplomat said: "I think it is clear; we know and government knows that as well. It is clear that there is a climate of impunity. When people are committing serious crimes, they get away with it, without being brought to justice.
"It is so important that there should be very strong efforts to make sure that people are brought to justice for these terrible crimes."
Young advised the Nigerian government to strengthen its laws to deal with killers. I doubt if this government is listening to these words of wisdom.
Adebayo Shittu, Please, Step Aside
One of the jesters in Buhari's cabinet is the Minister of Communications, Adebayo Shittu. He never ceases to amaze me. The other day, his media aide made frightening corruption allegations against him and all we got was a piece of fiction from Shittu. This time around, this minister was exposed for not taking part in the mandatory NYSC scheme for graduates and he responded with a shocking cock and bull story.
Shittu said he had not violated any law of the land and therefore had no case to answer. He told surprised Nigerians that his membership of the Oyo State House of Assembly in 1979 amounted to "a higher service".  
He said: "I left law school in 1979 and the constitution says anyone who qualifies to contest an election or who has gone through an election and wins, is obligated to move through the House of Assembly, which I did for four years. So, it is a form of higher service as far as I'm concerned and even now, I am still in service."
On whether he has violated any law, Shittu said: "I didn't and I'm not worried. Do you see any worry on my face? I don't think so except someone has a superior argument and proves it. Unfortunately, Kemi Adeosun had a fake certificate, I didn't present any, I didn't have one, I simply followed the constitutional requirement that if you are qualified to contest an election, it is compulsory for you to serve the nation in the capacity that you won an election."
We all can now understand why I often describe Shittu as a jester. Haba! How can he equate his years in the Oyo State House of Assembly with NYSC? The NYSC is a straight forward thing. It is either you serve and get a discharge certificate or you are qualified for exemption, for which the authorities will issue an exemption certificate. Our dear minister does not have any of these two certificates.
The 1999 constitution is very clear about this. All Nigerians who graduated from any higher institution in the country or from universities outside the country, are under an obligation, unless clearly exempted by this same law, must make themselves available for the NYSC scheme.
The category of persons exempted from the compulsory NYSC scheme was clearly stated: "Notwithstanding the provisions of subsection (1) of this section, with effect from 1 August 1985, a person shall not be called upon to serve in the service corps if, at the date of his graduation or obtaining his diploma or other professional qualification,
he is over the age of thirty; or he has served in the armed forces of the Federation or the Nigeria Police Force for a period of more than nine months; or he is member of staff of any of the following: the Nigerian Security Organisation or the State Security Service; or the National Intelligence Agency; or the Defence Intelligence Agency; or he has been conferred with any National Honour." This exemption clause did not support any of the points raised by our dear communications minister. Shittu deliberately refused to make himself available for service. This is the truth.
It is obligatory for him to participate in the one-year national service, to qualify for any job in Nigeria. Section 13 of the NYSC Act states that any person who refuses to make himself available for service continuously for the period specified in subsection (2) of this section, is guilty of an offence and liable on conviction to a fine of N2,000 or to imprisonment for a term of twelve months or to both such fine and imprisonment. Shittu has clearly breached the provisions of the NYSC Act and should be sacked and punished according to the law.
The good thing is that NYSC authorities have dismissed Shittu's claims. According to its spokesperson, Adenike Adeyemi, the minister's claim that holding an elective office suffices for the obligatory national service is incorrect.