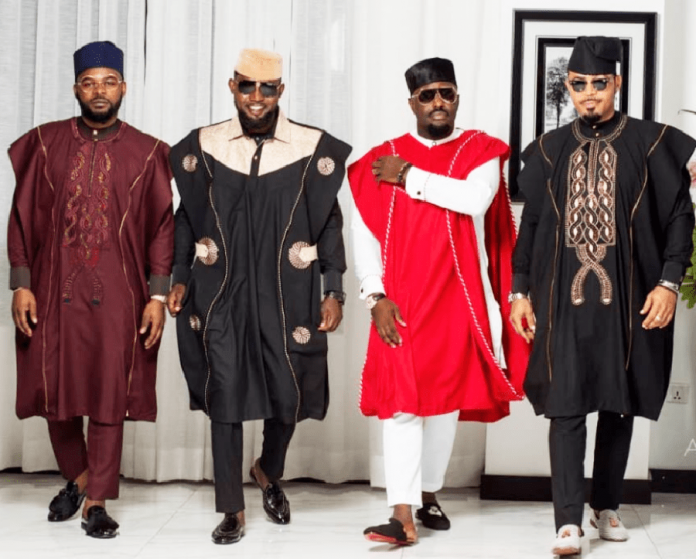 SHOWBIZFLAIR
The premiere of Ayo Makun's film, "Merry Men" last Sunday was a big hit with its "agbada challenge." Ferdinand Ekechukwu reports
It was expected to be more than just a movie premiere with its theme, "agbada challenge", as celebrities stepped out in their best 'agbada' designs with fanfare to grace the premiere of popular comedian Ayo Makun's most recent work, Merry Men, sub themed "The Real Yoruba Demons."
AY as he is widely called, raised the bar when he decided to spice up the premiere event which held at Imax Cinema, Lekki, Lagos, with a challenge to get Nollywood buffs talking about the movie.
The film premiere tagged "Agbada Challenge", had the comedian release on his social media handle some pictures, three days to the movie opening. The idea was to create excitement and there on, elicit the interests of Nigerian celebrities to an 'agbada' challenge so as to see who wore the best design of the attire.
Meanwhile, the challenge which was to help promote the new movie, involved TV  host Ebuka Obi-Uchendu and former BBN housemate Tobi Bakre whom fellow housemate, Alex set up against the Merry Men; the likes of Folarin Falana Falz, Jim Iyke, Richard Mofe Damijo and Ramsey Nuoah who are some of the actors in the movie as opponents of Team BBN. 
However, famed for his recent fashion statement with agbada, Ebuka, who hosted the last two editions of the Big Brother Naija, was also expected to as usual, put on a sizzling performance, but surprisingly he put up a 'disappearing' act at the grand premiere. Reacting to the challenge with some funny remarks hours before the challenge started online, AY had posted on Instagram a short video which features himself, Ebuka, Big Brother Naija3 Alex and Tobi Bakre, Falz, Ramsey, Jim Iyke and RMD, captioned "behold the Agbada challenge begins!"
Posting pictures of Jim Iyke wearing agbada on Instagram and commenting on the challenge, AY wrote, "@ebuka his name is @jim.iyke aka Nalz (the life of the party). The whole world knows that he is born for the fight that you picked with #AgbadaChallenge. The Agbada you see in here is what he wears to bed. Be warned against Sunday! #MerryMen #YorubaDemons in cinemas from September . . . @seyivodi."
In another post showing photos of RMD, the comedian wrote, "Who else goes to the office like this? @tobibakre! Baba has been doing this long before you were conceived and deceived into the #AgbadaChallenge trap by @ebuka. His name is @mofedamijo, Father to #Merrymen. He awaits your apologies sent through your dad, first thing on Monday morning… #cantwaitforsunday." The Agbada challenge was noted by most social media users to be one of fashion traffic as well as a trending topic which was so much fun few days to and up until the movie premiere as followers expected a winner.
Speaking during a chat about the movie, AY said his new movie was different from the ones he had done in the past. The comedian said, "As a matter of fact, The Merry Men is something different from my previous movies. This is more of drama, romance and action. Of course, there is an element of comedy in the new movie, but it tells a proper story. The idea is to let the world know that we can infuse comedy into a story that passes a good message. In this project, I was more concerned about the message than comedy." 
On it's themed 'agbada challenge' costume for The Merry Men's premiere, he stated, "When you have a new project, you will always think of something new to attract the public's attention. For the premiere of A Trip to Jamaica, we had a football match between ex-super Eagles and Jamaicans. At the moment, we all know the craze for agbada and we also know Ebuka Obi-Uchendu wears agbada a lot. I created a challenge for people to see the other celebrities who wear agbada as well but don't showcase it."
With Merry Men brings to four the number of movies produced by the standup comedian since his foray into filmmaking in 2014. In 2017, his movie 30 Days in Atlanta was reported to have registered a Guinness World Record entry as one of the films with the highest domestic gross in territories of Bollywood, Nollywood and Hollywood, with N78 million in seven weeks after its premiere and brought in a box office total of over N137 million, a record his subsequent movie A Trip to Jamaica surpassed at N168 million gross earning within three months of its release.