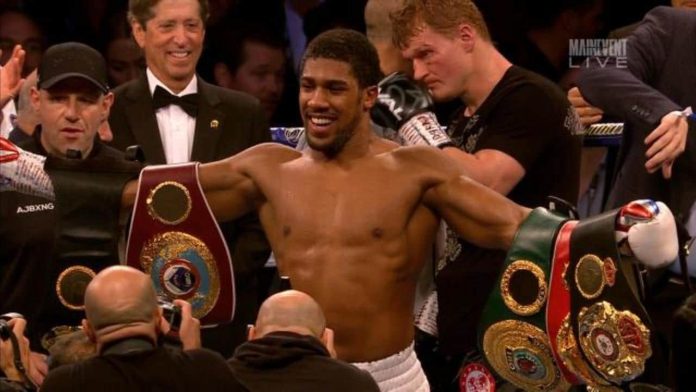 IBF, WBA and WBO heavyweight champion, Anthony Joshua last Saturday at the Wembley Stadium knocked out Alexander Povetkin in his 22nd fight- 21 by knockout, yet his claim to be the true champion is still in doubt in some sections and until he takes and defeat American Deontay Wilder, who holds the WBC title he may not be regarded as the 'Real Deal', reports Kunle Adewale
Moments after Joshua defeated Russia's Alexander Povetkin at the Wembley Stadium to retain his IBF, WBA and WBO heavyweight titles, he made it clear that his preferred next opponent would be WBC titleholder, Deontay Wilder.
Wilder is first due to face Tyson Fury but Joshua's promoter Eddie Hearn and his father Barry have sought meetings on a number of occasions to reopen negotiations, with a view to staging a Wembley Stadium showdown for the undisputed title on April 13.
Joshua says that Wilder is his 'No 1' choice "I have sent three separate emails to Barry saying that I have no desire to meet with Barry unless I have a real offer for Wilder to meet Joshua," the WBC champion's representative Shelly Finkel told Sky Sports.
"He and I have been in the business long enough to know what that offer would look like."
Hearn had previously told Sky Sports: "We have got a couple of months. We have made it quite clear we don't want to wait until Wilder fights Fury on December 1 to see what happens.
"We want to get a deal in place to know before then. The absolute sole focus for us right now is to fight Deontay Wilder for the undisputed title in April."
Former heavyweight champion, Lennox Lewis hits out at Joshua's attitude, telling the British boxing star to get out of Hearn's shadow and control his own destiny around a unification fight with Wilder.
Lewis, who has spent time with WBC champion Wilder, is adamant it is Joshua who is stalling on the fight to determine a true heavyweight champion.
"Go order Eddie Hearn to make the fight with Deontay Wilder. Now is the moment when you must take charge of your own destiny," Lewis told the Daily Mail.
The former undisputed world champion isn't impressed with the attitude of fellow British heavyweight, Joshua.
The well-travelled Lewis also had some other advice for Joshua, who has claimed the WBA, IBF, WBO and IBO belts in the comforts of Britain: "Be ready to fight in other people's back yards. It is about fighting, not poli-tricks."
Lewis, who said his biggest learnings came from his losses, said Joshua shouldn't fear defeat.
Joshua didn't take up a US$50m offer from Wilder for the highly anticipated showdown.
"There is no question that it is Wilder who wants the fight and it is Wilder who wants to prove that he is the man in this new heavyweight era," Lewis said.
"He explained to me all the difficulties he is having with Anthony and Eddie, of how AJ is listening to Hearn. Deontay most definitely wants this fight more than any fight.
"Joshua said he would take $50 million in a heart-beat but when that offer came he didn't accept. I would have taken 50 million quicker than a heartbeat and gone through with any fight. But I never ducked anyone.
"Bowe did everything he could to avoid fighting me but I forced the situation. I did so by ordering my manager Frank Maloney to go out and do whatever it took to make the fight. Yes or yes. No arguments. Then Riddick had to meet me or vacate.
"It comes to the point where the boxer has to take over from the manager or promoter as 'the boss'. Oscar De La Hoya and me were the first to take charge of our business. I took control of my destiny and opened up my chance for greatness. Anthony needs to do the same with Eddie."
Analysts are beginning to believe the world might not after all get to see Joshua-Wilder fight.
"In boxing, as in life, if something sounds too good to be true it probably is – and that's why the prospect of seeing an undisputed heavyweight world championship fight between three-belt titlist Joshua and one-belt man Wilder next is so unlikely," Dan Rafael, ESPN senior writer said.
He said the main reason is that "at least when it comes to actions instead of words, it seems like the Joshua camp is not actually serious about pursuing one of the biggest fights in the sport and easily the biggest fight in the heavyweight division in many years.
"I 100 per cent believed that the Wilder camp wants this fight and wants it next. I also have no doubt Wilder would be willing to travel to Joshua's home turf in the United Kingdom for the bout. Wilder has said so repeatedly and showed his road warrior spirit by previously signing to go to Moscow to defend his belt against AlexanderPovetkin, until Povetkin failed a drug test and the fight was cancelled(and Wilder later won a $4 million court judgment against him and his promoter)."
If Joshua (22-0, 21 KOs) wants the fight with Wilder (40-0, 39 KOs) next, it sure doesn't seem that way, regardless of what he says. It's clear in the offer Joshua's promoter, Hearn, recently made to the Wilder camp: a flat fee of $12.5 million, take it or leave it, for Wilder's participation in the fight.
Of course, $12.5 million large is giant money for most people, but for a fight of this magnitude, it is not a serious offer. If Wilder's team — managers Al Haymon, Shelly Finkel and Jay Deas and promoter Lou DiBella – accepted the deal, they would be committing malpractice on behalf of their client.
For Team Joshua to take Wilder as a $12.5 million expense without cutting him in for a large percentage of an event that could generate in the high eight figures is a joke. When Joshua faced Joseph Parker to unify their three belts last month, the Parker camp got one-third of the money in the event. Wilder is worth more than that, obviously; he brings the last piece of the undisputed title to the table, he brings a bigger fan base and, on his own, he generates more money than Parker does.
If Parker is worth a third, Wilder is easily worth at least that much and probably even a few more points. His side has stated it knows it's not getting 50-50 and hasn't asked for it, but to be offered a flat fee is not a real offer. It's an offer meant for the Joshua team to be able to run around and say, "Hey, we made an offer, and Team Wilder turned it down." It's called playing games, and it's nothing new in boxing.
"When we were bogged down in the will-they-or-won't-they nonsense of the Floyd Mayweather-Manny Pacquiao saga, Mayweather at one point offered Pacquiao a flat fee of $40 million. That's monster money, but not in the context of that event. Pacquiao rightfully said no. When the fight was finally made, Pacquiao got 40 per cent of the pie and earned well over $100 million."
Joshua-Wilder is the exact same situation but for less money. Wilder and his team would be foolish to accept such a laughable offer, and Joshua's camp knows it – which is why, at this point, all talk of the Joshua-Wilder being next is nothing more than a game boxing fans are not interested in playing.
"I have been trying to fight Joshua for two years, and Tyson Fury for five years," says Wilder. "Is Joshua vulnerable to my style? Of course, he is. I have a very strange style you can't prepare for. I'm unpredictable. I'm difficult to adjust against, to prepare for. And I'm a scary person. People criticise my style, say 'he fights wild' but look what happened to the 38 men who fought me." 
Wilder, however, insists that Joshua spends too much time "looking the part", obsessing with his pursuit of the body beautiful in an effort to obfuscate the weaknesses in which Wilder sees as a robotic style.
"I'd rather be the part than look the part. I'm lean, mean – I don't have the typical heavyweight physique. But I play the part. I've seen so many guys look the part but when it comes to the time, they can't perform. And if Joshua comes through Joseph Parker I'm gonna knock Joshua out. 
"Eddie Hearn has the British fans brainwashed that Joshua is the new heavyweight Messiah. It's hype! And I'll burst his hype bubble. 
"I don't care about the crowd. I don't care about home advantage. In fact, I like fighting away. All the pressure is on the opponent. If I come over there and face Joshua, y'all going to leave with long faces. Doubt me? I'll prove y'all wrong."
Wilder's long-term ambitions stretch to further than derailing the Joshua juggernaut, however. He is determined to rekindle America's love affair with the heavyweight crown, and return the country to the glory days when the likes of Ali, Frazier, Foreman and Holmes ruled the planet. It is why he feels it is incumbent on the five current leading heavyweights – all undefeated – to bring a resolution to the meaning of an undisputed king of the sport. 
"It's time to return the heavyweight crown to America," he says. "An American at the top of the heavyweight division again would bring great interest in the sport, and people are looking forward to me doing that in the division." 
Until Joshua fights and beats Wilder to unify the World heavyweight titles, doubts would continue to trail his claim to be the true champion of the world.