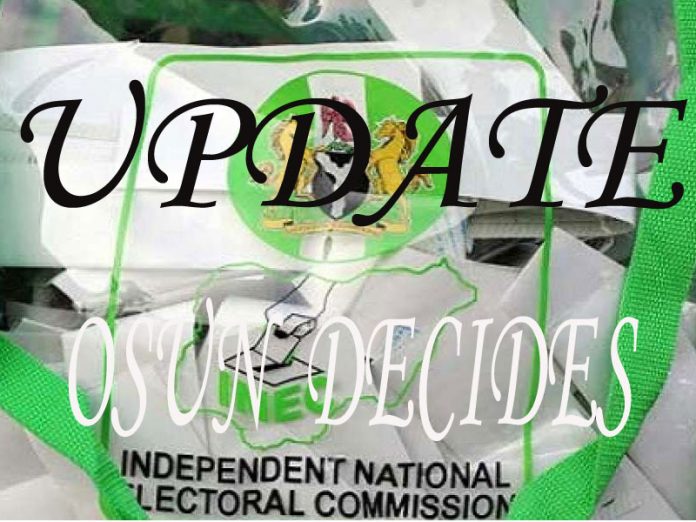 By Yinka Kolawole in Osogbo
The Peoples Democratic Party has described the supplementary election held in Osun State Thursday as the most brazen assault on democracy and biggest robbery ever witnessed in the history of the state.
The State Chairman, Hon Soji Adagunodo, stated this in a Press statement .
He said the open robbery allegedly perpetrated by the All Progressives Congress and aided by security personnel will be resisted by the party.
The PDP chairman explained that thousands of eligible voters were chased away from their homes in Orolu, Ife North and Ife South Local Governments in the early hours of Thursday.
"Scores of our supporters in those local governments were shot and matchetted on their way to polling centres and in the full glare of security men. Hundreds of people holding PVCs from other polling units were accredited and allowed to vote in Osogbo and Ife South Local Governments. PDP agent in Olode was axed and abducted at about 7am yesterday day.
"Media men and election observers were denied access in several polling units. By the time access was granted to journalists at about 11am, ballot boxes had been stuffed by APC agents acting in connivance with INEC officials.
"It was regrettable that election in seven polling units could not be freely and fairly concluded by the Independent National Electoral Commission.
"We reject any return of results from this sham and call on the INEC authorities in Abuja to direct that the so called supplementary election result collation be put on hold now.
"We equally invite leaders of thought in Nigeria and the International community to rise up now to rescue Nigeria's democracy from being ruined," the PDP leader said.
He called on all members and supporters of the party to resist any attempt to foist a concocted election result on the people of Osun using all legal means at their disposal.