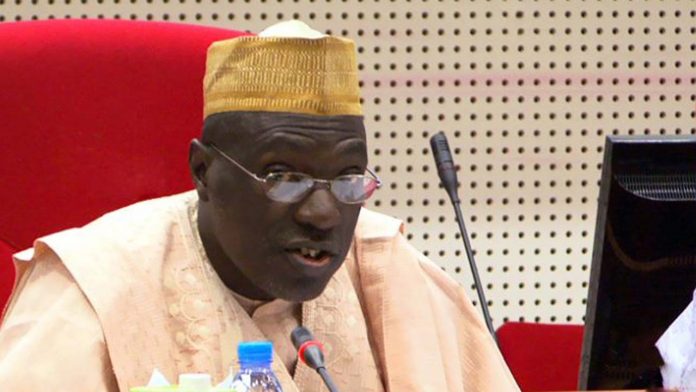 By Bassey Inyang in Calabar
A former Chairman of the Caretaker Committee of the Peoples Democratic Party (PDP), Alhaji Ahmed Makarfi, and the Governor of Sokoto State, Alhaji Waziri Aminu Tambuwal, have given high marks to the Cross River State Governor, Prof. Ben Ayade, for what they described as his investments in laudable projects that would impact positively on the future of the state.
Makarfi and Tambuwal — both presidential aspirants on the platform of PDP — stated this when they paid courtesy calls, separately on Ayade in Calabar as part of their consultation with party faithful in Cross River ahead of the October 5 and 6 presidential primary.
Speaking during the event, which held in the executive chamber of the Governor's Office Wednesday, Makarfi said the governor has planted trees that would germinate to bear good fruits for the state in future.
"You are investing in the future because we must restructure Nigeria and restructuring of Nigeria involves fiscal federalism. In the immediate, states without oil can be affected in one way or the other, but the foundation you have laid will be key in that gap and with support from the centre, you will benefit double as you will join the league of states that have these God given natural resources and it will be well with Cross River. I am not surprised because at your age you have made yourself, so, you must be seeing the future, for if you are not seeing the future, what you have laid on ground and laying on ground in Cross River, you will not do that," Makarfi said.
According to him, "The rice seeds and seedlings factory will be a source of foreign exchange, the garment factory with over 3,000 employees is aimed at creating jobs, and the cocoa processing factory and banana farm will boost export and generate revenue for the state."
Other projects he listed were the power plant aimed at boosting industrialisation and making factories self reliant, the deep seaport which will make export business easier and the superhighway which will serve as a corridor while linking the state to the rest of Nigeria.
Impressed with Ayade for his inclusion of non-Cross Riverians in his cabinet, especially the appointment of Kano-born Musa Maigoro as the Special Adviser, Non Indigene Affairs, the presidential aspirant remarked: "How I wish the presidency was zoned here this time around because you have shown that you are a true Nigerian and a nationalist," adding: "On behalf of all the non indigenous communities, I commend you for accommodating them in your administration."
Touched by the alarming security issues leading to the wanton killings and kidnapping in the country especially in the North-east region, Makarfi said: "I will be a no nonsense president as far as security and other issues in Nigeria are concerned."
Continuing, the former PDP helmsman affirmed: "I believe in PDP but I believe in togetherness, democracy means coming together, doing things together with mutual respect for each other. That is what you are and what I am, power comes from God, God has given us the brain and knowledge, have clean mind, go in the right direction and he will lead you," adding: "I believe you are one of our leaders that have the capacity to pilot us to get to where we should be in 2019."
Responding, Ayade recalled the role Makarfi played when he was the party's caretaker committee chairman during his case at the Supreme Court, where the party's lawyer turned his back on the matter, a situation the governor described as "a great and grave injustice," as well as "politics that was too huge".
The governor, who at some point broke into tears, said: "I cannot forget that night where the forces of darkness conspired to hurt an innocent person. If God did not put him there at that time, it would have been a different story. How on earth would a man prepare to appear before a Supreme Court only to get to the court and see that his lawyer has been changed?"
To the party delegates, the governor said: "I don't need to say any more to you. If you have your conscience you know that I have spoken a lot," and prayed God to continue to bless and reward the aspirant in his endeavors.
Tambuwal also described Ayade as a great achiever with the best ideas in governance.
The presidential aspirant said that Ayade has performed creditably well despite the fact that the nation is facing the most trying times in terms of economic development.
"We know that we are governing at very difficult times in the history of our country as governors of our respective states, but I must commend you for all your efforts to improve on the wellbeing of the citizenry, coupled with the various developmental strides you have recorded.
"You have been thinking outside the box, coming up with so many ideas that are not so common in governance in this part of the world.
"So, I am so proud of you and proud of your achievements so far and now appealing to the people of Cross River to continue to support my brother because I know that he has some of the best ideas as far as governance is concerned in Nigeria," Tambuwal said.
Speaking on his agenda for Nigeria if he eventually becomes president, Tambuwal said: "If by the grace of God I emerge as the standard-bearer of our great party, PDP and subsequently elected as president, we shall tackle head on issues bedevilling the Nigerian National Petroleum Corporation (NNPC) with the view to sanitising it for a more result-oriented revenue earner for Nigeria.
"The challenge has been that of revenue. Nowadays, revenue accruing to states are not being remitted to them as and when due and most times states and even the federal government are being short-changed by the NNPC.
"Today, NNPC has constituted itself into another government of its own inside the federated Nigeria. I'm saying this not because I am now in opposition party, the governor and I know that at the level of economic council meeting presided over the vice-president, we have had a lot of issues with NNPC which is why I will focus there to ensure that we have a more transparent, accountable and a body that will be alive to its legitimate responsibilities.
"Another critical area my administration will focus on will be to ensure the review of revenue allocation formula that is long overdue to ensure that more moneys are given to the states and local government areas to guarantee sustainable development at this level."
Responding, Ayade described the aspirant as unassuming, humble and intellectual leader, adding that the state will be happy to have someone in his person becoming a president because he has their interest at heart.
Ayade saluted his policy direction, especially with regards to the reforms he proposed for NNPC, adding that if the issue is holistically tackled, 65 per cent of the country's economic crisis will be solved.
"As a matter of fact, Nigeria does not have a true idea of the quantum of oil it produces daily. What we hear daily is all speculations," Ayade said.