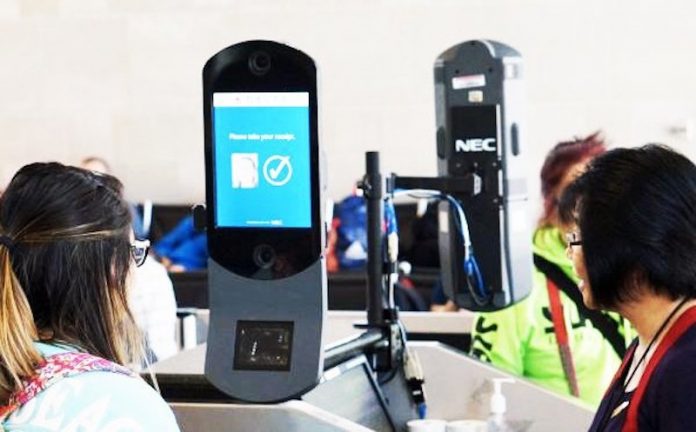 Chinedu Eze
Delta Air Lines, in partnership with U.S. Customs and Border Protection (CBP), Hartsfield-Jackson Atlanta International Airport (ATL) and the Transportation Security Administration (TSA), have concluded plan to launch the first biometric terminal in the United States at Maynard H. Jackson International Terminal (Terminal F) in Atlanta.
Beginning late this year, customers flying direct to an international destination have the option of using facial recognition technology from curb to gate, transforming the customer journey with a seamless travel experience through the airport.
This optional, end-to-end Delta Biometrics experience includes using facial recognition technology to check in at the self-service kiosks in the lobby, drop checked baggage at the counters in the lobby, serve as identification at the TSA checkpoint, board a flight at any gate in Terminal F and, go through CBP processing for international travellers arriving into the U.S.
Travellers on partner airlines Aeromexico, Air France-KLM or Virgin Atlantic Airways out of Terminal F, are eligible to use this technology too — another benefit of Delta's unmatched global network of partnerships.
"Launching the first biometric terminal in the U.S. at the world's busiest airport means we're bringing the future of flying to customers traveling around the globe," Delta's COO, Gil West said.
"Customers have an expectation that experiences along their journey are easy and happen seamlessly — that's what we're aiming for by launching this technology across airport touch points."
Delta employees' input has been key to move facial recognition from testing to this full-scale launch — they've provided invaluable feedback on everything from the best camera angle for a successful scan to an added device enhancement that better facilitates face-to-face interactions with customers. Based on initial testing, the facial recognition option not only saves up to nine minutes per flight, but provides employees an opportunity to have more meaningful interactions with customers throughout the journey.
"This is the latest example of Delta's investment in, and partnership with, the world's busiest and most efficient airport. We are looking forward to bringing the future of travel to life with Delta, CBP and TSA," the interim General Manager, Hartsfield-Jackson Atlanta International Airport, Balram Bheodari said.
"Delta and CBP have developed a strong partnership over the years and share a common vision for enhancing security and the traveler experience," said CBP Commissioner, Kevin McAleenan. "Together with innovative partners like Delta, TSA and ATL, we are using technology to create a secure, efficient and simplified travel experience."
Also, at ATL Terminal F, customers can take advantage of industry-leading Computed Tomography (CT) scanners at two automated screening lanes, which are being installed in partnership with the TSA and the airport.
This means travellers won't have to take out electronics from their bags at the TSA checkpoint, further enabling a smooth travel experience.
"The expansion of biometrics and facial recognition throughout the airport environment represents the next generation of security identification technology," said TSA Administrator, David Pekoske,
"TSA is committed to working with great partners like Delta, ATL and CBP on developing and deploying new capabilities like these."
The expansion of the facial recognition option with Delta Biometrics is a natural next step following CBP and Delta's optional facial recognition boarding tests at ATL, Detroit Metropolitan Airport and John F. Kennedy International Airport over the past several years. In addition, Delta recently tested a self-service biometric bag drop at Minneapolis-Saint Paul International Airport for international customers. Delta has also tested biometric boarding at Ronald Reagan Washington National Airport, and has launched optional biometric check-in for all domestic Delta Sky Clubs, facilitated by Delta Biometrics Powered by CLEAR.
This launch leverages technology and software developed by NEC Corporation.