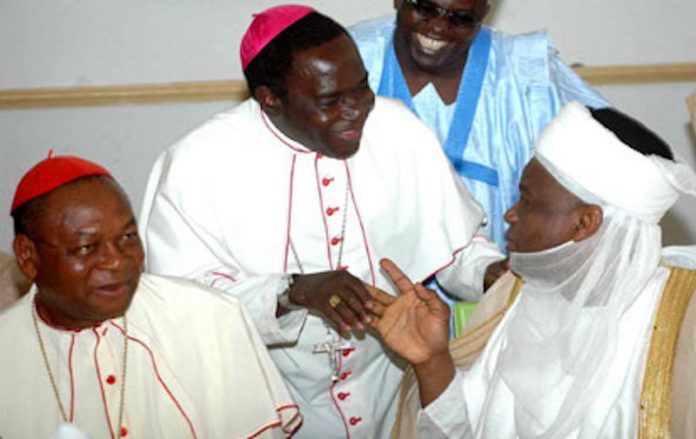 Segun James
The Legacy Initiatives International (LII) has commended the leadership of the Christian Association of Nigeria (CAN) and the Jama'atu Nasril Islam (JNI) for fashioning out an agreement that would ensure a peaceful and conducive atmosphere for the 2019 general election.
The Grand Patron of the LII, Dr. Kenny Martins in a statement praised the leaders of CAN and JNI for "their wisdom, courage and patriotism to seat down with each other and fashion out a wonderful agreement, unprecedented in the political history of the country for the peaceful conducts of the 2019 general elections in such a manner that the elections will not be a source for wanton killings and brigandage in any part of the Federal Republic of Nigeria before and after the elections."
According to him, they have done this "as great servants of the Most-High God" without fanfare and without drawing attention to themselves during the long negotiation period until the final agreement was signed on September 18, 2018 under the auspices of the Nigerian Interfaith Action Association (NIFAA) in collaboration with Local and International Partners.
"This is a great lesson to the Politicians to learn and imbibe in the conduct of their political affairs in the interest of our country Nigeria. Nobody's interest or group interest is superior to the National interest. In the words of a former Nigerian President, nobody's political ambition should be worth the blood of any Nigerian," said Martins.
He praised the leadership style of "the Sultan of Sokoto, Muhammed Sa'ad Abubakar III, and Chairman of the Jama'atu Nasril Islam, and his counterpart, the President of CAN, Dr. Supo Ayokunle and their worthy representatives Dr. Shehu Chindo Yamusa, Emir of Keffi and His Eminence, Dr Samuel Uche, Prelate, Methodist Church of Nigeria, for allowing God to direct their actions in reaching this historic agreement that will become a reference point for all countries of the World on the strategies to prevent sectarian violence before and after general elections in developing countries.
"Our prayer is that God will crown their efforts with success so that peace will reign in Nigeria in the run-up to the general elections and afterwards.
"On our part, we are willing and ready to partner with Nigerian Interfaith Action Association (NIFAA) and the Leadership of these two faith based organisations that have the majority of the Nigerians as their loyal members to continue in our advocacy for the leadership of this two religions to continue to interface with each other on a regular basis in this new spirit of cooperation and understanding of the influence their actions or inactions and bring about in the determination of what happens to our country socially, politically and economically. Examples abound of countries with multi-religious composition where the citizens have resorted to violent confrontation among each other leading to civil war because their Religious Leaders are busy preaching to their adherent how bad each other's religion is.
"We urge both CAN and JNI to quickly publish the said peace agreement and further to translate it in major Nigerian languages so that it will get to the remotest areas of the country and be a guide to them on the need for peaceful co-existence with their neighbours with different religions and not be merely a news item that the adherents of the two great faith groups will soon forget and go back to their Holier Than Thou principles which has not generally led to peaceful co-existence among the people."