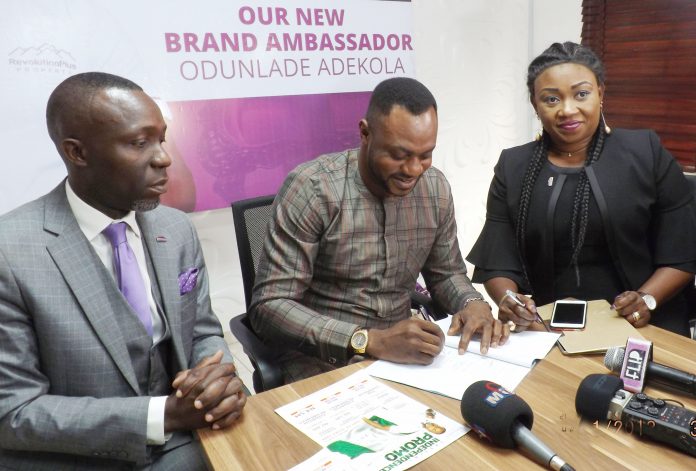 By Bennett Oghifo
Real Estate company, RevolutionPlus Property has announced its annual Independence Sales promo in recognition of Nigeria's national day celebration and also unveiled versatile Nollywood actor, Odunlade Adekola as its new brand ambassador.
Its Chief Executive Officer, Mr. Bamidele Onalaja while addressing newsmen at the company's head office in Ikeja, said "the whole reason why we engage Nigerian celebrities as ambassadors is to create a synergy between our products and indigenous brands in the entertainment industry, identity and add value to such local brands and work together to solve the mirage of problems in the housing sector because government alone cannot do it alone.
Onalaja added that RevolutionPlus Property is a "proudly Nigerian company and nobody can change this country positively for us except ourselves and that is the whole mentality of Revolution Plus Property.
He noted that the company pursues integrity as an article of faith because and that has been the motivation to meet its clients' expectation in all its estates across the country.
Onalaja noted that "for a number one brand like ours to be closer to the ordinary Nigerian masses and still maintain its top-notch industry position, it is important to work with a top rated actor, who commands the respect and followership of Nigerians and Odunlade fits perfectly into our mission and vision after due consideration of his at his antecedent and personality in Nollywood.
Speaking on the Nigeria Independent sales promo which will run from September 17 to October 15, 2018, the Executive Director of the company, Mrs. Tolulope Onalaja said that the company, on annual basis celebrates Nigeria's independence with a discounted bouquet for Nigerians and urged them to grab the opportunity RevolutionPlus is availing them to become property and Real Estate owners.
She listed the properties to include Royalty Garden in Shimawa, the Brooklyn Court at the Lekki Free Trade Zone, Champions Court among other and said the lands have all been certified by the state governments and come with largesse ranging from free additional plots, discounts depending on the plots a client buys and that payments can be done installment.
"There are over 22 Estates that have been pioneered and delivered by RevolutionPlus Property, so the Independence promo is to urge people to key into our freebies alongside the independence celebration that will enable people to remember they bought their lands during Nigeria Independence day celebration," she added.
The newly unveiled RevolutionPlus Brand Ambassador, Odunlade Adekola while speaking, after formally signing an agreement with the company, said he was attracted to the company because of their vision to make Nigerians irrespective of their economic status own landed properties and he will ensure he promotes the company and help them to reach their targets.