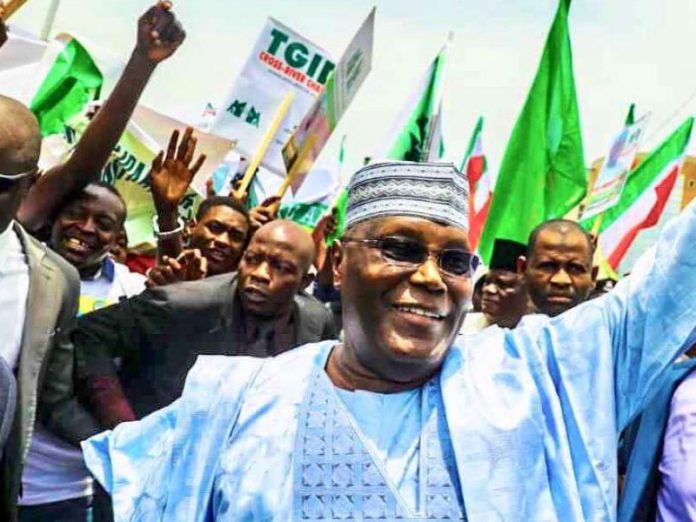 Don't vote for ruling party, former vice president tells Nigerians
By Seriki Adinoyi in Jos and George Okoh in Makurdi

The All Progressives Congress (APC) has queried a member of its Board of Trustees (BoT), and elder statesman, Ambassador Yahaya Kwande, over alleged anti-party activities.
This is coming as Atiku has urged Nigerians not to vote for the ruling party in 2019 if the country is to make progress in its economic development.
Plateau State Chairman of the ruling party, Mr. Latep Dabang, who signed the query, asked Kwande to explain why he attended a political rally organised by the rival Peoples Democratic Party (PDP), in Jos, the Plateau State capital on September 18, where former Vice President and Presidential candidate of the PDP, Alhaji Abubakar Atiku, had visited to canvass for delegates' votes.
 The letter, dated September 21, obtained by our correspondent yesterday declared that Kwande's action constituted "disloyalty and serious embarrassment to the APC family".
 "It is bad that as a BoT member of our party, you attended a rally of the PDP and even addressed the public (during the rally).
 "To make matters worse, you told the PDP supporters that they should not be surprised if you bring Governor Simon Lalong to the party, knowing fully well that he is the leader of the APC in the state."
 The APC chairman ordered Kwande to, within 24 hours, explain why disciplinary action should not be taken against him over such actions.
Kwande had attended a rally of the PDP held at its state secretariat in Jos and also granted interview to journalists, where he declared that anyone that expects him to abandon Atiku, his political ally of over 30 years should have his head examined for a psychiatric problem.
Meanwhile, Atiku has warned Nigerians not to vote for the ruling party in 2019 if the country is to make progress in its economic development.
He berated the President Buhari led government for destroying all the progresses made by the previous PDP led administration.
Atiku, who is seeking the PDP ticket to contest the 2019 presidential polls, spoke in Makurdi, when he met with the party's delegates to the National Convention slated for October 6.
He said the Nigeria economy that was growing at over 7 per cent was now in shatters".
He described the APC as a non- political party saying that it's a party of strange bed fellow.
On his plans for restructuring, he said "Most segments of the country keep talking about restructuring. We cannot run away from that. We must confront it and tackle it,"
According to him, section 7 (2) of the APC constitution provides for restructuring, fiscal federalism and the rest.