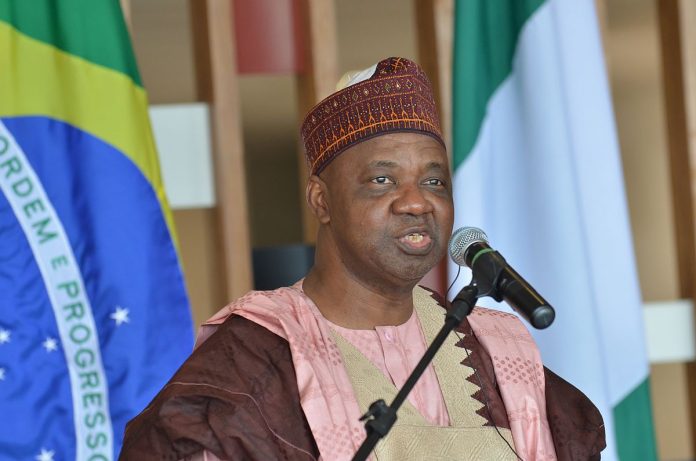 By Emmanuel Addeh in Yenagoa
Former Vice President, Namadi Sambo, has said the Independent National Electoral Commission (INEC) must be patriotic enough to ensure free, fair and credible elections in 2019.
The former vice president said it would be grievous if  the next set of elections do not measure up to international standards.
Sambo also said he had no regrets serving the country as its Vice President under the President Goodluck Jonathan Administration.
"Also we are seeing what is happening and we are expecting that INEC will do the right thing and that there will be a free and fair election come 2019," he said.
A statement by Bayelsa State Governor, Seriake Dickson's Special Adviser on Media Relations, Fidelis Soriwei, noted that  Sambo made the comment while paying a condolence visit to the Toru Orua country home of the governor on the death of his mother, Mrs GoldCoast Dickson. 
Sambo said he had cause to glorify God for giving him the opportunity to serve the country in the exalted position of vice president. 
Sambo disclosed that he had just been appointed as an active Ambassador by Afrexim Bank and the African Union, for an intra African trade fair in Cairo.  
The former number two man said INEC had a responsibility to ensure the conduct of free, fair and credible elections next year. 
He added:  "I have no regrets serving Nigeria. There is no cause for any regret. I thank the Almighty Allah that he gave me that opportunity to serve our country.  
"First and foremost I am here to condole with my brother and sister on the loss of our mother and we pray that almighty God will grant the family to bear the great loss," Sambo said.  
Sambo commended Dickson for the execution of several big ticket projects in Bayelsa, especially, the Bayelsa International Cargo/ Passenger Airport. 
He said that Dickson has a reputation in the North as a great unifier engrossed in sustained  efforts to build bridges across the country. 
"You are one person that today everybody knows, particularly in the northern part of this country that you have been a bridge builder and this has been very important and successful in seeing that our country is united and that we move and progress positively in Nigeria," he added  
Sambo who commended Dickson for leaving behind enduring  legacies in Bayelsa State, described the airport project  as a lifetime achievement that is critical to the socio economic development of the state.
He said Dickson acted right by giving the requisite support to the private Sector in Bayelsa State  to contribute to the development of the state.
 Also, former Senate President, David Mark, who also led a high-powered delegation on a condolence visit to the governor's community, said that the late Mrs Goldcoast lived well and had gone to be with her maker.
 He said she left behind enduring legacies which should console the family on the painful loss.
 Speaking also, Dickson restated the decision of his family to establish a cancer awareness centre in honour of the memory of his mother through the Henry Seriake Dickson Foundation.  
He lauded both leaders for their loyalty and commitment to national stability while in office in support of the Jonathan administration.