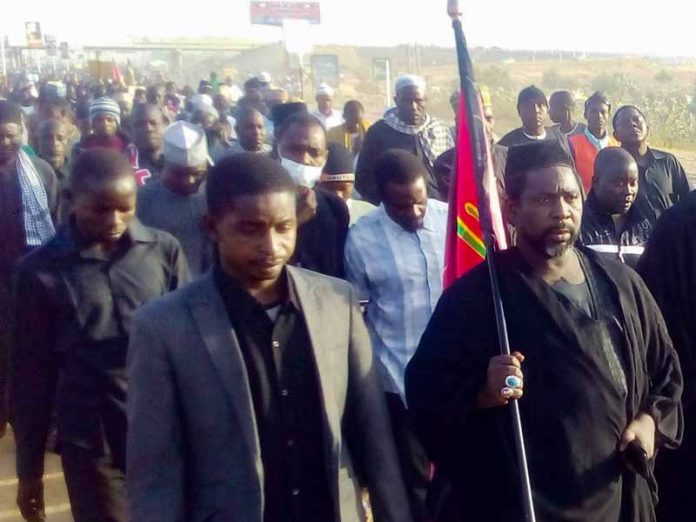 Olawale Ajimotokan in Abuja
A religious procession by members of the Islamic Movement of Nigeria (IMN), Thursday resulted in a traffic gridlock in many parts of Abuja and made security operatives to set up road barricades to impede their movement.
The Shitte members were protesting the continued detention of their spiritual leader, Sheik Ibrahim El-Zakzaky since December 2015.
Thursday's scheduled peaceful procession was also one of the activities to mark the Ashura, an annual spiritual gathering of the sect.
But the confrontation between the group and security men, disrupted vehicular movements along the Nyanya-Keffi Road axis and inconvenienced many commuters, who spent as many as five hours on the road to get to their different places of work.
The military and the police had received report that the protesters planned to infiltrate the city through Nyanya-Keffi road.
The security agents also blocked all access roads leading to the Federal Secretariat after the Shitte groups infiltrated the Central Business District through the Abuja City Gate all the way to Aguiyi Ironsi Road, in Maitama.
Throughout the day, policemen engaged the sect with a view to preventing them from damaging public utilities.
It would be recalled that after Police alerted the public about the nationwide plan by the Shitte group to use the Ashura procession to disrupt the public peace, the group issued a statement contradicting the police.
"The Ashura mourning procession is not a threat to peace contrary to the widespread belief.
"The Islamic Movement in Nigeria vehemently discountenances some alarmist messages that have gone viral on the social media insinuating that the Shi'a annual religious mourning procession, popularly known as Ashura, will be violent in Abuja and other cities across the nation, with some saying people should stay indoors to avoid clashes with the mourners," the group said in a statement signed by its spokesman, Ibrahim Musa, adding they remained undeterred in their quest for the unconditional release of El-Zakzaky.