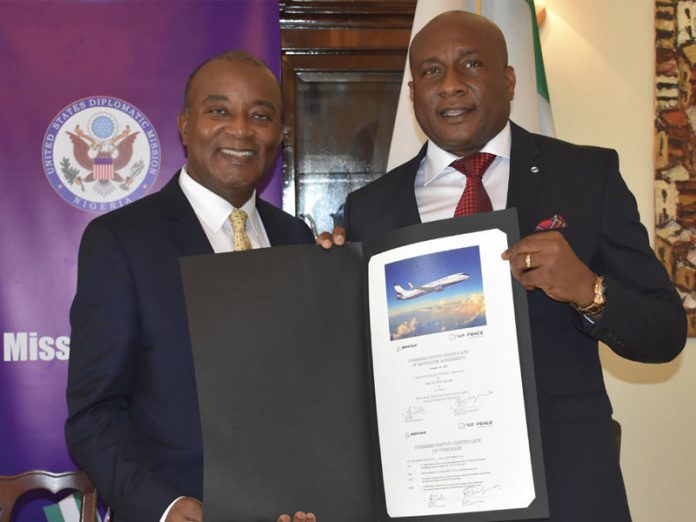 Last week Nigeria's largest carrier, Air Peace, signed a firm order for the delivery of 10 Boeing B737 MAX 8. The chairman and chief executive officer (CEO) of the airline, Allen Onyema said when the aircraft are delivered, Air Peace would have about 37 aircraft in its fleet.This will be the first time a Nigerian airline will have that number of aircraft. At the height of its operations, the defunct Nigeria Airways Limited (NAL) had about 36 aircraft.
Industry observers are of the view that if well managed, Air Peace would compete with major airlines in Africa, creating new routes and becoming a major player in the continent.The Director General of the Nigerian Civil Aviation Authority (NCAA), Captain Muhtar Usman commended Air Peace and said the company had responded to the clamour by the authority for Nigerian airlines to acquire modern aircraft which are more efficient in operation and also more efficient in the use of fuel.
Usman said Air Peace has increased capacity and will become competitive with other international carriers with the new aircraft. He also said that NCAA would continue to support the airline and other operators in Nigeria, adding that with that number of aircraft, Air Peace would take the advantage of the Single Africa Air Transport Market (SAATM) to become a dominant player in the continent.
"Advantages of modern aircraft include fuel efficiency and up to date with navigational equipment. So modern aircraft will improve the overall efficiency of the operator profitability and so many other things," the DG said.
The Sales Director of Boeing Commercial Airplanes (West and Central Africa), Mr. Larry Tolliver said B737 MAX 8 is very fuel efficient, adding that its fuel consumption is 20 per cent less than that of Boeing Classics.
"The 737 MAX 8 is part of a family of airplanes that offer 130 to 230 seats and the ability to fly up to 3,850 nautical miles (7,130 kilometers). With improvements such as the CFM International LEAP-1B engine and Advanced Technology winglets, the 737 MAX will help Air Peace save more than 20 percent on fuel costs compared to its current single-aisle airplanes.
"The MAX 8, in particular, offers airlines 13 more seats than its closest competitor, seven percent lower costs for each of those seats, and 300 miles more range," he said.
THISDAY gathered that the programme for Boeing MAX was launched on August 30, 2011. The first flight was on January 29, 2016. It gained Federal Aviation Administration (FAA) certification on March 8, 2017. The first delivery of MAX -8 was on May 6, 2017 to Malindo Air, which put it into service on May 22, 2017.
The 737 MAX is based on earlier 737 designs. The MAX is re-engined with more efficient CFM International LEAP-1B power plants, aerodynamic improvements (most notably split-tip winglets), and airframe modifications.
Reacting to the firm order, industry stakeholder and former Director of Engineering, Medview Airline, Lukman Animaseun commended Air Peace and said that the purchase would bring a new life to the industry.
"This is a good development for the industry. It is a good thing happening now in the sector. We need modern aircraft to spice domestic and regional operations. Some other airlines are at the verge of acquiring modern aircraft so we congratulate Air Peace for doing it first. Government should support the industry, especially domestic airlines. With their support there will be more progress in the sector," Animaseun said.
At the signing of the deal at the US Consulate in Lagos last week, Onyema said: "We are excited to add the 737 MAX to our fleet as we expand our network to offer more destinations and serve more passengers. The fuel efficiency and superior operating economics of the 737 MAX will ensure that the aircraft will play a major role in growing our business in the years to come.
"We are contributing to the aviation industry by creating jobs. We are contributing our own quota to ensure a united Nigeria. With the new deliveries we are going to create more jobs in Nigeria. Boeing has given us incentives worth millions of dollars, which includes training of our personnel, provision of spares."
The Managing Director of Fidelity Bank, Mr. Nnamdi Okonkwo who was at the signing ceremony, commended the airline and Onyema.
He described Onyema as a man of integrity and that Fidelity Bank decided to support Air Peace because of its financial discipline and sound business model.
With the new acquisitions, Air Peace has blazed the trail and has ignited a trend for modern aircraft acquisition by Nigerian airlines.