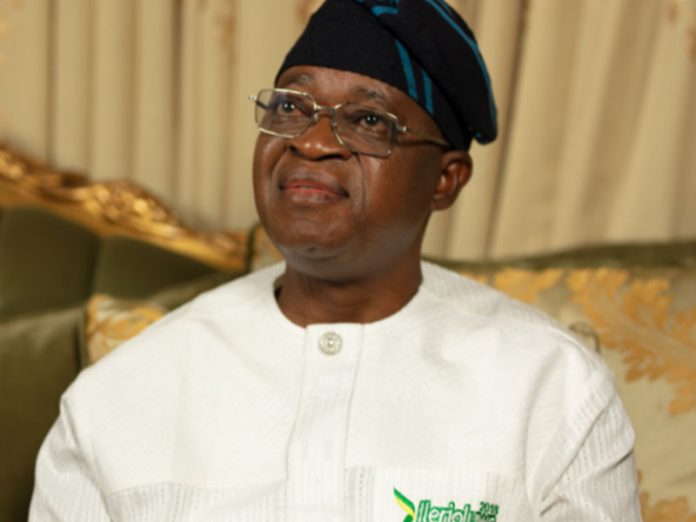 On the impression that he is an 'Ajele' (Foreigner/Usurper) from Lagos
 My father, Alhaji Oyetola, is the current Chief Imam of Egbeda in Iragbiji, a position he has occupied for over 20 years. My late  mother used to be the the Iyalaje Adini of Iragbiji land. I attended the L.A Primary School, Iragbiji, Ife-Oluwa Grammar School, Osogbo before proceeding to University of Lagos. Oyetola disclosed he started investing in Osun as far back as 1992 when he built a shopping complex in Omo-west, Osogbo. He added he built his current house in Iragbiji was built 22 years ago. "My wife, Kafaya, from Osogbo. As a very progressive party loyalist and unapologetic backer of NADECO,  I was one of those who struggled for the enthronement of democracy in Nigeria Oyetola said. I was the first promoter of Alliance for Democracy  (AD)  in Osun and donated its first operational bus in 1999 and  continued to donate to the cause of the progressives, even as the party mutated from AD to AC, ACN and APC.
On the purported for Lagos boys
Is it Lagos people that are in OYES (60,000+ cadets, thousands of tailors shoe makers, suppliers.), O-MEAL (3000+ caterers, thousands of farmers and suppliers), O-REAP (10,000+ farmers) as beneficiaries and contractors? Is it Lagos children that are in the state of the art model schools with free uniforms and meals? Or the Agba Osun? Are the roads constructed across the state for Lagosians? People should realise it is indeed a lie peddled by failed politicians mostly of PDP, SDP and ADP who, even when you give them jobs (contracts), don't do them, but pocket government money. Government implemented contracts using two formats, i. direct government financing and ii. Contractor financing. Several modern world class high schools, middle schools and elementary schools were constructed by local contractors. Also, several roads including 10km roads in each of the 30 local governments and area office were constructed by local contractors. For some important and strategic projects that are capital intensive, which government did not have immediate financing to execute, contractor financing which required the contractor to execute on credit was used," the APC torch bearer said.
On Osun debt burden
Oyetola noted that the state debt is exaggerated. According to him, Central Bank (CBN) and Debt Management Office (DMO), gave Osun State clean bills as far back as December 2013.
On the half-salary debacle/unpaid pension (modulated salary)
Oyetola maintained that the administration of Ogbeni Aregbesola in the State of Osun is friendly to workers, adding that government has consistently been paying full salaries to all workers from levels 1-7 till date. Government paid full salary and introduced 13th month salary in appreciation of workers. Government also paid workers' leave allowances regularly and aligned it with birthdays of staff. This means workers then got bank alerts on their birthdays. Remember the governor increased housing loan from N200,000 per staff to N700,000, increased car loan from N250,000 to N500,000 for junior staff and N350,000 to N750,000 for senior staff. He also started the culture of paying workers' salaries before or by 25th of every month.
On the planned sack of workers
Oyetola explained, Ogbeni has not sacked a single staff since resuming as governor. He does not believe sacking people is the solution. He has employed thousands of people and is still employing more particularly teachers, and has also empowered tens of thousands of people through OYES, O-MEAL, O-BOPS, O-FOPS, O-REAP. It is a wicked lie because they don't have anything reasonable to say against him.
On the purported needlessness of committing huge funds to road/school infrastructure
Oyetola said, "How can people reasonable enough condemn the over 1000 kilometre roads Aregbesola has constructed? The current administration has segmented road construction into three, comprising outer and inner cities, and those in-between. So far, the governor has done quite a lot on all three segments. Roads in our towns have been significantly revamped. Go to Ilesa, Ila, Okuku, Yakoyo, Ikire, Ede, and Iwo, you will see what I mean. Osogbo here has taken a significant chunk of the state's earnings in terms of commitments on road construction because of its centrality as capital. Osogbo belongs to all of us, serving as it were as the window, and as basis for improved acceptability and attractiveness for potential investors. The network of bridges, including Abdul-Kareem Bisi Akande Bridge, Gbongan, among others, has reversed what we used to experience prior their completion. But a lot still remains to be done on inter-township roads, and some intra, as well. If the immediate past administration was one/tenth as committed as we now experience, the story will be better. My administration's focus, while it will continue to maintain the roads of Aregbesola, will move into the inner city, where quite a number of roads have been listed for urgent and quality renovation/reconstruction. This is the essence of continuity which we have explained time and time again. Various other programmes have helped the state promote peaceful environment, curtail thuggery, violence, robbery and vandalism; proactively prevent perennial flooding as it engaged in unprecedented dredging of 123km of waterways earning, national and international commendations for the initiative," the APC governorship candidate said.