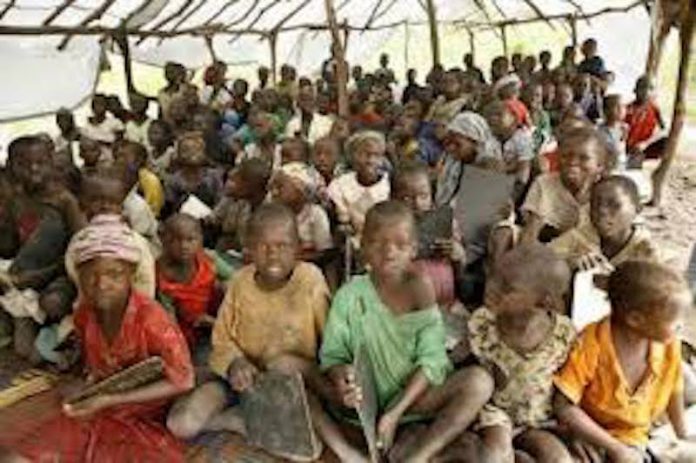 • Gates: Nigeria should do more to fund human capital development •Says malnutrition in the North needs to be addressed
Martins Ifijeh
More than 40 per cent of "extremely poor people" in the world will be living in Nigeria and DR Congo by 2050, a report by Bill and Melinda Gates Foundation has revealed.
This is coming as the world's second richest man and the Co-founder, Bill and Melinda Gates Foundation (BMGF), Mr. Bill Gates, has called on the Nigerian government to increase efforts to fund human capital development as this will propel the country towards achieving the year 2030 Sustainable Development Goal (SDG) set by the United Nations.
In the 2018 goalkeepers report released yesterday, the Bill and Melinda Foundation said by 2050, Nigeria will have 152 million people in extreme poverty out of a projected population of 429 million.
It blamed this on the lack of investment in human capital to correspond with the increasing population growth.
Nigeria is currently the seventh most populous country in the world with an estimated population of 198 million.
The annual report, produced in partnership with the Institute for Health Metrics and Evaluation (IHME) at the University of Washington, tracks progress being made on the United Nations sustainable development goals (SDGs).
In June, Brookings Institution reported that Nigeria had overtaken India as the country with the highest number of poor people, with 87 million of its citizens in extreme poverty.
The International Monetary Fund (IMF) had also said in March that Nigerians are getting poorer due to the lack of coherent and comprehensive economic reforms.
The goalkeepers report said while more than a billion in the world have lifted themselves out of extreme poverty since 2000, "extreme poverty is becoming heavily concentrated in sub-Saharan African countries."
"By 2050, that's where 86 per cent of the extremely poor people in the world are projected to live. The challenge is that within Africa, poverty is concentrating in just a handful of very fast-growing countries," the report said.
"By 2050, for example, more than 40 per cent of the extremely poor people in the world will live in just two countries: Democratic Republic of Congo and Nigeria. Even within these countries, poverty is still concentrating in certain areas."
In a related development, Gates told THISDAY that Nigeria probably needs to raise a higher percentage of Gross Domestic Product (GDP) and taxes in order to be able to fund some of the key human capital issues because of the benefits this can bring to the country on the long run.
Gates, who spoke exclusively with THISDAY as part of the buildup to the launch of the 2018 Goalkeepers Report billed to hold September 25 and 26 in the United States, said human capital development is the key investment that will determine the quality of life and economic growth that can be gotten from Nigeria's large young generation, adding that how a country invest in its young generation determines the level of differences this can make on the country economically.
The Goalkeepers Report, an initiative of the BMGF, is an annual assessment report of how countries across the globe are making efforts towards meeting SDG targets. It is also used to celebrate heroes who are making a difference towards attaining the targets.
Gates said: "Given the rate of population growth going on throughout Africa, which is particularly true in Nigeria, the challenge of getting that quality of governance is huge, hence countries should invest in human capital development.
"Nigeria has some strength. It is better off economically than a lot of other African countries. It has got a lot of very capable, college-educated people that care about these issues. But today, the performance in a number of states of the health and education system definitely falls short. And in order to have this bargain where you say, 'Hey, we are going to raise tax levels,' people will have to get a sense that the money is being spent in an effective way," he said.
He said human capital development would mean that the quality of diet that comes from agriculture reforms is improved, the attendance in schools and quality of schooling is improved, while the overall health and nutrition are improved, adding that these are the magic elements that really determine how youth-bulge will benefit a country or be a challenge.
"If countries don't make those investments, level of employment, level of wealth, and food security can actually go down. I was pleased when I was in the country the last time that the discussion about whether we need to invest more in this next generation or not came up. There was at least some coverage, including your paper, THISDAY, which brought that issue up."
For Gates, Nigeria sits on a strategic position in Africa, and can play a major influential role on the continent because of its size. This, he says was one reason Nigeria must get it right.
Gates, who co founded the BMGF along with his wife, Melinda, also raised concerns over the high nutrition burden in Northern Nigeria, thereby recommending that for the country to improve survival rate and reduce the number of child deaths, more work needs to be put into tackling malnutrition, especially in the North.
He said: "Over 10 percent of the kids under the age of five don't survive, which means we are still not close to the global average which is below five per cent. We should continue to measure and view as a primary metric with the number of survival rate we get."
He believed for the children who are lucky to survive, the type of diet they take can make a huge difference, noting that when a child falls behind in growth, supplementary nutrition should be given as part of plans to take that child out of malnutrition.
"I recently had a conference where I connected by video, and Aliko Dangote got the leading food companies in Nigeria together to talk about doing more in fortifying foods, that is, adding things like vitamin A to the various food products that are bought by the people, including low-income. So, I think on that food fortification front, there will be some real improvement and that is one element that helps a lot with nutrition and reducing stunting," the world's number one philanthropist said.
Gates also called for huge improvement in the country's primary healthcare system as part of plans to addressing maternal and child deaths and the reduction of disease burden.
He believes even though the quality of PHC system varies from state to state in Nigeria, the first tier of healthcare is not functioning nearly as well as Nigerians would want it to function.
On addressing illiteracy, Gates says there are two dimensions of the education sector that should be considered; "First, the country should raise the revenue to fund education, such that there will be schools, teachers, and salaries paid on a dependable basis; while the second issue is the quality of the education system, such that the right teacher-training and the right feedback on the teacher-quality is put in place."
He believed on the first issue, Nigeria does probably need to raise a higher percentage of GDP and taxes in order to be able to fund some of these key human capital issues, adding that there are a lot of countries where the second issue, the quality issue, is still a huge challenge. For him, every country should start with the policy issue, and then quality of personnel training should be considered.
He said generally, across the world, number of school attendance has increased, but that the world needs to focus on the quality of learning.
On agriculture, Gates believes a developing country serious about eradicating poverty should improve its agricultural sector, this, he said was the first step needed.
"If farmers can get better advice on agricultural extension, advice about which seeds to use, when to plant them, and how to access credit for fertilizer, you can get more than a doubling in that productivity. And, of course, the benefits of that are very dramatic because poor farmers make up such a huge part of the people in developing countries.
"Historically, the strongest examples come from Asia where China reformed its agricultural sector in 1989 and then had almost a tripling of output because they went for the better seeds and they developed the credit system, they also figured out where they should do irrigation and where they shouldn't. Today, African agriculture, including Nigeria's, basically has a productivity level similar to what China had before those reforms.
Gates said: "Nigeria is coming close to eradicating polio because we worked closely with the traditional leaders in a very intensive way. They partnered with us, so, I would expect, particularly in the North, for any changes you want to make, to engage them the right way.
The philanthropist commended Nigeria for doing well in the push against polio. "We think we are close to making sure there is no more case in the country. There needs to be ongoing work, but overall, it was a very impressive project. And part of what formed that success is collaboration with stakeholders like the traditional rulers," he said.