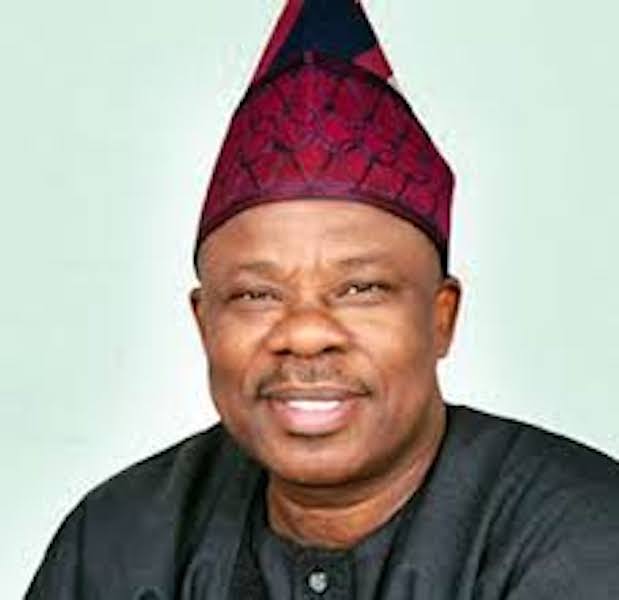 Femi Ogbonnikan takes a close look at the bid to clinch the All Progressives Congress governorship ticket by Otunba Bimbo Ashiru, former Ogun State Commissioner f
When Ijebu-Remo Agenda, a group championing for the return of the governorship kf Ogun State to Ogun East, in 2019 picked Otunba Bimbo Ashiru, former Ogun State Commissioner for Commerce and Industry, hardly did it dawn on many political watchers that the clime was set for a keen contest. The promoters of the Agenda have been fable to prove that they are well prepared for the task.
Ogun West is equally laying a strong claim to the number one plum job in the spirit of fairplay, justice and equity. Besides, the agitation has got the full blessing of the incumbent governor, Sen Ibikunle Amosun, who in conjunction with the state leadership of the All Progressives Congress (APC) are leaving no stone unturned, has zoned the governorship ticket to Yewa-Awori zone and adopted a "consensus candidate" model which produced Hon Abdulkabir Adekunle Akinlade, a serving legislator, who is representing Yewa South/Ipokia Federal Constituency at the National Assembly.
Like a payback time, and in his magnanimity, the governor resolved to cede baton of power to Ogun West, a district that has never, in the annals of the creation of the state in February 1976, produced a governor. Within a jiffy, ten governorship aspirants (Chief Biyi Otegbeye, Engr Temitope Kuyebi, Hon Adekunle Akinlade, Hon Abiodun Akinlade, Chief Tolu Odebiyi, Prince Aderibigbe Tella, Rt Hon Suraj Adekunbi, Abayomi Hunye and two others), of Ogun West extraction, joined the fray to cash in, on the opportunity provided to prove their mettle.
However, penultimate wednesday, precisely September 13, the governor, Sen Ibikunle Amosun, like a prepared script, invited 10 wise men (Engr Demola Edun, Amb Abodunrin Adesola, Alhaji Bashir Fadairo, Tokunbo Fakeye, Dr Kunle Salako, Chief Dapo Oke, Mr Ogooluwa Akinleye, Chief Tunji Akinosi, Alhaji Mohammed Olagbayi and the other) of Yewa-Awori stock, to the basement of his private residence located at Ibara Housing Estate, Abeokuta, to chart a new course of action for the pet project of producing an Ogun State APC governorship consensus candidate where the lot fell on Hon Abdulkadir Adekunle Akinlade. But the process that brought about the emergence of Akinlade has come under scathing attacks, criticisms and condemnations, just as critical party stakeholders drawn from across the three senatorial districts have faulted the unilateral approach of the governor, in conjunction with apex body of the party in the state, without recourse to their inclusion in the decision-making processes. They claimed they were neither privy to the "consensus candidate" arrangement, nor carried along, before the decision was mooted. Likewise, the adoption has drawn a wedge between a sizeable number of the aspirants who are unfavourably disposed to the process of the emergence of Akinlade, and the state leadership of the party. While three of the aspirants (Tolu Odebiyi, Suraj Adekunbi and Biyi Otegbeye) have been compensated with the National Assembly slots as consensus candidates, Tope Kuyebi has obtained a nomination form to vie for Yewa North/Imeko-Afon Federal Constituency. With the exception of Abayomi Hunye who has dared the state leadership of the party and resented the "consensus governorship candidate" model had obtained the nomination form in order to slug it out with Akinlade.
But, the action of the Ipokia-born politician has drawn the ire, and even attracted an outright condemnation of a few Yewa-Awori elite youths that see him as a perceived enemy, routing for the fifth columnist in a bid to derail the adopted consensus model process.
Relapsing in a slough of despondency over the inauspicious faith in the "consensus" model, five Ogun East Senatorial district aspirants (Sen Adegbenga Kaka, Otunba Bimbo Ashiru, Prince Dapo Abiodun, Arc Abel Opayemi and Otunba Jimi Lawal) had also obtained the governorship nomination forms and are cock-sure of coasting home to victory during the "direct primaries".
Bouyed by its strong economic power base, unity of purpose and size of the Local Government Areas, (Ijebu-Ode, Ijebu North-East, Ijebu East, Ijebu North, Ogun Waterside, Odogbolu, Remo North, Sagamu and Ikenne), nine in number and the largest among the two other districts (Ogun West and Ogun Central), it is the view of the sons and daughters of Ogun East who are predominantly thriving entrepreneurs and super-rich, that the district is capable enough, without resorting to fund-raising, to do the magic and present a consensus candidate.
This is, in no doubt, that the adoption of Ashiru, 55-year-old, by the "Ijebu-Remo Agenda" late last November, is strategically to prepare and position him for the task ahead and also drum up support for his eventual emergence as the next governor of Ogun State.
In a bid to achieve his dream, Ashiru, who until Monday, September 10, tendered his resignation letter from the cabinet appointment, was Ogun State Commissioner for Commerce and Industry.
He disengaged from the appointment in order to prosecute his governorship ambition on the platform of All Progressives Congress (APC).
It was gathered, Ashiru, the longest serving Commissioner in the ministry resigned, following his resolution to vie for the governorship position, having obtained an APC nomination form to enable him participate in the APC primaries slated for Tuesday, September 25, 2018.
The outgoing Commissioner, who hails from Ijebu-Ode, in Ogun East senatorial district and one of the kitchen-cabinet members, confirmed his resignation on phone to our correspondent, just as he thanked the governor and entire people of Ogun state for allowing him to serve his fatherland as one of commissioners deployed to one of sensitive ministries in the state.
"Yes, I have tendered my resignation letter this morning to pursue my governorship ambition. You will recall that my people from Ijebu and Remo picked me as a consensus governorship candidate since last year, they also bought me an APC nomination form recently to contest for the seat.
"So, I must hearken to the clarion call from the good people of Ijebu-Remo Province to further serve my fatherland in a more higher capacity.
And as a true son of my fatherland and a law-abiding citizen, I had to quit my present office to be able to fully partake in the direct primaries as directed by our party-All Progressives Congress (APC).
"I therefore expressed my appreciation to the governor and all good people of Ogun state for allowing me to serve my fatherland, meritoriously.
I am looking forward to your usual support as I step forward for the next move which is governorship contest", said Ashiru.
While in active service, he has won many laurels to his credit. Upon his stewardship, the business environment of the state grew behind imagination, with over 1,279.84 percent increase in internally generates revenue of the state. Well over 300 factories/companies opened shops in the state, with a cumulative investment profile of about N691.77 billion in 2014, compared to N377 billion in 2013. And this placed Ogun State in the first position in Nigeria, according to the Manufacturers Association of Nigeria (MAN).
Also, during his stint, approximately 75 percent of Manufacturing Foreign Direct Investment (FDI) that came to Nigeria, birthed in Ogun State.
Born to the illustrious Ashiru family of Ijebu-Ode, Bimbo is from the Fidipote Royal family.
He graduated with a degree in Marketing, Purchasing and Supply and also, a master's degree in Strategic Management.
With this background, he joined the employ of the then, Chartered Bank in year 1989, a successful career that spanned two decades and he rose through the ranks, in various capacities of management, as head, private banking unit; branch manager; head, institution and professional banking; regional coordinator; country director, personal and business banking; director, corporate affairs; and corporate social investments and ultimately, Group head, public sector with Stanbic IBTC Bank.
In recognition of his selfless service to the society and having distinguished himself as a true son of Ijebuland and as an astute bankers of repute, he was conferred with the royal title of Otunba Adeona Fusigboye of Ijebuland in December 2006 by His Royal Majesty, the Awujale and Paramount Ruler of Ijebuland, Oba Sikiru Kayode Adetona.