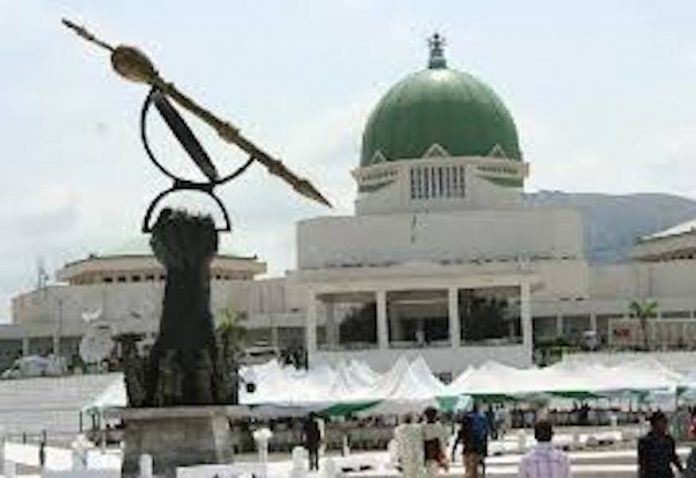 SATURDAY PERSPECTIVE
By Eddie Mbadiwe

If you are a constant world-traveller, you would have come to the conclusion that Nigeria is very well known all over the world. Like Olabisi Ajalla who travelled all over the world with his bike, there is no country where you will not find hardworking and sometimes, mischievous Nigerians.
For the last few weeks, our newspapers have been awash with articles (some well researched, others simply hog-wash) about the invasion and near capture of the National Assembly by masked operatives of the Department of State Services (DSS).
In 2014, a mirror-image of this operation occurred and the main gates of NASS were barricaded, subjecting honourable members of the House of Representatives to indignity of scaling the assembly fence. It was captured on camera and beamed worldwide. It went viral as our advert in bad behaviour. In 2014, there was neither investigation nor sanction not to think of punishment. It is not surprising therefore that four years later, there was encore supposedly at the  behest of some member/members of the Senate.
This time however is different. Acting President Yemi Osinbajo acted fast and decisively and aborted what was tangentially moving to a collapse of our wobbly democracy. My take on the various criticisms and pronouncements is that people should keep their gun-powder dry and give the executive branch enough time to decode what happened and inform Nigerians on what has to be done to ensure that this never happens again.
The issues leading to this aborted invasion are much more convoluted than just failed attempt to take over NASS.
Unless we have an accurate diagnosis, it is impossible to prescribe a cure. Let us step back in time a little bit and remind ourselves that on April 19, 2018, a group of hoodlums allegedly at the instigation of some Senators,  barged into the Senate chambers, disrupted proceedings and stole the MACE-symbol of authority of parliament. This was another step down the infamy lane. Nigerians are still waiting to be told if these vagabonds have been arrested and prosecuted. Our national image continues to be battered worldwide.
Following in the foot-steps of that drama, we recently witnessed the Samba dance of our ''Distinguished'' Senators" and ''Honourable'' members of the 8th  Assembly, who were flip-flopping between APC and PDP. It reminds one of the games of Rounders played by secondary school students. This is another show of shame which continues to take our democracy several notches under.
The root cause in my view can be traced to a lacuna in section 68 sub-section (g) of the 1999 constitution. People can ship in under the cover of darkness and cause mischief, ridiculing our democracy. In the 7th Assembly, RT. Hon. Sam Sokwa who was Chairman, House Committee on Rules and Business and I sponsored a joint bill  to expunge that sub-section G (for committed Nigerians please spare a few precious minutes and try to interpret section 68, sub-section G).
The bill was defeated obviously for selfish reasons for as a member said during the debate, passing this bill is like shooting ourselves in the foot. People in public service must be courageous to make sacrifices for the nation above self-interest.
I have recapped these scripts to show that members of our highest legislative houses have not shown adequate respect and decorum commensurate with what Nigerians and other well established democracies expect from people in such exalted positions. The cases in the state assemblies are so pathetic that their very existence should be subjected to intense scrutiny. It will be silly to wade into that filthy terrain.
Democracy is supposed to be based on the consent and will of the people. In Nigeria, this is not the case for on many occasions, the people have sold their power for a mess of porridge. Ekiti election is a good example of a well-documented occasion where people openly bargained and sold their birth-right for as little as N4,000. Will Ekiti people have the moral ground to censor any erring governor? I doubt it.
Section 14 (2c) of the 199 constitution reasserts the supreme power of the people when it states: ''Supremacy belongs to the people of Nigeria from whom government through the constitution derives all its power and authority.''         
Political accountability is a very essential ingredient of a successful democracy and if Nigerians abdicate or sell their rights, who is to blame? Six months to the 2019 general elections, the Nigerian public who are the custodians of power look tirelessly supine while the rut threatens to poison the entire body polity. There is an urgent need for total mobilization of the citizenry and let people get out of sleep in their cocoons and rescue this nation. Only Nigerians can save Nigeria.
There is a saying in Nigeria that if a child washes his hands properly and is of good behaviour, he could be invited to dine at the elders table. Our legislators already have seats at the exalted table. The task to themselves and us is the convincing that their seats are merited.
–Dr. Eddie Ifeanyichukwu Mbadiwe writes from Abuja.
PIX: National Assembly.jpg
Ekere and the Akwa Ibom Governorship Race
Effiong Usoro
W
hen he joined the governorship race in Akwa Ibom State on the platform of the Peoples Democratic Party, PDP, in 2006, Nsima Ekere brought freshness, excitement, instant connection with the youths and a trove of ideas on how to build a people-centred government that were lacking in the politics of the state. He was the youngest aspirant and his background as a successful businessman with strong social investments were direct challenge to the politics-as-usual of his home state.
Indeed, in a state where government is the only business, Ekere's pledge to raise world-class entrepreneurs resonated positively everywhere but it also ruffled the feathers of vested interests and political rent-takers. When he lost that primaries and was later picked as running mate to the eventual winner, Obong Godswill Akpabio, the system revolted, forcing him to withdraw his candidacy.
He returned in 2011, running as deputy to Akpabio. But his tenure as the state Deputy Governor was short-lived as he resigned on October 31, 2012. His decision to contest the governorship in 2015 received a major boost being an indigene of the Akwa Ibom South Senatorial District whose turn it was to produce the governor. Ekere's plan did not find accommodation in Akpabio's calculations.
Whereas, Akpabio's intendment was to pick his successor from Akwa Ibom South senatorial zone, Udom Emmanuel, hurriedly drafted into politics as Secretary to the State Government, and not Ekere, was his preferred choice. Both men hail from neighbouring local government areas; while Ekere is from Ikot Abasi Local Government Area, Emmanuel, who is now the incumbent governor, is from Onna Local Government.
Ekere, along with other aspirants were shut out of the PDP primaries and eventually out of the party. He was to pitch his tent with another influential politician in the state, Umanah Okon Umanah, in the All Progressives Congress, APC. Both of them had worked assiduously together to transform the APC in Akwa Ibom. He had actually supported Umanah in the 2015 governorship election in order to upstage PDP's Udom Emmanuel. Their effort had, however, fallen through.  
Interestingly, about six years after his ill-fated governorship odyssey, Ekere is once again engrossed with the same enterprise, this time round on the APC platform. The statewide calculations and permutations remain the same: Akwa Ibom South Senatorial zone is to produce the governor of the state for eight years since the other two zones – Akwa Ibom northeast and Akwa-Ibom northwest senatorial zones had already produced governors for two terms of eight years each from 1999 to 2015 with Architect Victor Attah and Godswill Akpabio respectively.
The concern has been the fate of the statewide zoning arrangement if Ekere wins.  Will he serve for only one term and allow power to rotate to the northeastern zone? At a recent meeting with leaders of the northeast zone, Ekere had assured he would not deny them their rights come 2023. In fact, he has said repeatedly that what one cannot achieve in four years as governor, he cannot achieve in eight, which has been interpreted to mean that he can deliver on his vision in one term of four years.
Interestingly, Akpabio, who stood between him and the PDP governorship ticket ahead of the 2015 governorship election, is now in the APC with him. Akpabio joined the APC after the structures of the party had been clinched by Ekere, Umanah, Senator John Akpan Udoedeghe, a former minister and others whom he met on ground.  And there are feelers that Umanah, a strongman of Akwa Ibom politics and current Managing Director of the Oil and Gas Free Zone Authority, has since decided to throw his weight behind Ekere.
In the circumstance of the political alignment and realignment of forces, the former governor, Akpabio, who is currently a senator, is likely to have been saddled with a fait accompli in Ekere, who, according to feelers has been able to build pervasive political structures in the nooks and crannies of the state.
As current managing director of the Niger Delta Development Commission (NDDC), Ekere has done very well for Akwa Ibom State and in deed the entire region in just 20 month of taking charge. Political analysts say that presiding over the Commission with an annual budget of over N400 billion and a tenure of four years with an option to renew for another term of four gives him greater personal advantage than the murky waters of state politics.
But a close associate says, Ekere's politics has never been about him but the burden of responsibility for transformational leadership that benefits the greater number of people and communities across his Akwa Ibom State.
This is what he has demonstrated so far at NDDC. While the Commission under his leadership has judiciously deployed its annual budget to intervene in the nine NDDC states in line with its mandate, it has also taken steps to address a perceived injustice against Akwa Ibom, the leading oil producing state in the country.
At NDDC project distributions are weighted along state oil production quotas. Which means that as the number one oil producing state, Akwa Ibom should enjoy the highest number of projects in cumulacumulatve value. Ekere told the press recently that "this was not what we met on ground. The current Board has been magnanimous enough to redress this." This explains why Akwa Ibom is said to be benefitting massively from the current infrastructure development drive of the Commission with more than 400 projects ranging from roads, power, water supply, renovation of classroom blocks, supply of learning facilities, etc.
Akwa Ibom is also the centre of an innovative entrepreneurship development hub undertaken in partnership with SMEDAN and a pilot state for the planned region-wide digital learning initiatives in partnership with the a host of technology firms including Digital Learning Institute and Microsoft.
Besides, Ekere, who is seen as "governor" of the nine NDDC states in terms of directing and influencing the development narratives in the areas, has, by insisting on implementing the NDDC policy of using local talents for local projects, empowered many indigenes of Akwa Ibom State that a grateful state is now urging him to return home and take charge as governor. Such is the passion he has unleashed that the state government has become so uneasy with Ekere and the NDDC, turning down requests for official visits and chasing contractors out of sites of NDDC projects.
Indeed, the APC is aware that it has an uphill task to dislodge the PDP and Governor Udom Emmanuel in the state. That awareness is panning out well in favour of Ekere who looks good to enjoy the overwhelming support of APC stakeholders in the state.  It is possible that he may emerge as a consensus candidate in the interest of a united APC that is expected to go into the general election as a common front in the overall bid to bolster the election of President Muhammadu Buhari in the state.
Interestingly, Ekere, who is a native of Ikot Oboroenyin, Edemaya clan, was born on May 29, 1965. If he wins the lection, he will celebrate his birthday on the day he will be inaugurated as governor. Double celebration! He had chaired the Akwa Ibom Investment and Industrial Promotion Cou cil, AKIIPOC, the investment arm of the state government. He was also chair of Ibom Power Company, the independent power generating company owned by Akwa Ibom State. .
–Usoro wrote in from Uyo, Akwa Ibom State.