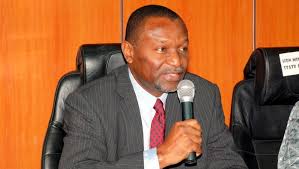 *Says 4m people added to Nigeria's population yearly
Iyobosa Uwugiaren in Abuja
The federal government Tuesday drew attention to the dangers of uncontrolled population growth on the economy and emphasised the need to generate national support for measures that could help moderate the rapid rate of population growth in the country.
Minister of National Planning and Budget, Senator Udoma Udo Udoma, who chaired the session on "Sustainable development" at the 58th Annual General Meeting of the Nigeria Bar Association holding in Abuja, said that current estimates showed that more than four million people were being added to the country's population every year.
Pointing out that the figure is comparable to the population of many large cities or those of small African countries, the minister stressed that if the country was to fully achieve the objectives of the Economic Recovery and Growth Plan (ERGP), which is to invest in the Nigerian people, expand social inclusion, create jobs and develop human capital, then it had become imperative that new ways to better manage the rate of population growth be fashioned out.
Citing the China example, the minister said managing population growth was an important part of any strategy to achieve sustainable economic development, saying that his ministry is working with the Health Ministry on the responsibility by Strategy 46 of the ERGP to develop policies to help manage the country's rate of population growth.
The minister stated, "Let me say, so that I am not misunderstood, that I am not suggesting that we consider taking measures as drastic as the one China implemented. But it is important to sensitise Nigerians that we will have to find ways to better manage our rate of population growth if we are to fully achieve the objectives of the ERGP, which is to create the Nigeria of our dreams where extreme poverty is virtually abolished."
He emphasised that when the ERGP is fully implemented the government would achieve a GDP growth rate of at least 7 percent, adding that the plan is the need to build a globally competitive economy and a nation where the country will grow what it eats, consume and use what it produces.
Reiterating the key execution priorities, the minister said the plan was focused on ensuring macroeconomic stability; expanding agricultural production so as to achieve food security; investing in transportation infrastructure; ensuring energy sufficiency, particularly in power and petroleum products; and driving industrialisation, particularly through SMEs.
He said it was most encouraging to note that, though as a 4-year plan, the ERGP was still in its early period of implementation, saying some early successes has already been achieved.
He mentioned the exit from recession and the growth of the non-oil sector which, according to the National Bureau of Statistics' (NBS) 2nd Quarter GDP numbers, grew by 2.05 percent.