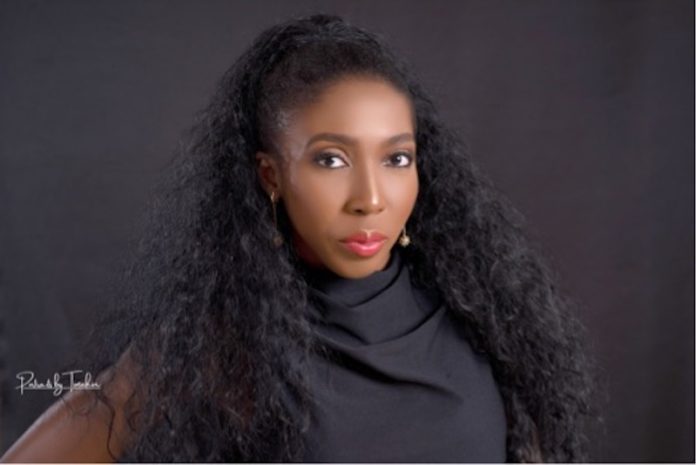 Oyindamola Egbeyemi
Cerebral, focused, and result-oriented,  this humble intellectual  who sits atop one of the  leading educational institutions in Lagos, The Foreshore School, Ikoyi is one-of-a-kind. Oyindamola Egbeyemi, the Executive Director, Operations is a well-grounded school administrator. Schooled at Corona Secondary School, Imperial College, London, the graduate of Chemical Engineering completed it all with the prestigious School of Etiquette in Switzerland and Language School in France. She is passionate about grooming leaders and after a few years in oil and gas and consulting firms, she jettisoned all to find relevance in the classrooms. Funke Olaode writes
about this educationist's quest for excellence.
Her petite appearance understates her status as an intellectual. Having left the apex of her corporate career to embrace a new role as a school administrator, Oyindamola Egbeyemi is a shining light as the executive director at The Foreshore School, a crèche, pre-school, nursery and primary school situated in Ikoyi, Lagos.
The elite primary school is a family business but Oyinda as she is fondly called, is an individual who is passionate about doing something with soul, creativity, pouring herself into a task.
"I guess that is also a personality trait based on the way I was brought up. I am a granddaughter of educators, my mum is an educator as well and my dad also. We come from a very humble background. My parents were both brought up very well by their own parents. So they instill some of those very important foundational values in me and my brothers. I watched my parents build their lives and I also like to build things, I like to earn things, I like to see the result. I don't feel entitled to things."
Egbeyemi, is a well-grounded school administrator with education which cuts across Nigeria and Europe. She is passionate about grooming leaders and after a few years in oil and gas, as well as consulting firms, she jettisoned all to find relevance in the classrooms.
"Honestly, retracing my steps back to the classrooms isn't accidental because I come from a family of educationists. My mum, Mrs. Bunmi Egbeyemi is an educator. She is the owner and director of The Foreshore School even though it is a family run business. She worked with her own mother for 10 years. Her mother is the late Mrs. Badmus and founder of Mayday School in Isolo which still exists till today. And then my maternal grandfather, Mr. Bayo Badmus retired as permanent secretary for education. After retiring as PS, he started his own school as well, Mayday College, which is in Iponri, Surulere, Lagos. The school still exists and my grandfather still goes there every day. And he is still a very sound educator. He is someone I still talk to about the education sector now, even though we spend a lot of time comparing it to what it used to be and giving advice on what it could be."
Born and raised alongside her younger brothers as the only girl, the 34 year-old oil and gas technocrat turned school administrator child was treated like a princess as a child. At the same time, she was tutored on the building blocks for success by parents who saw her as a role model for her younger ones.
"I enjoyed being my father's princess and my mum's best friend; because I am the first born, I have to do many things, I tend to have the first time experience and give first hand feedback. It is also important that I set a good example for my brothers, so from growing up they had me to look up to. Now that I am grown up, I look up to them too because everyone is so different, everyone is unique in their own way, so we all help each other."
Although Oyinda's privileged beginning is rooted in her upbringing, her formal education also gave her a good footing to be the best and aim for the best. Since Imperial College, London has always been a haven for the intellectuals, Oyinda naturally found her place in one of the oldest British institutions and excelled.
Today, she is addressed as an engineer but she didn't set out to be an engineer. She had wanted to be a banker and then an architect because she was very good at technical drawing. It was a subject she loved because of her love for precision and creativity. But there was a twist of fate- the only available option was to embrace chemical engineering.
"I chose chemical engineering because back then I had interest in oil and gas in Nigeria. I guess it was lucrative then. And financially it makes sense as a young lady. My years at Imperial College were, relatively speaking, the toughest four years of my life. You know when you are at the top of your class during A levels, during secondary school, you would feel 'high' but Imperial College was my first time experiencing fierce competition and a tough academic environment because everybody there was number one or two in their class. So, it was a little overwhelming at times but making good friends at university helped a lot. Even though sometimes it was like we were competing against each other as well but it really helped us to survive Imperial. Thankfully, all my friends and I did very well, we are all in good careers that we like now. Some are in banking and private equity. Some of them have started their own companies, some are working in consulting, oil and gas. I am quite pleased with the experience of Imperial College, I think it prepared me for what was ahead in life."
Oyinda excelled in academic pursuit at the foremost institute by graduating with a second class upper division and after working in Chevron, PwC and Accenture, she called it quits to be a school administrator.
"I like to thrive in an environment where there is structure. While working at Chevron during my youth service, I got involved in a community project. I was teaching Chemistry at some of the schools in the locality. Then I had just joined ToastMasters to learn the act of Public Speaking being a shy person. It was in Chevron that I started seeing that there is value in helping people. I remembered very distinctively one day, because at that time I was having struggles on where my career was going. I just told my mother that, `Mummy, I want to help you.' That was all I said to her; I want to do something where I am helping people. And that helping people has evolved into making an impact. That is what my career objective is, to make an impact. Of course, I love to make money so that I can take care of myself and plan for the future but what is very important to me is that whatever I am doing, I am building people's lives. So, working in oil and gas, is when I thought to myself, who am I really helping working in oil and gas? So that is where education and social impact came in. I committed myself to helping people by refocusing my career."
As she forges ahead in her career, she keeps evolving, seeing things in different perspectives which often lead to self-discovery. Working with Accenture taught her to help organisations to be the best while PwC provided an avenue to help the public sector in strategy. When the opportunity came, she joined The Foreshore School, first as a consultant and now a director.
"My parents never pressured me to come here. I came here on my own terms as my own decision. And when I did the strategy revamp, changed the mission, core values and eventually the name of the school that was when I felt, I am making an impact here and I want to stay and see it through. And it still is challenging but the progress is so encouraging. The progress in the establishment itself. I love to see the progress of the children, I love to see alumni excel."
For her, the Foreshore School is what it is because of the founding visionary, Mrs. Bunmi Egbeyemi.
"My mum was the instigator of everything. And she has a fantastic personality. She is vibrant, she is a very bubbly person. If there is anybody that doesn't like my mum, it is probably someone who is envious of her because I don't see any reason why. I know I am being biased towards my mum but she is a sweet person. There is nobody I know who doesn't like her because she wants to please everybody that is one of her greatest problems. So she is the driving force.
"When you have a good leader, those leadership values transcend even down to the people who are the cleaners. And it is what she brought me up with. We have the same values and I bring something different to the table based on my own experiences as well. Like you said, my parents have paid a huge sum of money for my education. They need to see the value that I am bringing. Hence, the leadership is my mum and then me, I came in as someone who is a consultant. Then we have a solid team from the head teacher down to classroom teachers. It is a collective effort with the same goals, 'to see our students excel.'"
Oyinda might have jettisoned the corporate world for a career in the classroom but she is still relevant, using her experience garnered over the years to drive the vision of the school.
"Honestly, it helped tremendously, especially working in consulting firms. Even from my engineering experience. Teamwork was one thing I learnt at Imperial College. From Chevron I learnt a lot about leadership. Then at Accenture and PwC, I was exposed to structure, operations and strategy. Those two consulting companies taught me how to set a vision and to put in place the strategy and the resources towards meeting that vision. I think even building a structure around the school, processes, policies those were things that my experience in consulting taught me and standardization as well. I mean things are not perfect yet, we will never even attain perfection but progress is very important."
Oyinda is passionate about all round self-development and at The Foreshore School, teacher's welfare is very paramount. This is what the school does via constant training for teachers particularly on leadership. The school also has extracurricular activities because it is important that every child gets a balanced education; it is not just academics.
"The industry itself is evolving rapidly. Sometimes we struggle to catch up with our international peers and an important part of our vision is on how our children will be able to stand next to their global peers," she added.
Oyinda may not go back to engineering very soon but will one day embrace consulting. The dream she said is already in the pipeline. "I started a company with a friend. It is something that started off as a passion because of my experience in Toastmaster, my experience working at the school, seeing people develop and my experience in consulting, seeing the opportunity that there is to help people do better. So I think I will forever be in this industry where I help people."
Lending her voice on the recently celebrated International Women's Day with the campaign theme, 'Break The Bias," Oyinda believes global awareness should continue. "I have a very controversial point of view on women empowerment. I definitely think that there are gender biases which prevent women from attaining certain positions in society. And I get it, I love the awareness that is going on globally. And that awareness, men are hearing us that is all I can say because I have many good male friends. These are the kinds of discussions I have with them.
"I personally because of the way the world is, the bias is for men too; so you know that James Brown song: 'it's a man's world.' That is the way I view the world. Because as men, men are leaders. They are the ones that are the driving pulse for a family unit. And I equate a school, organisation, and society to the family unit. However, there is no family unit that is complete without a woman.
"The love of a woman for anything she does, the love and passion that a woman has for anything she does is unexplainable. You cannot not experience that kind of love from a man. Love from men is more transactional. But love from women, in spite of any flaw he has, I am here for you, and you are going to do well. And that is why women should get an equal say in every critical decision making process. Be it at school, be it at the government level, be it at the presidency, wherever it is, that balance is important. I see it working at The Foreshore School because we have men on our board and we also have women. Above all, women can change their own narratives by constantly aspire for greatness."