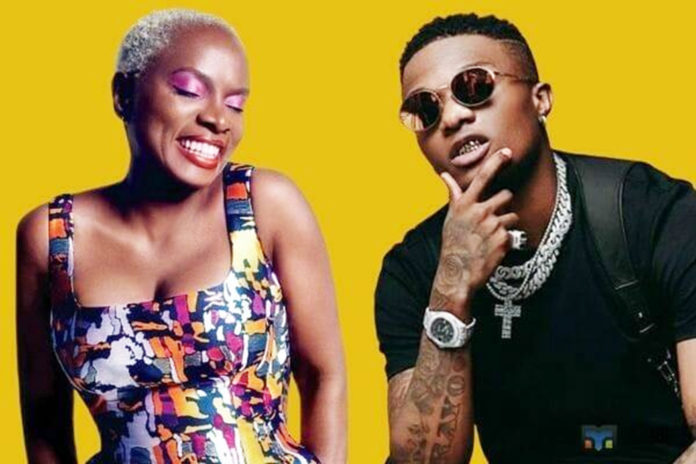 Ferdinand Ekechukwu
On April 3, 2022, the 64th Grammy Awards held at the MGM Grand Garden Arena in Las Vegas. At the event, Grammy-winning Nigerian superstar, Wizkid was nominated for two categories: Best Global Music Performance and Best Global Music Album. However, the singer lost both nominations as the Best Global Music Performance was won by Pakistani singer, Arooj Aftab for his single, 'Mohabbat'. 'Mohabbat' was a soundtrack.
While the Beninese singer and multiple-Grammy winning artiste, Angelique Kidjo, won in the Best Global Music Album category for her critically acclaimed album, 'Mother Nature'. The album features Burna Boy, Yemi Alade, Mr Eazi and more on different songs. The category also had Nigerian artistes namely Femi and Made Kuti with their Legacy + album and Wizkid with his Made In Lagos Deluxe album.
Wizkid's loss comes as a surprise to many who had predicted a double win for the superstar in both categories. Wizkid was believed to be the favorite when nominations were announced, because he had the biggest song 'Essence', a standout song off 'Made in Lagos' in one category. As expected, fans, music critics, and industry lovers have continued to react differently with many strongly opposed to Kidjo's win.
Grammy award voting members in their judgment settled for Angélique Kidjo's climate change pivoted album 'Mother Nature'. In 2021, 'Essence' was unofficially tagged the song of the summer. The 'Made In Lagos' album broke into the Billboard Hot 100, became the soundtrack at public events, and was on the list of major music magazines' end-of-the-year songs list.
Now, what really makes a song or a body of work "global" to the Grammys? Grammys definition or theme of global music remains contextual as against the more fashionable universal appeal of an album and songs. Theme that appears conscious and Afrocentric enough for an album, should be more deliberate and narrative-driven. And address some of Africa's country realities. Consider the Kuti's here.
Some critics argued and faulted Wizkid's in this regards, considering the power of music viz-a-viz the politics and nature of the Grammys. "Mother Nature" in which the leading song talked about the dangers of climate change-induced disasters, celebrated Africans' uniqueness and victims of the #EndSARS protests in Nigeria.
Opinion holds that the voting members of the 'Best Global' category are still not aware of how modern African music works, they still believe the continent lives on one dollar per day — still, on point, they are ravaged by poverty, war, corruption, and famine. Truly these are some of Africa's country realities. They don't believe in exotic cars, cash, women, etc. which Wizkid tends to glamorize and projects without giving much of focus to issues Africans are grappling with.
Wizkid's loss on Sunday brings to mind what played out in 2020, when Angelique Kidjo edged out Burna Boy at the Grammys to clinch the Gramophone Award (as it's originally called) for 'Best World Music Album' category. Then supermodel Naomi Campbell made a case, situating in context the place of Afrobeats in world music. In Campbell's view, it is unfair to categorize the genre at the Grammys with others.
She criticized the Recording Academy for lumping Afrobeats into the World Music category instead of giving the genre its own separate category. "Afrobeats is a musical genre played on mainstream and primetime radio not only across the continent of Africa, but across the world.
This misrepresentation diminishes an entire genre in which such a high standard of talent has emerged; a genre that has been a force of hope and positivity for many, and a vehicle for artistry on the continent of Africa."
Naomi continued: "Please take the next 363 days to reassess and reflect on your perspective of 'World Music…what will this neglectful categorization of music mean to individual cultures? Cultures that contribute their blood, sweat and tears, and every level of their creativity and work ethic into making music for you and for all of us.
"Please get up to speed on the state of all popular music today, and include Afrobeats Artiste of the Year, Song of the Year, Album of the Year and all the subcategories that this genre so deserves – just as any other respected and recognized musical genre. This is bigger than you, so open your eyes, ears and minds and treat us right and with the respect we deserve."
Although Legendary Kidjo doesn't just play Afrobeats, her music is diverse, encompassing and influential. That cannot be said of Wizkid. It can't be said for sure, but Campbell's outburst did in a way influence the Grammys which sees the title 'Best World Music Album' changed to 'Best Global Music Album' the following year. The categorization hasn't changed which in this case might have jeopardized Wizkid's chances at the 64th Grammys.
Naomi, this time around was displeased with Wizkid's double loss. And didn't hesitate to criticize the Recording Academy on her Instagram page, accusing the committee of failing to pay attention to what was going on in the universe.
Naomi said, "To my brother @wizkidayo, #MadeinLagos was beyond a phenomenal album!! Winner without doubt!! You are the king of the people, that has bought Afrobeats mainstream, that means more than any academy of any sort… "@recordingacademy Once again you choose to be tone deaf to what is going in the universe.
"#MadeinLagos Album and song Essence was clearly in the wrong category; how can you ignore the song Essence, The song by Wizkid, and Tems that was covered and remixed by Justin Bieber, you seem to isolate under global, when it should have been in song of the year category."