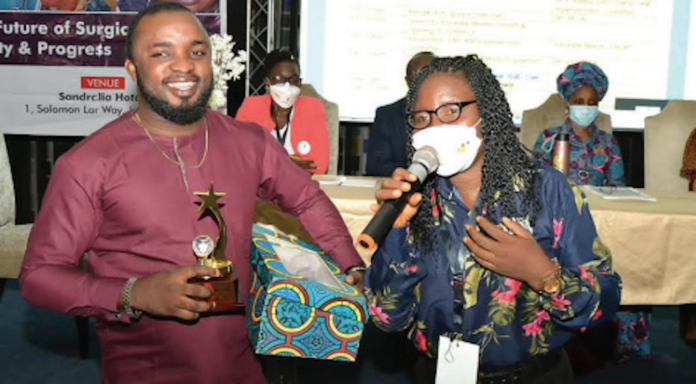 Ayodeji Ake
A reporter with THISDAY Newspaper, Sunday Ehigiator has won the maiden edition of Cleft Awareness Media award (CAMA) Nigeria 2021, organised by the world's largest cleft charity organisation, Smile Train.
At the award presentation, held recently at Sandralia Hotel, in the Jabi area of Abuja, Smile Train's Program Manager for West Africa, Victoria Awazie, said Ehigiator's win clearly reflects his passion, commitment, and the time spent in advocating the cause of people living with cleft lip and/or palate in Nigeria.
According to her, "This is in line with Smile Train's mission; 'to support families worldwide by creating, connecting, and sharing resources about cleft care'.
"You are truly deserving of this award, and I sincerely hope this recognition will sustain your commitment to ensuring that everyone born and living a cleft lip and/or palate has access to the care they deserve and live a full and normal productive life, congratulations once again."
The award which also came with a cash prize and other promotional items was presented to Ehigiator, alongside two other journalists from other media houses.
In his acceptance speech, Ehigiator appreciated Smile Train for deeming it fit to recognize his efforts towards creating awareness of cleft and palate issues among Nigerian children.
"I want to, first of all, say thank you to Smile Train for all they are doing for children born with a cleft in Nigeria. This is a condition that we barely see any organisation show interest in due to the cost of caring for a child with cleft/palate.
"And you didn't only do it at free surgeries, but you equally go further to provide all-round care for these children. This is rare, and I must continue to say thank you for this.
"For the award, I became passionate about reporting on cleft and palate issues after my first encounter with Smile Train, where they trained journalists about reporting cleft lip/palate. Of a truth, I knew little or nothing about cleft before that training.
"However, what aroused my passion towards reporting about cleft lip/palate was the immediate facial transformation experienced by these children after their surgery, and their lovely smile of gratitude. These are priceless. And it means a lot to the children's future, especially in boosting their confidence.
"I am grateful for this recognition, and humbly accept this award. I look up to a bigger 2022 filled with awareness reportage on cleft conditions. As this is the only way I think I can, I can support these children in getting the necessary help they so need."