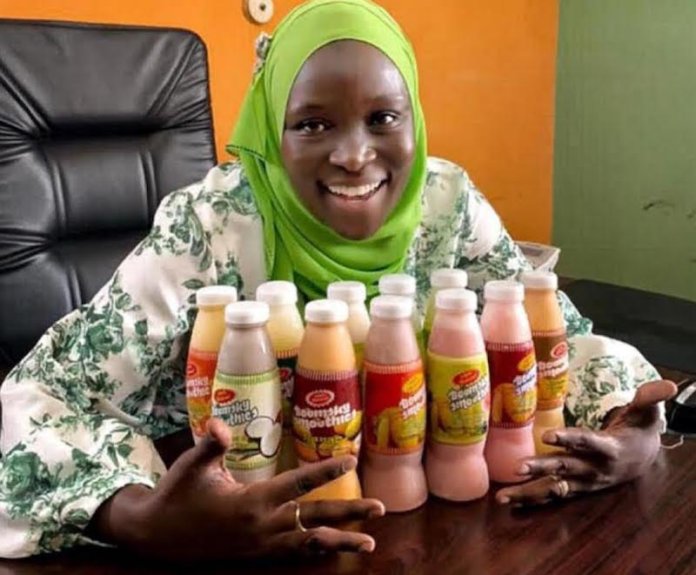 In this interview with Sunday Ehigiator, the Chief Executive Officer of Boomsky Smoothies, Olubunmi Otufowora, speaks on how her unusual craving for fruits during her first pregnancy 12 years ago, has now turned out to become a multi-million naira venture in the cold-chain industry, with her healthy products now famous in the refrigerators of major supermarkets and restaurants in Lagos state
Who exactly is Olubunmi Otufowara?
I am a pharmacist by profession with an MBA from the University of Lagos. I worked with a telecommunication company for 14 years before transiting into my current role as CEO of Boomsky Smoothies.
Upon graduation from the university, practicing as a pharmacist was the last thing on my mind. I had lost interest in the profession even while still at school and was looking for other opportunities that would be exciting and more fulfilling.
When I got the job offer from the telecommunications company post-NYSC, I felt it was the way to go and started my career with them as a management trainee. Throughout my stay with the organisation, I grew through the ranks to become the head of its special relationship unit, which I ran until I resigned.
How did you enter the cold-chain business?
My business started as a side hustle while still working full time for my previous employer with my colleagues and friends being my first customers. When the business grew to the point where it became impossible to combine it with my nine-to-five employment, I had to resign from corporate employment to focus on the business.
Cumulatively Boomsky Smoothies and Juices have been around for about 12 years with me being at the helm since inception, being a hands-on person with a passion for business, and a special love for creating healthy drink options, which are 100 per cent natural with no preservative or additives.
Of all businesses, why smoothies and juices?
I have always loved fruits, so transitioning the love into a business was simple. It all started when I got pregnant and had no appetite to eat chunks of fruits, so I blended the fruits I had at home and didn't realise what I had created until my husband informed me it was called a smoothie.
I researched more about it and I discovered smoothies were not a new phenomenon as they were quite popular in other parts of the world. Smoothies found me.
This business started with N3,000 12 years ago (money used to purchase the first fruits that I blended). When I took some samples to the office to get feedback about the drinks, a lot of my colleagues loved them and responded positively when asked if they would be interested in paying for the drinks.
I took their orders which amounted to N12,000, thus becoming our first sales ever in what could be termed our first week in business. I informed my husband about this pleasant outcome and he suggested I give the business a name and register it.
That's the short story of our humble beginnings.
What's the number of employees now?
We have a total of 18 permanent staff, comprising our production, delivery, and marketing teams, supported by a few office assistants, alongside a variety of others that collaborate with us in an ad hoc manner.
What is the uniqueness of your products?
Over the years, we've had to overcome many challenges, but our goal to ensure that Boomsky Smoothies and juices become essential items in every home has been our primary driver to stay in business.
Buying our product can be compared to our customers getting fresh oranges and squeezing them into a bottle for consumption. We have done all the work for them with no preservatives, additives, or added sugar. They are 100 per cent natural.
We bottle hygienically prepared nutritious drink options that are available off the shelf at most retail outlets for our customers to simply purchase and enjoy instantly or at any time of their convenience, once stored in a fridge or freezer.
If refrigerated, it is best to consume our products within five days, however once frozen, they can retain their integrity for up to a month in the freezer and simply need to be defrosted and consumed. Once the drinks have been defrosted, it's advisable to consume immediately and not refreeze.
Our products are freshly made daily with fresh fruits, without preservatives or additives, the essence of this is to give our customers products that would improve their health and as such, we would never compromise on the quality of what we put out in the market.
What are some challenges associated with the cold chain business?
The major challenge is that our products are highly perishable, and we need constant power supply to remain in business. That is our major struggle.
How did you feel the first time your product appeared on a supermarket shelf?
The feeling was incredible! We mainly retail in QSR's and supermarkets. The first outlet that accepted to sell our product was an eatery. I remember vividly.
A friend had advised me to approach a particular eatery to ask if they could stock our products. I offered them a sample of my product to display in their chillers, but they rejected it because it had not been attractively packaged.
They however advised that we improve the packaging of the drinks and revert to them afterward. This process took a year to achieve and they subsequently accepted to stock our products for sale in their outlets.
It's always been my dream to walk into a major store and see my products displayed on the shelves. I cried when this eventually happened after two years.
How many products do you have now?
We currently have 11 flavours' made from various fruit combinations and also sell customised combinations fitting customer preferences. All our products are NAFDAC approved.
They have also been analysed by the Federal Institute of Industry Research Oshodi (FIIRO) towards determining the content of nutrients in every bottle.
We only use fruits sourced locally as nothing is imported. We are strictly committed to showcasing the beauty of Nigeria in all our dealings.
Which of the products is your best seller?
Our best seller is the Banana and Coconut Milk, and there is an interesting story around it.
The variant was developed while I was still in my telecoms job with the input of a colleague who patronised me frequently and offered constant feedback towards arriving at a perfect blend. It took us six months to perfect the unique mix that has become our best seller since then.
How are you able to maintain a work-life and family balance?
Balance is not something you find, but something you create, and the secret lies in the delegation. It would help if you leveraged the relationships around you for assistance. It might be your friend, your husband, your sister, your cousins, etc. People are there to help, but all you need to do is ask. Don't be an island.
I would give the credit of my success to the great support system I have because they were there to motivate and encourage me when the chips were down and I felt like giving up.
What's the future for Boomsky Smoothies?
Currently, our circulation is still within Lagos State because of the perishable nature of our products; we haven't expanded to other locations. Our goal is however for every home in Lagos state to adopt a healthy living and make our product their first choice of drink.
We are working tirelessly to reach the whole of Nigeria in the next five years; even though we will be operating from Lagos, with the proper logistics, we hope to be able to get our products into every part of the country.
The event side of our business is different because we can serve at any event in any part of the country.
Also, we are working towards a larger fully automated factory where all our processes are fully automated, so we can produce in higher capacity towards supplying the entire country.
How would you like to advise today's youth and their attitude towards work?
It's so sad that the desire to work by today's youth is dwindling. I however believe that with the right incentive they will be better motivated. My advice is for our young ones to pursue whatever is of interest to them as long it's legitimate.
Quote
Our products are freshly made daily with fresh fruits, without preservatives or additives, the essence of this is to give our customers products that would improve their health and as such, we would never compromise on the quality of what we put out in the market