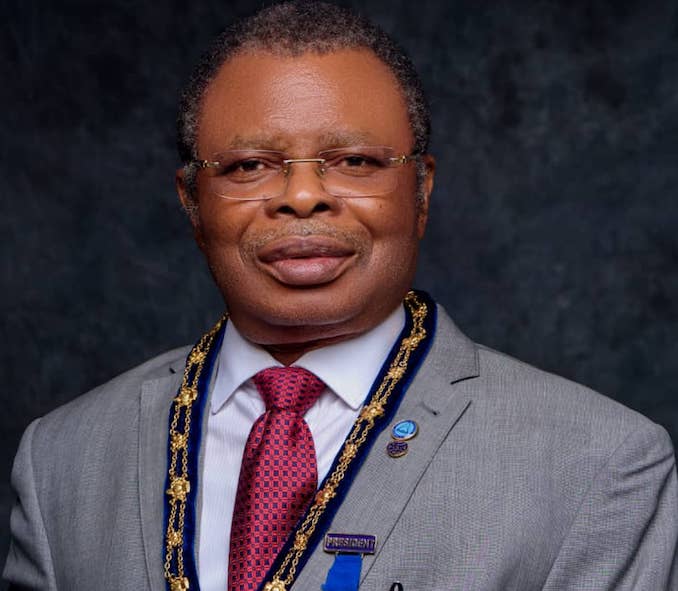 Recently, the Association for Consulting Engineering in Nigeria celebrated its 50th anniversary. Vanessa Obioha encountered the President, Engineer George Okoroma who shared some of the milestones of the association while giving a peep into his career trajectory
The year the Association for Consulting Engineering in Nigeria (ACEN) was founded was the same year Mr. George Okoroma began his secondary school education. As a young man in 1971, Okoroma was unsure of which career path he would pursue. But one thing was certain though, his calling was in the sciences.
He realised this in Santa Maria High School, Omoku, Rivers State, where he eventually became the President of the Science Society of the school. Even though his interest was in the sciences, Okoroma was equally good in creative arts. He disclosed that he was the Chief cartoonist in the school.
But his passion for sciences could not be easily overwhelmed. Back then, he was very much interested in science about the moon, and at one time, contemplated studying electronic engineering or medicine but after a horrifying discussion about the dissection of a cadaver during a class, Okoroma discarded his medical aspiration swiftly.
Interestingly, he later gained admission to study medicine at the University of Benin, but he opted out.
However, a chance meeting with a professor he admired nudged him towards civil engineering. Today, he sits at the helm of many companies including Gambeta Groupe Limited.
Sitting in his hotel room after arriving from Abuja with his wife, Okoroma exuded elatedness that he is the President of ACEN today.
"I feel great, elated and humbled. I mean how else can one be happy." he enthused.
"It is more of God's divine grace that in the history of ACEN, a young man who entered secondary school in 1971, who never knew where he is going to be or what the future looks like. And I never knew that I was going to study sciences anyway, and today I am the president of the association."
Okoroma was crowned president of the association in February 2020. Shortly after that, many countries began to shut down due to the coronavirus pandemic.
But for his foresight, he was able to prepare members for the uncertain times ahead.
As part of his objectives for his tenure, he ensured that ACEN — an association of registered professional consulting engineering firms in Nigeria and a member of the International Federation of Consulting Engineers (FIDIC) — had a functioning website.
"I had very tall dreams when I came in but the pandemic happened. Nevertheless, one of the things I did is the backbone of the survival of ACEN today. I had in mind that I was going to revive our websites, not knowing that we're going to end up with everything being done on the internet and ICT. Today, the ACEN website is one of the best websites. We built an e-library in the system as well. So all of our communication was done through the internet.
"Also, we were able to succeed as an organisation, meeting all our engagements: business evenings EGM and AGM, and even our training."
He added that the association is very keen on peer review to enable them to stay up to the latest technology as well as award Continuing Professional Development (CPD) points to member firms.
"The idea is that we need to develop our people on a regular basis," he explained.
The association currently has 400 registered firms which is still a far cry for a country with over 200 million people.
"That's one of the things that I think I wish we would have been better than that. Because South Africa, for instance, has a population of 60 million and then the number of firms is over 600. Now compare that to a country like Nigeria with over 200 million people."
Okoroma attributes low patronage of local consulting engineers by the government as responsible for that.
One of the key goals of ACEN is to promote indigenous consulting engineers in infrastructure development in the country. This objective is at the heart of Okoroma who as a young man starting out in the field faced a similar challenge. But due to his doggedness, he was able to prove to the company that he could deliver as much as the foreign consulting engineers but more importantly, that his right as an engineer would not be denied.
"That is why we are advocating as ACEN that the indigenous consulting engineers should be given the right place in infrastructure development in our nation."
He continued: "In fairness to the government, they came up with the Nigerian Local Content Law in 2010 and then in 2018 the Presidential Executive Order 5. We all appreciate that but the issue is implementation and enforcement. There's no implementation, the government should be intentional with what they are doing.
"If you come up with a policy, we appreciate that. In fact, in this country, we have a lot of policies in place, but implementation and enforcement become a challenge. Now in the ministry, departments and agencies of government, how many of the agencies are actually implementing this to the core? And unfortunately for us, we haven't gotten to that understanding that engineering is development. No nation can develop without engineering."
To Okoroma, engineering is life. It is found in every facet of human existence. From roads, fashion, to the medical field, engineering, he said, is involved.
"The essence of engineering is to improve humanity. What engineers do is look at where the challenges are, and see how they can improve the life of humanity…When you have more consulting engineering firms engaged by the government, then you will have development.
"So it has to be intentional because all nations that have survived and grown in development including China and Japan have a link to engineering. If you remember years back, when you talk about Chinese products, nobody will touch it but the Chinese deliberately started improving on the quality and to a large extent, including Japanese. Today, most industries or factories are in Japan and China. There's now a competition between China and America.
"What we need to do is a change of mind. So our people should patronise the Nigerian consulting firms. The government should deliberately ask the ministries, departments, and agencies of the government to support the indigenous consulting firms.
"A situation where you go to the ministry and they start asking why do we need to have a consultant is to me, an aberration because you need quality and advice; you reach out to them, but because you don't want to spend money, you cut corners and that's why we have quackery everywhere."
He emphasized that the association frowns heavily on such practice and is guided by ethics to ensure that the best practice is obtained from member firms.
For Okoroma, engineering is a lifelong study because of technological advancements. For instance, he said that due to the ongoing climate change campaign to reduce carbon emissions that FIDIC is planning to train engineers on how to have less carbon print in their designs.
The engineer from Rivers may have assumed office during the pandemic but his tenure will be remembered for giving the association a facelift as well as being the first president of ACEN to serve a two-year tenure in the Council for the Regulation of Engineering in Nigeria (COREN), even as he prepares to pass on the baton of leadership.
Quote
To Okoroma, engineering is life. It is found in every facet of human existence. From roads, fashion, to the medical field, engineering, he said, is involved