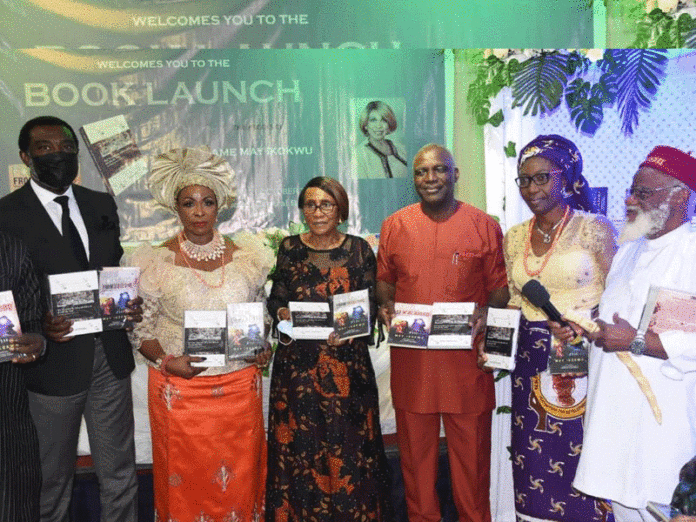 By Olawale Ajimotokan
Three books authored by Dame May Ikokwu have been launched to protect the Igbo language, culture and tradition from extinction.
The books, Folktales from Igboland Vol One, Ilu Na Gwa m Gwa m Gwa m Ka Ha Di Nfe, Nke Mbu; and Akuko Ifo Si Nala Igbo, Nke Mbu which were reviewed by a former federal permanent secretary and Pioneer Commissioner for Nigeria to ECOWAS, Adaoha Okuosa, were presented to the public at the Chelsea Hotel, Abuja.
The premiere was attended by several Igbo dignitaries, including former Governor of Anambra State, Dr Chukwuemeka Ezeife.
Many were alarmed about the slide of Igbo culture, traditions and language into extinction.
Former Minister of Power, Prof Barth Nnaji said in order to revive the dying culture of Igbo, parents should ensure that their children learn the language.
He lamented that while other cultures in Nigeria speak to their children in their language, Igbo prefer to speak to their children in English.
He described the three books as very profound, adding they are about folktales, which young people will grow up with.
"When they are growing up they learn about morals, cultures and tradition through the books. That is what the book is all about. The author translated the books in Igbo as well and had musicals because the folktales can't work well without the complete folktales which can be punctuated by songs. It is very profound, nothing like it," Nnaji said.
The Group Managing Director of Multimesh Media Group, Sir Geoffrey Ohuabunwa said the books should be used as research materials in schools for children and adults to learn and bring back some of Igbo cultural heritage built on family and belief system.
Ohuabunwa, who runs Love FM and Gospell Digital TV that is into the manufacture of decoder, noted the Igbo because of their nature as travellers, lose some of their heritage and don't speak Igbo in their houses.
He blamed families for not teaching their children the Igbo language, unlike the Yoruba and Hausa.
"Unfortunately I am one of those who caused that problem. My children are learning Igbo at old age. That is the reason why we Igbo should try and bring back the Igbo language not just for the benefit of the Igbo people but to grow people of culture and value because the Igbo language comes with a value system, cultural heritage and all that," he said.
He also asserted that the entire three volumes of Ikokwu's work can be converted into the video to generate content for cable television episodes.
"Right now one of the things television needs is content. Look at the whole three volumes, if we convert them into videos, you can have more than 36 episodes. I will encourage her to convert it to video and be able to put it into acting since the book has been properly reviewed. It is just to get someone to write a script for the video. It would help to produce content for TV houses in Nigeria and overseas and all over the world," Ohuabunwa said.
The author urged Igbo to speak their language and borrow vocabularies from other cultures and spell them in their Igbo way.
She voiced concern that universities have started dropping Igbo because of a lack of teachers while people don't care about studying Igbo because they feel there will be no jobs for them if they study it.
"It is very worrisome. That is why I jettisoned my former consultancy which was climate change. I moved over to Igbo. Let us save our heritage because it is going. If you don't save our heritage, nobody will come from outside to come and save it for you".
Ikokwu also raised alarm over the disappearance of animals in folktales as a result of the clearing of land for the development of estates.