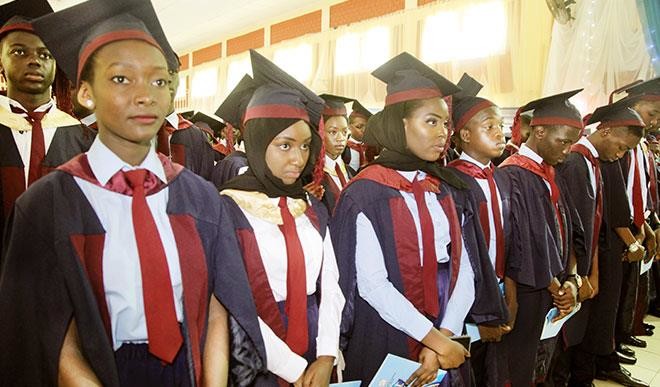 Oluwabunmi Fache
The Federal College of Education (Technical) Akoka, Lagos, has graduated 83 students.
The school's Principal Mrs. Abdul Salami, at the graduation ceremony held at the Chief Paul Alabi Multipurpose Hall, said "it is by the amazing grace of Almighty God, the Staff and students of the F.C.T (T) Secondary School that we have come to the successful completion of the 2021/2022 academic session. In view of this remarkable achievement, I want to implore our dear parents to be more committed to the academic excellence of their wards."
She further said, "My hearty congratulations goes to the graduating students, and I rejoice with my students and our parents for a successful completion of secondary education because it is not through your strength but with divine mercy of Almighty Lord. Always remember to be good ambassadors of this school and follow the footsteps of your predecessors who are claiming first class in all their fields of endeavour. Target to be among the best in your morals and academic pursuits," Salami charged the graduands.
Salami expressed thanks to his indefatigable teachers and the entire staff that have always jointly been working to bring about a fulfilling session, "I appreciate your resilience in the diligent discharge of your duties and I pray to the Lord to compensate your labour bountiful."
The Provost, Dr. Wahab Ademola Azeez, implored the students to be mindful of their character as "accumulation of character leads to your moral uprightness. Note that education without good character turns to vanity."
The Guest Speaker for Valedictory from the Department of African and Asian Studies, Faculty of Art, University of Lagos, Prof. Iwu Ikwubuzo who asked the students to always recite their school anthem, said "my message is that it is not yet over until you win. I want you to be acquainted with a stanza of the school anthem that you recite everyday: 'you shall be obedient wards' let this be your watchword, because this guarantees your success in life."
The Board Chairman, Dr. Adebayo S. A., advised the students that the only secret to success lies in their ability to discover themselves, "be more studious and this can only be achieved through determination, dedication, discipline, sacrifice, patience and above all prayers. Always remember to let your light shine in the dark."