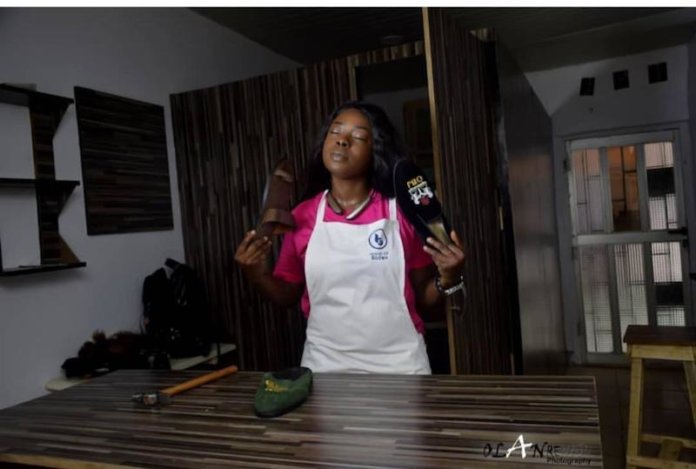 Chiamaka Ozulumba
Nigerian female cobbler and selfless entrepreneur, Florence Bodex, has enjoined young girls seeking a career in male dominated professions like shoe making, painting, mechanics to shun intimidations, but be determined to succeed against all odds.
She reminded them that, it is their skills that put money in their pockets and not criticisms.
The young business lady made this call during an interview with newsmen to mark the International Women's Day (IWD) this year.
According to Bodex, "I do feel discriminated doing male dominated work but I really don't care. It is how well you carry your brand and your mindset about being a lady doing enviously well in a male dominated environment, which is the core focus and selling point."
Asked how she got into shoe making business, she recalled with a sigh, "I was pushed into shoe making due to depression that led to almost taking my life.
"I paid a shoemaker N30,000 in Ajegunle to learn the trade. And I have no regrets because today, I make shoes for governors, ministers, and celebrities among others."
After my training, Bodex continued, I started making branded shoes with 'Bodex media' written on it to cover all types of events.
While admitting that she had no ounce of intent to turn it into a money-making venture until "a Nollywood actress commissioned me to make four pairs of shoes worth N20,000. That token became the seed I invested to start the Bodex Footwear today."
Earlier, she reminisced, before I got into the business, I had to study my environment first knowing that almost everyone wears and must need a shoe.
For Bodex, it is apt to study your immediate environment to know its pressing needs when planning a business.
Yes, she acknowledged, you might be frightened initially, but for the love of choosing to challenge, such narrative is the least you want to dwell on.
She chipped in, "Don't feel threatened for doing what men are known for, as physical appearance is different from your strength and deliverables."
Bodex is not just a shoemaker, she freely runs an NGO known as BEWI AFRICA – Bodex Exceptional Women Initiative, where she counsels young girls on the streets about shoe making, mechanics, painting and more.
Today, she trains young girls at no cost hey are trained for free at her factory sited at Surulere area of Lagos State.
"I tell them it is a male dominated work but you have to choose one and make it work if we are really fighting for gender equality.
"Due to Covid, the lockdown affected our work but we had to resort to online advertisements and also kept in touch with some of our existing clients. The effect of COVID-19 wasn't that much since it is a selling business."