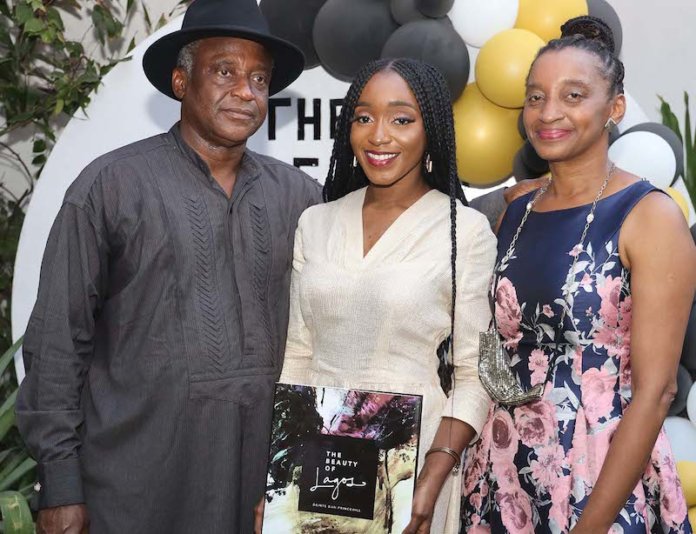 Segun James was at the launch of the book 'The Beauty of Lagos' which is a text and pictorial chronicle of the city of Lagos
Lagos has a reputation for a lot of things, but beauty is certainly not one of them. At least, not until recently. Admitted, the city is the "go to" place for a lot of Nigerians who see the city as an Eldorado of some sort. For most of these people, the streets of Lagos is paved with gold and all you need is arrive and pick yours. But beautiful? No sir. To some Nigerians, a city that is home to Ajegunle, Makoko and even Mushin must be far from beautiful.
Tell that not to Deinte Dan Princewill. An architect, a photographer and an artist. To her, there is surely something that is beautiful about the city that never sleeps. A city bubbling with energy and the most populous city in Africa. You only need to open your eyes to see it, to appreciate it. "Lagos is never straight" says Yinka Dayo Adepoju,Mobutu "it always has its twists and turns, it's high and lows, but that's why I love it. There is beauty in its organized chaos. In between the sea of yellow buses and taxis, you will find the most resilient people, always seeking to make something out of nothing. Eko oni baje," he enthuses.
Although to people like Tomi Aluko, "Lagos is not for the faint hearted. It can drown you if your feet are not firmly rooted. It's wind is powerful. Blow or be blown." Mariam Amusan also agreed. "Lagos has its stressful days, but it also gives the best unplanned days. Good music, good energy just good vibes."
To show what makes the city of her birth beautiful, Dan-Princewill has gone ahead to document it in the book: "The Beauty of Lagos." Just like her, Kunbi Odubogun has this to say about Lagos. "No matter the distance, whether in miles or in decades, Lagos is a magnet. It pulls you home and holds you tight. Sometimes too tight. It's a complex force like no other that reminds you of who you are and what you can overcome."
Her efforts has caught eyes of the Lagos State government which had been trying hard over the years to sell the city-state as the choices tourist destination of the country. This was the reason why Governor Babajide Sanwo-Olu sent his Commissioner for Culture and Tourism, Mrs. Uzamat Akibile Yusuf to represent him at the unveiling of the book which was streamed live via ZOOM.
Dan Princewill captured the essence of Lagos which prides itself as the state of Aquatic Splendor, the Centre of Excellence and the only city in the world where nobody welcomes you, once you are Lagos, you are already a Lagosian.
Over a third of Lagos is covered by water and is bound to the south by the majestic Atlantic Ocean. No wonder that most of the city super rich live on the Atlantic seabed at such areas as Ikoyi, Lekki, Victoria Island, Lagos Island, Victoria Garden City and Ajah. "When you talk about Lagos, you have to acknowledge its hustler spirits, the buoyant economy and the resilient escapism. Lagos never say die," says Sam Uduma.
Since the waters make up most of Lagos, land is scarce, it has given rise to spectacular new towns and exclusive business and residential areas such as Banana Island, Osborne Foreshore and the Eko Atlantic city, all built on lands reclaimed from the sea and the Lagos lagoon. "Lagos, where everyone and everywhere is full of life," says Ego Okadigbo.
All this were captured in the book which Dan-Princewill says is a continuing effort as the city keeps on changing every minutes, every time and everyday. "Lagos. Where prayers are constantly going up, and blessings are slowly but surely coming down," she opines.
She chronicled not only the beautiful places that few people know about the city but also the unique, the peculiar and that which were in the open and full knowledge of everyone,but never noticed. "Lagos, the city where the hustle never sleeps," entrusts Bolanle Williams-Olley.
According to Akinbile Yusuf, the book is a testimonial of what Lagos is, and what is becoming, adding that the book will promote art, culture and tourism, and that state government is ready to partner with her. According to Daniba Dan-Princewill, "Lagos is that 'little engine that could.' Even though it is the smallest state in Nigeria, it has everything to offer everyone. From our delicious street foot to our our world class destination sit s. Lagos is the whole shebang." Akinbile Yusuf couldn't agree more.
The same sentiment was shared by the chairman of the occasion, Mr. Yemi Cardoso, a former commissioner in the state who opines that the woman folks have virtually taken over in the country and have become a major force not only in entertainment and culture but also in business and politics.
He urged other youth to follow in the spirit of Dan-Princewill who has dared to make a difference. "What you are seeing is an example of youth taking over," he stressed. In Lagos you can be anything and anyone you want as long as you play your cards right. And even 'right'is relative. That's Lagos for you," says Dr. Foy.
Deinte Dan-Princewill is a passionate and multi-talented architect, designer, entrepreneur and self-proclaimed life enthusiast. One of the children of Faafaa Dan-Princewill, a business man and for governorship candidate in the old Rivers State in under the auspices of the National Republican Party (NRC) in 1991, she is a graduate of the prestigious Cornell University, New York City where her passion for design, arts and culture were further amplified.
She has worked at some of the worlds most renowned designed and architecture firms in the USA and France before moving to Lagos where she started her design firm and established a social hub for professionals called The Metaphor.
Her keen eye for detail and her love for travel and photography motivated her to visually document her Lagos experience in the book The Beauty of Lagos.