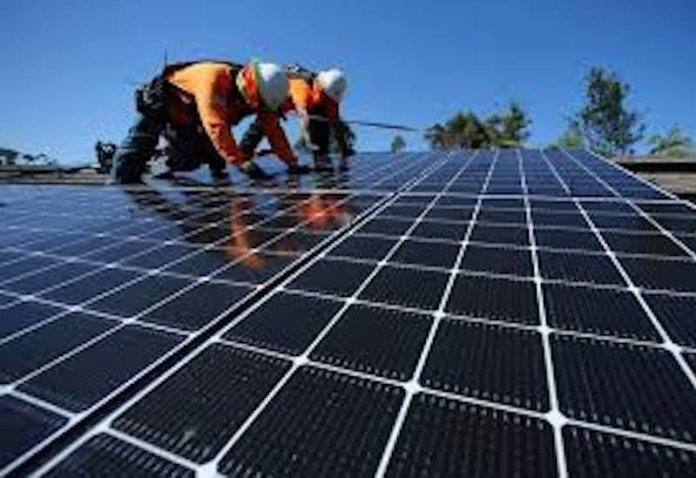 Chibuzor Oluchi
B&S Power Holding Pte, a Singapore-based renewable energy corporation, has unveiled a strategic plan to boost electricity supply with the development of the Ashama 200 megawatts solar PV power plant.
The power giant disclosed that it would develop the Ashama solar power project on 304 hectares of land in Aniocha South, Delta State in collaboration with Sunnyfred Global, an indigenous investment entity.
The Vice President of Green Plinth Africa, Prof. Victor Fodeke disclosed this plan at a media chat and project roadmap presentation of the solar power project in Sheraton Lagos Hotel, Ikeja on Thursday.
Fodeke, a co-founder of the power project, noted that the project is timely now that the country needs an urgent boost in its energy supply to sustain industrial and business activities for economic growth.
He said African countries would need "to embrace renewable energy especially solar because while Africa contributes less than 4 percent to emission, it is going to be impacted more by climate change than advanced countries, which have technologies that would reduce the impact.
"The 200mw solar project will reduce about 200 million metric tons of carbon, curbing gas emission, sanitizing the climate and offering healthier life for Nigerians. The project is expected to be completed between 9 and 15 months."
Also at the roadmap presentation, Chairman of SunnyFred Global, As Mr. Manfred Osazuwa disclosed that the 200mw solar project is going to lead the renewable energy solution in the country and beyond.
He pointed out that the host community "is going to benefit from job creation, while businesses are going to enjoy sustainable energy supply and high productivity."
Speaking at the presentation via zoom video conferencing, the Minister of Power, Mamman Saleh said effective power generation and distribution was key to the federal government policy goal to diversify the economy.
He also stated that the administration of President Muhammadu Buhari is committed to the nation's electrification strategy to avail Nigerians reliable, sustainable and affordable power.
Saleh said, "In Nigeria, we are committed to a national development path that is guided by the desire to diversify the economy away from oil with a focus on the agricultural and manufacturing sectors of the economy, this means the power system is central to achieving this desired goal of economic diversification.
"This requires us to develop and implement an overarching unified path to electrification leveraging both grid modernisation and extension; and renewable energy based distributed systems integration in the power system.
"In recognition of this, the Federal Government of Nigeria under the leadership of His Excellency, President Muhammadu Buhari has launched vision 30:30:30, a target to deliver 30GW of electricity with 30 percent renewable energy by 2030. This is a key focus of the nation's electrification strategy to avail Nigerians reliable, sustainable and affordable power."
Saleh, who was represented by his senior adviser, Abba Aliyu disclosed that the ministry under his leadership had developed five focus areas to serve as a roadmap to support the national policy directive.
He explained that government key policy intervention in the sector "is to improve access to power, through increased focus on embedded generation, off-grid power generation solutions, and on-grid independent power generation.
"The objective of our off-grid policy is to attract investment into the off-grid arena. Today's event serves as a feedback to our strategy. The Ashama 200MW Solar Farm, when completed, will serve as the biggest utility solar project not only in the country but the West African region.
"This landmark project will be developed in partnership with Singapore based renewable energy firm, B&S Power and SunnyFred Global. From the project documentation, it will be located on about 304 hectares of land in Ashama village, Aniocha South of Delta State. Greenplinth Africa are consultants and strategic partners to the project promoters."