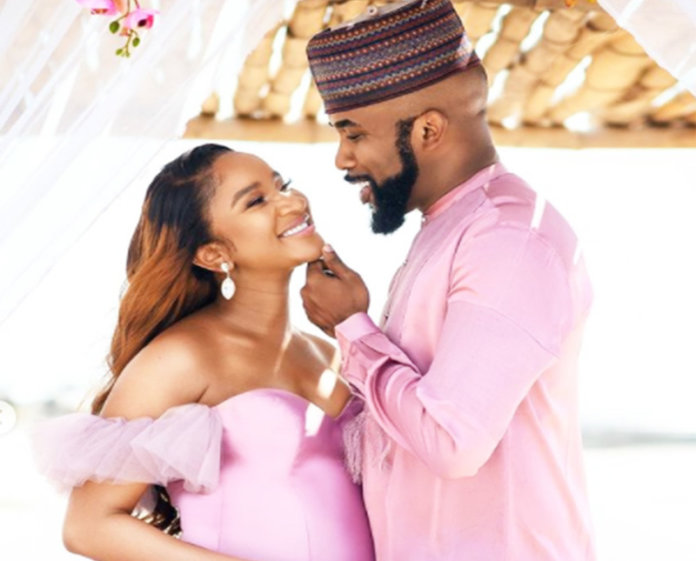 It has been celebration galore for celebrity couple, Banky W and his lovely wife, Adesua Etomi, as they cheered their first child, a baby boy, Ferdinand Ekechukwu reports
Nollywood actress, Adesua Etomi, took to Instagram on Monday, February 22, to reveal the good news of her baby boy and shared photos from her maternity shoot to celebrate her birthday. In one of the photos, the Wedding Party star is seen cradling her baby bump with her signature broad smile on her face. In another photo, the couple is seen holding each other as they pose in white outfits. Sharing the photos, Adesua revealed that they welcomed their baby a month before her birthday.
"You have a track record of keeping your word. Ọlọrun agbaye o, you are mighty". 4 weeks ago I received the best birthday gift ever. Our Son. 1+1=3," she wrote. Proud father, Banky W, who has a new video/song titled Final Say, also confirmed their new arrival in his birthday message to his wife. He wrote: "Happy birthday to my lady, my love and purpose partner, My world, my wife and Baby Mama. I didn't think it was possible for you to be more beautiful than you already were… but I was wrong. Because you're not just beautiful, you're strong. You're grace and favour personified, and you're so much more.
"Words cannot properly express how grateful I am for you, how much I love you, or what we've been through. I'm thankful that you're mine. And that God made everything beautiful in His time. He turned our tears into triumph, and our loss into laughter. He's changed our lives forever, here's to the next (and best) chapter. Nothing I can say or do can top what He gave us. My baby had a baby and he's everything we prayed for @adesuaetomi. Happy birthday 'Mama Zaiah' I love you SCATTER."
Shortly after the good news Adesua shared online, congratulatory messages poured in from their celebrity friends and fans.
Banky W's marriage is one of the biggest events that happened in the entertainment industry in 2017. The wedding hashtag #BAAD is one that many would never forget as the couple received so much love from their fans, followers and colleagues when their relationship was made public. Initially, the public perceived the engagement of these two celebrities as a publicity stunt. It however turned out a reality, as they later announced that their intentions were absolutely serious. The couple both featured in hit Nollywood movie "The Wedding Party".
This movie turned out to be a rehearsal for their real wedding. Film critics and spectators noted that there was undeniable chemistry between the duo that was similar to that of Angelina Jolie and Brad Pitt in the movie "Mr & Mrs Smith". Both couple has starred in a couple of award winning movies together. Recall that Banky W and Adesua held their traditional marriage on 19 November, court wedding on 20 November and white wedding on 25 November 2017; the latter ceremony was held in Cape Town, South Africa. Three years later, Adesua and Banky W are celebrating their bundle of Joy.
When they both celebrated their third wedding anniversary last November, it witnessed a hearty exchange between the singer/actor and the actress/influencer. The bubby took to his social media page to celebrate and he shared a video from their wedding. According to Banky W, he made the decision to marry Adesua three years ago and that it was the second-best decision he made in his adult life. The multi-talented artiste went on to preach about love. His love note reads: "Three years ago, Susu and I made the decision to love each other forever. But the only reason forever is even possible is because we made the decision to make God our foundation.
"And while a foundation is the part of the house that people don't see, it's by far the most important. Because you can fix cracks in the walls, refurbish the rooms and repaint the halls, but you can't get the foundation wrong if you want any chance of the house standing at all.
The structural integrity of a house requires a foundation that is built to last. I recently heard a Pastor say that love can't keep a marriage going… he said it takes God and commitment. I think maybe he had a bit of a misunderstanding of what love really means. Because… well, God is love. And love is commitment. Without both, it certainly isn't love and it definitely won't work.
"People sometimes think Susu led me to God. But it's not true. God led me to Susu. And He has kept us through it all. Marrying @adesuaetomi is the 2nd best decision I made in my adult life. The best was re-dedicating my life to Christ. Susu, I am thankful for you, and grateful to you. You are everything I want and much more than I deserve. You mean the world to me and I intend to spend the rest of my life proving it. I love you now more than ever. three years down, I'm looking forward to forever. I love you. Happy Anniversary Shuga. #BAAD2017 #BAAD2020 #BAADforever."
Adesua on her part also posted the same video on Instagram with a heartfelt message and told Banky that apart from Jesus, he is the light of her life. In the message, she told her fans and followers how amazing, loving and caring her husband had been over the years, adding that she could not love him less. Excerpt of her sweet notes reads: "Three years? Seems like yesterday. Seems like forever. Three years with my bestie. Everyone knows you're my husband but today I want to thank you for being my best friend. The most attentive, loving, funny, caring, inspiring friend I have ever had.
"I thought I knew how to love but omo, you have schooled me. I never knew it was possible to be with someone this long and not have it be riddled with tons of fights. I'm glad for our low voiced intense conversations. Lol. You don't make me feel crazy. I don't have to yell before I'm heard. I don't have to worry. I don't second guess how you feel about me. I know I'm valued, as I should be; thank you bubz, for just being a correct human being. For the heart that you have. For being quick to be sorry when you're wrong (whispers…even when you're not. Lol) (I do the same sha) For not putting your ego before us. For giving me a home that's my safe haven.
"I'm grateful for the home we have built. I always look forward to coming home and it takes a lot to even get me out of the house. Lol. God has done the most marvellous things these past three years. May he continue to be the 3rd cord in this threefold cord. As long as he lives and he shields and we keep him part of our lives, we will never be easily broken. Apart from Jesus, you are de the light of my life. May that light continue to shine brighter and brighter. You, my darling are a force to be reckoned with and the world will remember your name. @bankywellington I love you doesn't seem to suffice anymore but I'll say it anyway. I love you with every fibre of my being. Let's do this till we're old and grey and maybe in heaven too? #BAADFOREVER."