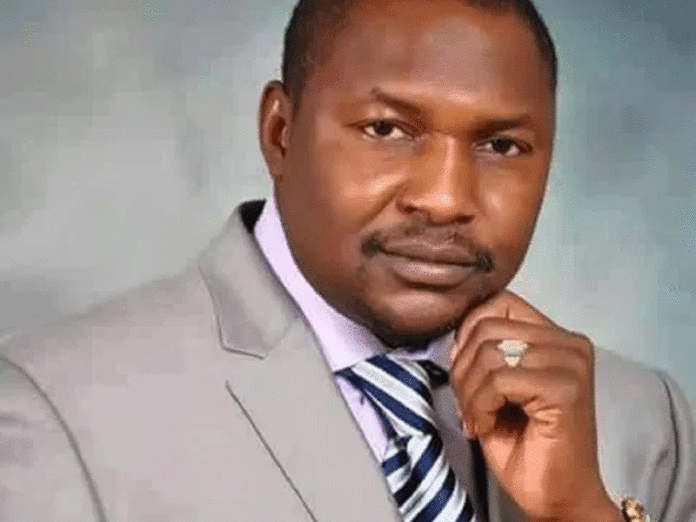 By Alex Enumah
A cross section of eminent Nigerians in the society yesterday showered encomium on Attorney General of the Federation and Minister of Justice, Abubakar Malami (SAN), describing him as a core professional and consummate politician, who is working very hard to enhance the legal jurisprudence of the country.
The Senate President, Dr. Ahmed Lawan; his Deputy, Senator Ovie Omo-Agege, and the chairman of Nuel Ojei Holdings Limited, who was the chief launcher of a book launch, were among eminent Nigerians who reeled out the numerous achievements of Malami at the book launch in Abuja.
The book is entitled: 'Contemporary Issues in Nigerian Law and Practice'.
At the occasion, the Chairman, Senate Committee on Judiciary, Opeyemi Bamidele, represented the Senate President, Lawan.
Omo-Agege, who was one of the chief launchers of the book, in his remark, described the AGF as a national figure, principle leader and an icon of the Nigeria legal profession.
He said: "I have had personal interaction with him in the fights against corruption as well as his vast contribution to the fight. His initiatives and concerted efforts have helped in proffering solutions to contemporary challenges in the justice system."
While lauding the AGF for initiating reforms that had led to a lot of legal frame work, which have been passed into law, Omo-Agege reiterated the National Assembly's synergy towards actualising set objectives in the ministry.In his welcome addresss, the Permanent Secretary, Federal Ministry of Justice and the Solicitor General of the Federation, Dayo Apata (SAN), said the book underscores the fact that the instrumentality of the law should be used to not only deepen the country's legal jurisprudence, but to also enhance its political and economic development.
According to Apata, apart from further enriching the country's legal gamut, the timely presentation of the book will help in strengthening the capacity of the judiciary for effective delivery.
In his keynote address, Chief Oladipo Okpeseyi described the author as a thorough-bred professional and an astute progressive with an amiable disposition."The book was borne out of Malami's quest for excellence, dedication and foresight," he added.
In a short review, Professor Chijoke Nwoke described the book as all embracing, having the touches of other professionals.
In his short speech, the author and honouree said: "The book, I believe, will promote legal jurisprudence, reading culture, and it will allow people outside this clime to know more about Nigeria's legal system."
The 692 pages book with 25 chapters covering legal practices and human endeavour was a well research compendium of articles beautifully bounded together to honour Malami.