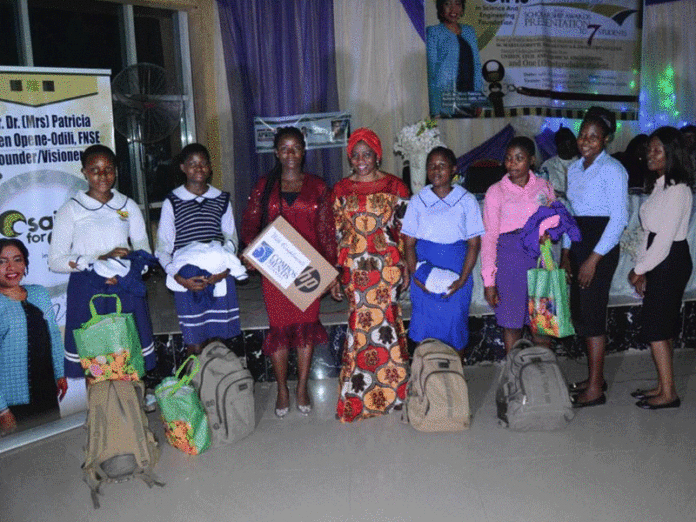 By Funmi Ogundare
Seven female students have benefitted from the Osaide for Girls in Science and Engineering Foundation scholarship award, aimed at promoting and advancing the education of young people in the area of Science Technology Engineering and Mathematics (STEM). Four were drawn from the secondary category, while three from the university.
They are; Miss Esohe Idemudia and Purity Eloghosa Edegbe of St.Maria Goretti Girls Grammar School, Franca Osaigbovo of Oba Akenzua Secondary School, Mercy Osawonyi of Imaguero Girls Secondary School, all in Benin Edo State.
Others in the university category include; a Chemical Engineering student, Miss Esther Imhande, Civil Engineering student of Jasmine Aizenosa Nosa-Ehima, as well as Hephzibah Chidimma Maduka, a postgraduate student, all from University of Benin.
Speaking during the virtual meeting to commemorate the first year anniversary of the foundation, tagged, 'Journey So Far', held recently, the founder, Dr.Patricia Opene-Odili recalled how it all started two years ago when the foundation discovered that a lot of girls especially in Benin were dropping out of school due to lack of funding.
"I thought and prayed about how I could reach out and support the girls in Benin. In 2020, we decided to fix the programme for February 14, to show love to the girls on Valentine's day."
In her remarks, the President of Association of Professional Women in Engineering (APWEN), Mrs. Funmilola Ojelade congratulated the recipients of the scholarship saying that the initiative is what the association has been passionate about and to impact the lives of young girls.
"This year, is the first anniversary. It was done out of love for the recipients of the award and their education, " she said, while appealing to them to take advantage of it and be fervent in their studies.
Vice Chairman, APWEN Benin Chapter, Mrs. Queeneth Kingsley-Omoyibo thanked the founder for the opportunity given to the girls saying that their lives have been transformed.
"The girls are doing well in school. During the Covid-19, one of the beneficiaries wrote a book titled' Irreparable Loss', and another had gotten a Council of Registered Engineers in Nigeria (COREN) certification," she said while advising them to continue to face their studies.
The National Technical Secretary of APWEN, Dr. Imhade Okokpujie promised that the foundation, aside paying their tuition, will also create an opportunity for their mentorship and send them literatures that would enhance their studies.
Managing Director Bamsat Nigeria Limited, Mrs. Margaret Oguntala noted that such initiative is worth emulating. She added that once they are given such opportunity and mentored, the sky will be the limit. She congratulated the beneficiaries saying that they should make the best use of the opportunity.
In their response, the beneficiaries expressed excitement about the opportunity saying that it has given them courage to pursue their passion, made them better persons and to improve on their studies.