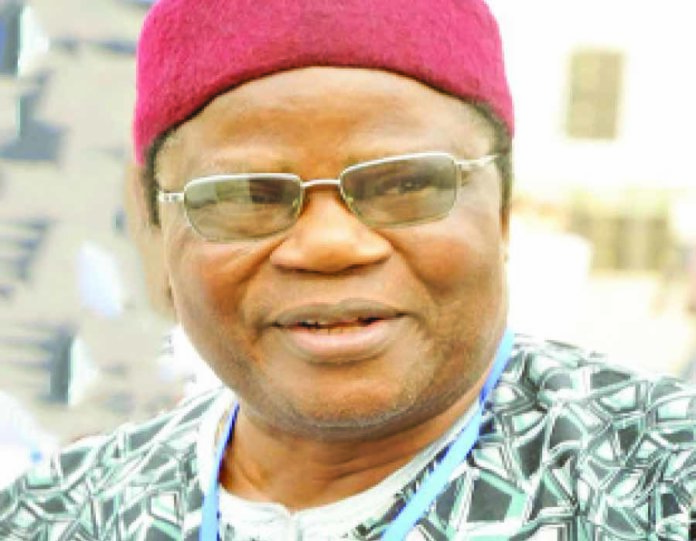 By Mack Ogbamosa
If there was anyone who prepared himself adequately for his life career, it was Prince Tony Momoh. After attending a teachers' training college in his early life to train as a teacher, he grounded himself in mass communication and law to make himself a well-rounded professional in both fields. He was a renaissance man; a man of many parts. It was therefore no wonder that most of his contemporaries avoided arguments with him. They (his contemporaries) also warned other upcoming journalists to avoid arguments with Tony Momoh. This, they said, was because he easily jumped from one discipline to another in order to confuse others in the course of any debate. This writer was one of those so warned to avoid him but he stubbornly refused, insisting that he wanted to know more about him.
My First Encounter With Him
Incidentally, my first encounter with him was not a physical one. I was reading a copy of the DAILY TIMES newspaper in 1980 when I saw a story where Tony Momoh was said to have been promoted Deputy Manpower Adviser of the Daily Times of Nigeria (DTN) Plc after having served as the Editor of the paper. That did not interest me much. What intrigued me was that the man had degrees in mass communication and law. I immediately had a volition. This was the time I was trying to make up my mind on which career to pursue after having just passed my Advanced Level papers in Arts subjects the previous year through private study. I did mainly science subjects at the Ordinary Level examination of the West African Examinations Council and had intended to read medicine or pharmacy but had been frustrated by lack of sponsorship.
My not getting sponsorship was not because I had a poor financial background but because I chose to claim I was from the southern part of the country while my older and rich family members, who were financially endowed claimed to have come from the northern part of the country. They told me I needed to join them to enjoy scholarship but I refused. By so doing, I had to solely find a convenient way to successfully acquire my education. I was fortunate to be able to do so.
In the course of this journey, I later encountered him physically as a journalism student, a journalist in the DAILY TIMES and as a lawyer in his chambers. He was the Chairman of the Board of Governors while I was a student representative at the Times Newspaper Training Centre(TNTC) later Times Journalism Institute (TJI). He was the General Manager of Times Publications Division (TPD) while I was a Sub Editor in the DAILY TIMES and I ended up as an associate in his law Chambers while he was the Principal Coordinator. We worked together in all other areas including .media and publicity campaigns as well as political consultancy for the late Dr Alex Ekwueme and President Muhammadu Buhari until his body transited on Monday, February 1, 2021.
In my more than 40 years of interaction with him , I saw a man who stood for hardwork, meritocracy, honesty, punctuality, reliability ,integrity and humility. These virtues reflected in his daily activities.
His Scores of Many firsts
He scored many firsts. He was the first known journalist in the country and the first DAILY TIMES Editor to empower himself with degrees in mass communication and law. He was the first Editorial Training Manager of TJI. He was the first and only journalist who became Editor of the old DAILY TIMES through examination. He was the first and only General manager of the TPD to have been appointed Minister of Information and Culture. He was the first and only Minister to write Letters to his country men.
Despite the fact that the Federal Government held majority shares in the Daily Times of Nigeria (DTN) plc while he was Editor of the DAILY TIMES, he did not hesitate to challenge members of the Second Republic National Assembly when they tried to interfere with his job. He took them to court and got a judgement . This has become a landmark case in both constitutional and media law reports today.
Although, one of the persons who inspired him to adopt Anthony as his name despite the fact that he was born a Moslem and given the name Suleiman, was the notable politician, Chief Anthony Enahoro, he rose to a higher position in politics than his idol did by becoming the Chairman of a national political party, the Congress for Progressive Change(CPC).
As the General Manager of TPD , he would be at the office before other members of staff including cleaners. He would move from one office to the other to ensure that workers are on their desks. He frequently came to the Sub Desk and Production Desk to appraise our jobs. He would insist that promotion of staff be based on merit. I remember how one of the Sub Editors went to ask him why I was the only one promoted on the Sub Desk in 1986 . He responded to the Sub Editor by asking him if he thought to be promoted as a Sub Editor was just to sub stories? He told him to go and be writing stories for other papers on the DTN stable like I was doing.
He abhorred wastefulness. I remember how as General Manager of the TPD, he insisted that waste papers (unsold newspapers) should be sold.When that was done, he used the proceeds from the sale to build a structure which later served as an in- house health clinic in the premises of the TPD at Agidingbi, Ikeja.
A critic of government before Babangida's era, he saw his appointment as Minister of Information and Culture as a way to rope him in. This was exactly what he told me when he came back from the United Kingdom into the Agidingbi newsroom in 1986 while I was congratulating him on his appointment. Was he not actually roped in? Many Nigerians including his professional colleagues did not understand that as Minister, he was no longer doing the job of a journalist but that of a Public Relations man for the then government of President Ibrahim Babangida. He distinguished himself in this area by consistently writing "Letters to My countrymen" to explain the programmes and policies of the government to the people.
He attempted to professionalise journalism but met a stumbling block from some of his colleagues and could not succeed but he did professionalise other aspects of mass communication- Advertising and Public Relations.
His Role in Politics
Even in the "dirty game" of politics, his virtues determined the kind of politicians he chose to work with- Alex Ekwueme and Muhammadu Buhari. Both men were seen as men of integrity. He saw his entry into politics which began in 1998, as head of the Media Campaign Organisation of the late Dr Alex Ekwueme Presidential campaign under the People's Democratic Party. (PDP) as purely professional. Until recently, he never saw himself as a politician but a professional in politics. His preferred aspirant lost to Olusegun Obasanjo at the Jos Covention where the PDP presidential primaries were held.Obasanjo subsequently won the election and was president from 1999 to 2007.
His Relationship with Buhari
He later pitched his tent with Buhari from 2003 under the All Nigeria People's Party(ANPP). Despite opposition from some family members and friends, who thought that Buhari did not have the chance of becoming president, he stuck to the relationship. The result? Buhari subsequently moved into Aso Rock in 2015 .
NO ASKING FOR REWARDS
He worked without asking for material rewards.
As minister under Babangida, he refused to award contracts and he did not make any deal with any contractor.
After working for Buhari for twelve years( 2003 – 2015) before he eventually won election as president, he told those of us working closely with him that he did not expect any rewards because we did the job not for material benefit but because we believed in the man – Buhari. Even after winning a second term, and up to now, virtually all of us who worked very closely with him neither got any appointment nor any form of reward under the Buhari administration. When I asked him why we did not get appointments despite the efforts we put in for many years to make the President realise his ambition, he told me he had submitted our names to the Presidency and was not ready to beg anybody to oblige him.That was typical of Tony Momoh. He never begged to be recognized. He was, however, made Pro chancellor of the Governing Board of the University of Jos.
As chairman of the CPC, he was one of those who led the discussions that resulted in the formation of the ruling All Progressives Congress (APC)
He was also one of those that convinced Buhari to re-contest as Presidential candidate of the party at a time Buhari had already given up on partisan politics.
He believed in the restructuring of the country to reduce expenditure on government and make government more efficient so as to satisfy the yearnings of the people. He also believed that Nigeria is a country with laws , not a country of laws.
As a man of truth, he told his party – the APC that they could not take Edo State from the incumbent governor, Godwin Obaseki,who had defected from the APC to the PDP. Even though, many party members called him names, the results of the gubernatorial election showed he was right.
His Biography
Momoh was born in Auchi to the Ikelebe Royal family of Auchi sacred kingdom on April 27, 1939. After his elementary school and Teachers Training education, he became a teacher and rose to the position of headmaster before coming to Lagos to start his journalism career as a Sub Editor trainee in the DAILY TIMES in 1962. He later attended the University of Nigeria , Nsukka and the University of Lagos, Akoka, where he studied mass communication and law.
Among other positions, he rose to become the Editor of the daily newspaper and General Manager, TPD before he was appointed Minister of Information and Culture by the Babangida Administration in 1986. He later became Chairman of the Board of Nigeria Airways.
In politics, he was Director of Alex Ekwueme Presidential Campaign Organisation in 1999 chairman, , Media and Publicity of the ANPP Campaign Organisation in which Buhari emerged Presidential candidate 2003 – 2007, Chairman of the Political Committee of Muhammadu Buhari Organisation and later, Chairman of CPC in January, 2011.
In the media, he was Chairman, Accreditation Board, Nigeria Union of Journalists, Fellow, Commonwealth Journalists Association, Nigerian Guild of Editors and chairman, Award Nominating Panel of the most prestigious journalistic award scheme in Nigeria, The Nigeria Media Merit Award.
He distinguished himself as a journalist writer, author ,lawyer, administrator and media Consultant.
His Books
He authored, co-authored and edited many books on various subjects ranging from journalism to media laws, spirituality, and politics. They include: Each Man, His Time: The Biography of an Era; The Role of The Media in National Security and Crime Management; Democracy Watch: A Monitor' s Diary, Volumes I – III; Experiment With Disintegration; Nigerian Media Laws and Ethics; Reflections on Letters to My Countrymen, News of The Forgotten Army, Simple Strokes, Issues and Perspectives in Government Media Relations, Thoughts on Governance Without Tears , To Save Nigeria, Let's Talk, Women in Chains, Nigeria: A Dream Betrayed, Aliens on Earth, Story of the Daily Times: 1926- 1976; and Many Questions and Buhari's Answers .
HIS BELIEF IN HUMANITY
Momoh did not relate with people on the basis of where they come from. He believed in humanity. He worked with whoever he came across as long as that person was good enough at what he was doing.He did not relate on the basis of tribe or religion After having been very close to him as a son for over 20 years, he told me in 2002 when I was preparing to go to Law School that he thanked God he did not know where I came from. I was asking him about Etsako Club'81, which is a social club of willing and well- to -do members from the three Etsako local government areas of Edo State and he asked me what my business was with the club. I told him I was from Etsako. He shouted :" I didnt know that. Thank God I didn't know where you came from". He explained that the way I spelt my surname did not give him any clue that I was from the same local government area as him. We laughed over it.
Apart from me, he mentored many other Nigerians without bothering to know their tribe, religion or ethnic group .
In all his dealings, he always focused on what will happen tomorrow, not today. He was a man who knew tomorrow.
Spiritual Belief
Momoh was not openly identified with any of the two major religions in the country because according to him, he did not want to be involved in the quarrels that often arose between Christians and Muslims. He was a spiritual man, who though, embraced the tenets of both Islam and Christianity , preferred to be an adherent of the Grail Message: In the Light of Truth by Abd ru-shin.That was why he neither swore with the Quoran nor the Bible when he was being sworn in as a minister in 1986. He only affirmed.
He came across this message even before he became Editor of the DAILY TIMES in 1976.He told me a joke of how he saw his Sub Editors – Lade Banuola and Femi Kusa (now veteran journalists) reading copies of the Message on the Sub Desk and how they tried to hide them while he was coming to the Sub Desk not knowing that he had read the Message long before then. He believed we are in this world but not of this world.
He believed that man is a spirit. Spirit does not die, it is only the body that dies. He believed in life after life. Tony Momoh is not dead but only transited to the other life in paradise. As his body will be interned at the Grail land Iju, Lagos on Thursday, February 11, 2021 , he will always be remembered as the man who epitomised honesty, discipline, integrity , hard work, excellence and humility. He knew what he wanted in life and went for it. He lives on.
Mack Ogbamosa, a Lawyer/Journalist, is based in Lagos.
.