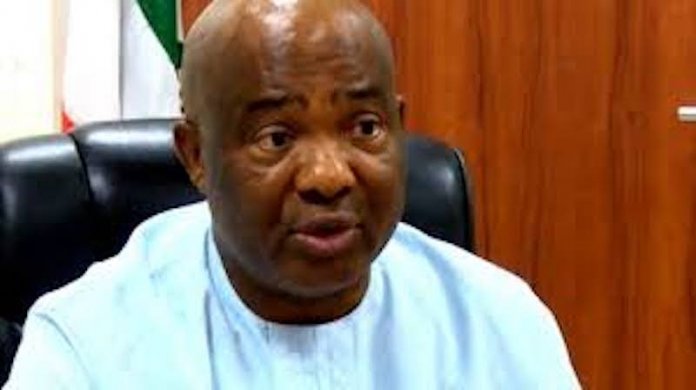 Amby Uneze interacts with Chief Enyinna Onuegbu, Imo State Commissioner for Lands, Survey and Physical Planning Development on how Governor Hope Uzodimma has fared within the past one year in office and his plans to implement white paper on illegal acquisition of lands by the previous government
Before now you have been in active politics and have held many positions, how did you start?
I think I will describe myself as a veteran politician in Imo state apart from being a private solicitor which is my profession. I have been in the vocation of politics longer than what people know starting from my SDP days when I was a councillor aspirant under the Social Democratic Party. Since then I have remained in politics through different platforms mainly because of my adoption by the one and only Senator Arthur Nzeribe who I followed from that time till he retired from politics. As to benefits, I think in the last 10 years I started getting benefits from being in politics; the first was when the former governor, Dr. Ikedi Ohakim appointed me the Sole Administrator of Ngor Okpala local government council from where I contested and won election as Executive Chairman of the council. Outside of those, the next thing that has happened to me positively is the present appointment by the governor, Distinguished Senator Hope Uzodimma for which I am grateful and thankful to him.
I have a lot of experience in party administration. Under DPN, I was Assistant State Legal Adviser, in my former party, the PDP; I served as a State Publicity Secretary. In my present party, the APC, I also served as the State Publicity Secretary and currently I am the state Legal Adviser in the caretaker committee of the party.
In the past one year, the politics of Imo state has experienced certain upheavals, as the leadership has changed hands through the Supreme Court rulings, how did you see the scenario?
I believe that nothing happens without God's doing. Politics is usually a game where the majority will take the day and the minority will have their say. You can never have 100 percent, either opponents or supporters. His Excellency Governor Hope Uzodimma is, as far as I know, appears to be the David of our time. Why I said so is because nobody gave him a chance. If you remember the story in the Bible when the Prophet went to Jesse house and all the male children lined up and God said the one I am looking for is not here, and said there is a small one in the field tendering sheep, they had to go to the field and fetch David; and God chose him. That is a typical story of Governor Hope Uzodimma. Yes, he tried it and nobody gave him a chance when he contested for the governorship under AD and challenged Governor Achike Udenwa's second term, but having gone to the Senate where he played national politics and the name he had made at the national level, you will think that coming to contest for governorship is far from it, but God gave him the message to come and right the wrongs in Imo state.
It is a matter of being a welfarist in the politics of the state. Everybody believes that the Number One welfarist politician in the state is Governor Hope Uzodimma. Before he became governor anywhere you go people will attest to the fact that he is the man who attends to their smallest problems in helping to solve them. Eight years in the senate, he did not buy any house or any major thing for himself. As Senator, he arranged for all the party chairmen from Orlu zone to have two 18-seater buses each, he paid for one for them in their private capacity as party officials and helped them secure another one for transport business under the small micro scheme arrangement. He is the first man in Imo who gave out a Range Rover vehicle as a gift to campaign directors and leaders of the party. So I think God looked at his heart and said he should go and bring the state on the path of rectitude. If you check it, we have had governors who ruled the stated that felt they were greater than the institution. We didn't have strong institutions, rather we had strong men ruling Imo in the past.
For the first time in Imo, people became appointees without first meeting god fathers, carrying drinks etc to lobby to the governor on their behalf. Following the judgment of the Supreme Court of January 14, 2020 that gave victory to Governor Hope Uzodimma, he was sworn in on the January 15, 2020, and from that day till my appointment was announced, I did not seat one-on-one with Governor Hope Uzodimma, except probably on the phone about what was to be done and he gave me this position. There are more than 90 percent of appointees who would tell you that they did not discuss their appointment before they were made, the governor on his own made these appointments simply because he had knowledge of the antecedents of all of us who worked with him during the campaigns. It was not a case of monkey dey work, baboon dey chop. This monkey worked and it is the one chopping. And that is why; we said that this government is a 'government of shared prosperity' with Imo people and the Three R mantra: Reconstruction, Recovery and Rehabilitation as his mission. He is rehabilitating not only the institution, but the plight of the Imolites that this governorship we used to see as the Himalaya Mountains is available on the ground. There is nothing as joyful as when you come to an occasion and your governor calls people by their names without a protocol list. It is joyful when you come to the governor's office you find people discussing among themselves because they knew themselves from day one, and when you mention any street in the state they know where it is located. That is government that is rooted in the people.
One year has passed what would you ascribe to this government as its milestone?
Governor Hope Uzodimma has achieved a lot within one year in office. For instance, before this government came on board, we used to have these elderly people (pensioners) monthly coming for verification in Owerri with the attendant problems they passed through. The governor put a stop to that and designed a method to automate the payment system, so that civil servants, local government systems and pensioners would have their salaries and pensions paid with ease. Somebody in the past had collected N750 million for automation and for seven months it never worked. When the governor started it there were some delays in the system because of the automation, but now he has finished it, you will find out that somebody will get arrears of 5 or 6 months' salary or pensions at a go, it has never happened before. Now people only get paid through their bank alert. The percentage of people who are not yet verified is not up to 10.
In the local government system, people would go on transfer from one local government to another and they would originate two files each file for one local government and they would be collecting two salaries at the end of the month; doctors who were in employment at Imo State University (IMSU) as lecturers and seconded to Imo State University Teaching Hospital (IMSUTH) at Orlu would go there and generate a new file as if they were employed at IMSUTH, so they would be taking salary in IMSU as well as in IMSUTH, this means they would have double pension at the end of the day. This governor saw this and stopped it. CONHESS requires you to be paid extra work at the IMSUTH but your salary will be generated from IMSU and they said they don't want it; that is the issue the government has with medical workers. Bringing sanity to the system and making things work normal is what this governor has achieved within one year in office.
Again, in terms of road construction and rehabilitation you may visit Chukwuma Nwoha, Dick Tiger, Douglas road (that was impassable all though the second tenure of governor Okorocha; it was a refuse heap), Douglas Road is fully done now with full street lights from beginning to the end; Wethedral Road has full street lights with all the potholes done, MCC Road and see the quality construction of road going on there now; Relief Market Road (called Martin Agbaso street) that was impassable is completed, Chukwuma Nwoha with an underground tunnel (balloon system) that will take all the water from Ikenegbu and Aladimma to Nworie river through the old IBC is going on now. Go to Amaigbo street, Uche street, Oparanozie street where nobody had imagined that tarred road would ever pass through, they are all done with street light. This is a government that has come to serve the people truly, honestly and very fastidiously and we only need to thank God that a David of our time is on the throne.
In the past eight years or so, we used to see Christmas buntings across the major sites in Owerri and at the end of the day the government would spend billions of Naira. This governor has stopped that jamboree. That is maturity we are talking about which he has brought to governance. The security situation has improved. In the last Christmas there were only two kidnappings, fortunately the Bishop was released through the active intelligence of the security agencies in the state. The other one they ascribed to Imo happened in Ihiala, Anambra state, the man that was killed comes from Ideato in Imo state, but the incident happened in Ihiala. Throughout that period, you would agree with me that the 'Operation Smash' did well hence there was very relative peace in the state.
Workers went to Christmas with their December salary. The governor has provided 30 units of Coaster buses to take civil servants thro and from work. This means that when they come to work in the morning by 8am they will stay till 4pm when the buses would take them back home, within this period they must have put up their optimal best. That is why, when you come to the State Secretariat, there is a beehive of activities there. This government gave official vehicles to Permanent Secretaries to perform their official function which has not been done before. So these are the welfare packages that when you impact on the people they bring their optimum best to serve the state. This governor has provided the latest Prado Jeep for the judges of Imo State, so that they are at par with their colleagues in states like Lagos and the FCT. So that is what is called 'shared prosperity'.
Let's talk about your ministry of lands, survey and physical planning, what is your mandate as regards to land matters in the state?
In the Ministry of Lands where I superintend, we are interested in restoring public confidence; we have eliminated quackery in land transactions. Now if you want to do a search, you come to the Ministry and pay the fees, we have embargoed allocation to eliminate double standards. The governor has directed that we certify all C of Os issued in the state as well as to maintain a register for allocation. We want to maintain transparency by ensuring that all allocation must be by public notice so that Imo people will know that a particular area is available for allocation and they will bid for it. We are expecting the gazette that will emanate from the judicial commission of enquiry on lands and related matters so that all the areas where the previous government took over peoples' lands without proper revocation can be retrieved and given back to their rightful owners. Luckily the Exco has approved it.
The areas originally mapped out for government projects such as the proposed new Government House complex at New Owerri, etc, that had been tampered with by the previous government, what would happen now that the judicial commission recommended revocation?
Tthe white paper answered those questions where public land were taken for mixed use without change of purpose and when we start to implement it, Imo people will know that it is for their interest.
Are you saying the structures on them already will be demolished?
If the white paper says so, it will be demolished. Most of those structures did not get the approved plans. This is a government that has come to put things on the right path.
Secondly, if you come inside Owerri you will find out a clash between federal agencies and state without due process or letters of exchange between the two governments; people used the name of federal government to occupy land which they wouldn't develop instead few years after they mapped them out and sold them to themselves for private use. I want to assure Imo people that our eyes are on the ball. I want to urge them to give Governor Hope Uzodimma the support he desires by acknowledging his performance level.
What is your expectation, for the next one year, of this administration?
We expect consolidation. I expect the governor to increase the revenue base of the state, attract previous unguided expenditure of the previous government like Imo state government went on to build Police and Prison headquarters which as at today we do not know the position of the structures. I expect the governor to get back that money from the federal government. We need to recover them so that the governor can apply them to most deserving areas for the state. I expect the governor to tidy up the issue on employment embargo, so that those who are qualified can be fully employed.
QUOTE
For the first time in Imo, people became appointees without first meeting god fathers, carrying drinks etc to lobby to the governor on their behalf. Following the judgment of the Supreme Court of January 14, 2020 that gave victory to Governor Hope Uzodimma, he was sworn in on the January 15, 2020, and from that day till my appointment was announced, I did not seat one-on-one with Governor Hope Uzodimma, except probably on the phone about what was to be done and he gave me this position. There are more than 90 percent of appointees who would tell you that they did not discuss their appointment before they were made, the governor on his own made these appointments simply because he had knowledge of the antecedents of all of us who worked with him during the campaigns