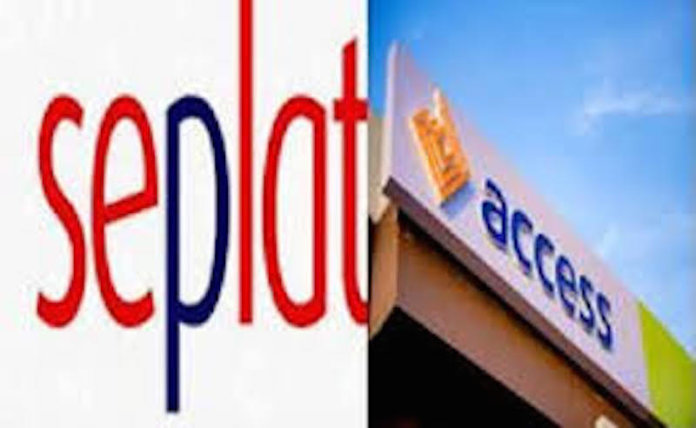 The enervating process and long-drawn legal efforts by the Access Bank Plc which 'merged' with Diamond Bank Plc, to recover an outstanding $86m loan to SEPLAT Petroleum Development Company's associated entity draws attention to seemingly contrived pitfalls in subsisting loan recovery templates which endangers depositors' funds and society, writes Louis Achi
It could be recalled that on Wednesday, December 02, 2020, the Seplat Petroleum Development Company Plc corporate headquarters at 16A Temple Road, Ikoyi, Lagos, was closed to business based on a court order which authorised a receiver/manager, Messrs Kunle Ogunba & Co to enforce an ex parte motion requesting that Access Bank Plc take over SEPLAT's headquarters. A related ruling by Justice Rilwan Aikawa of the Federal High Court in Lagos, had set the ball rolling.
The issue centred on a dispute between Access Bank and Cardinal Drilling Nigeria Ltd, an entity associated with SEPLAT, over a loan taken from Diamond Bank Plc (since acquired by Access Bank Plc) for which the latter has been unable to fully repay in line with the original terms of the facility. The Access Bank had inherited the assets and liabilities of Diamond Bank Plc in 2019, following a merger of the two banking institutions forming one of the largest banking entities in West Africa.
SEPLAT Petroleum Development Company, founded in 2009, is an indigenous upstream exploration and production oil and gas company listed on both the London and Nigerian stock exchanges with a strategic focus in the Niger Delta of Nigeria. With a particular eye to exploiting divestment opportunities from the incumbent major IOC's portfolios it also has almost ten subsidiary entities. SEPLAT's chairman is Anambra State-born Dr. ABC Orjiako, an orthopaedic and trauma surgeon and billionaire business mogul.
In its court filing, Access Bank firmly held that SEPLAT and Cardinal Drilling Services had close ties, stating that "SEPLAT is a sister company to Cardinal, jointly promoted by Orjiakor who is the alter ego of the two companies". More, it stated that "SEPLAT is in fact the 'real debtor' while Cardinal is merely a 'vehicle smokescreen' for the purposes of the subtle obtainment of credit facilities by SEPLAT".
But in a letter to the Nigerian Stock Exchange (NSE) on the matter, the upstream Oil and Gas Company insisted that SEPLAT was not a shareholder in Cardinal Drilling Company and therefore was not liable for its debt obligations. In its preliminary objections in court, it had also towed this line of defence.
Another twist came last week when the Lagos Division Court of Appeal suspended an order of Mareva injunction, which froze the accounts of an oil firm – Seplat Petroleum Development Company – over the $85.8million legacy debt.
The Appellate Court overturned the decision of Justice Rilwan Aikawa of a Federal High Court in Lagos, which granted the Mareva injunction on November 23 last year, in a suit filed by Access Bank against SEPLAT over the debt.
In its ruling delivered by Justice Joseph Ikyegh (presiding), supported by Justice Umaru Abubakar Sadiq and Justice Bayero Abdullahi-Mahmud, the appeal court held that there was substance in the appellant's application adding that the mareva injunction granted by the lower court could cause irreparable damage to the operations of the appellant's businesses.
Justice Ikyegh held that the fear entertained by Access Bank that lifting the order would amount to treating substantive issues at interlocutory stage was unfounded and not based on facts.
The court, however, ordered the oil firm to provide a bank guarantee in the sum of $20 million with a reputable bank in the name of the Chief Registrar of the court.
Backstory…
In 2012, Cardinal Drilling Services Limited applied for and obtained a credit facility ($150 million) from Diamond Bank Plc (now acquired by Access Bank in a quasi-merger) to buy CDS Rigs 101, 201, 202 and 203. The loan was secured by a fixed and floating Debenture over Cardinal's assets (the "Debenture"). The Cardinal Rigs were used to provide drilling services to SEPLAT.
CDS 101 and 201 were used to execute SEPLAT's 2019 work programme and all four (4) Rigs were critical to SEPLAT's future drilling plans and to shareholder returns by way of improved revenues and possible dividends.
Going forward, Cardinal Drilling was unable to service the outstanding part of the loan facility, provoking Access Bank Plc, which absorbed all the assets and liabilities of the old Diamond Bank Plc, to pursue recovery of the loan amount outstanding and accrued interests which is estimated at approx. US$86m.
Access Bank Plc has since gone to court to enforce its rights and it would appear that the entangled relationship between SEPLAT Plc and Cardinal Drilling, suggesting strong ties between both entities makes the separation of the entities a difficult task; and it would be up to the courts to establish same or otherwise.
However, SEPLAT is emphatic that it neither borrowed from Access Bank nor guaranteed any Access Bank loans for Cardinal. A statement signed by SEPLAT's Company Secretary and General Counsel, Mrs. Edith Onwuchekwa, stated: "We understand that Cardinal Drilling has outstanding loan obligations to Access Bank. However, SEPLAT is neither a shareholder in Cardinal Drilling nor has outstanding loan obligations or guarantees to Access Bank and did not at any time make any commitments or guarantees in respect of Cardinal Drilling's loan obligations to Access Bank."
According to some sources, all SEPLAT did and in good faith was to support the discussions between Cardinal Drilling and Access Bank towards the settlement of the debt owing to business relationship. This is what any other responsible corporate entity could have done.
Some tendencies sympathetic to SEPLAT Chairman ABC Orjiako have argued that allegations that SEPLAT Chairman is the promoter of Cardinal Drilling does not hold water either. But they apparently shot themselves in the foot when they concede that Austin Avuru (the immediate CEO of SEPLAT), Orjiako (Seplat's Chairman), and their international partners jointly have about $45 million equity in Cardinal Drilling Services.
Wayward Debtors…
The SEPLAT Plc, Cardinal Drilling Nigeria and Access Bank debt dispute is fundamentally a case study in how banks become the nemesis of borrowers where proper housekeeping had not been done by the borrower and the borrower's corporate governance oversight may have been lax.
Nigerian banks have been inundated with wayward debtors and it would appear that subsisting recovery templates are unable to cope, especially in periods where recessionary stresses or unforeseen events like the COVID-19 pandemic result in disruptions to corporate cash flows.
Posers…
Diamond Bank, a mid-tier rival entity to Access Bank then had struggled since 2016 to bolster its capital following huge loan losses worsened by a weak economy which forced the bank to sell its foreign subsidiaries. U.S. private equity firm Carlyle owned a 17.75 per cent stake in Diamond Bank which it bought for $147 million in 2014 when the bank was trading at 0.6 times book value as against 0.15 times when it began struggling.
At its peak, defunct Diamond bank was an iconic entity for South-Easterners – with good reason. It evoked memories of African Continental Bank (ACB) of yore. That one of the key forces that cavalierly undermined it and quickened its demise is another entity owned by a South-Easterner is simply galling, especially to folks from that zone.
Sources close to Orjiako however disputes this claim, stating he and his associates invested over $30 million in Diamond Bank in 2006 during banking capitalisation. Whether or not this is true remains to be seen.
But what can be deduced from the current controversy of bad debt is that had Diamond Bank been fully repaid the balance $86million loan to Cardinal Drilling Services which it deployed for SEPLAT's benefit, the bank would certainly have survived longer.
In Nigeria, it has become the quirky convention to celebrate 'big men' as successful business men. They source loans with little or no plans of repayment. Untidy governance practices in many banks facilitate these immoral trends.
Worse, often they exploit court processes to subvert repayment of loans. Depositors are often left holding the short end of the stick. Without any clear consequences, impunity walks on four legs.
Going forward, while matter(s) related to the core debt issue under analysis are already before the court and may not be ventilated, some correlated points must of necessity not escape pungent analysis. The matter of unruly debtors enlisting the media or even courts to drown substantive corporate governance issues critical to societal, regulatory growth and risk management are clearly unacceptable.
The challenge of recovery of non-performing loans (NPL's) in Nigerian banks is clearly becoming a weighty matter and of mounting concern both to depositors and the embattled banking sector.
The Access Bank Plc and SEPLAT Plc/Cardinal Drilling Nigeria current debt tango provides a crucial window to query the processes in place for a fair resolution of NPLs in order to improve credit administration and debt recovery practices in Nigeria and safeguard depositors' funds.
SEPLAT's argument, expressed in its press statement, is premised on its position that it has no relationship with Cardinal Drilling Nigeria. But a cursory look at publicly available information and listed entity disclosures, without an attempt to lift the legal corporate veil, reveals some important facts.
Cardinal Drilling indicated on its website the fact that it was mid-wifed by SEPLAT Plc viz: "The above innovative commercial arrangement of SEPLAT mid-wifing CARDINAL DRILLING Nigeria Limited enabled CARDINAL DRILLING Nigeria funding to be realized as Maurel & Prom through CARDINAL DRILLING SAS will contribute 40%."
SEPLAT Plc has consistently disclosed in both its interim and annual reports that Cardinal Drilling is a related party. These facts significantly contradict the substance of SEPLAT's press statement.
Should corporate organisations be permitted to acknowledge without responsibility or hide behind nebulous links with related corporate and individual third parties? This certainly will morph into a major hazard to good corporate governance and undermine accountability.
The question SEPLAT is not answering is who was the beneficiary of the loan? What is increasingly clear from the arrangement, is that Cardinal Drilling was used to take the loan in order to insulate SEPLAT from direct liability even though the ultimate beneficiary of the facility was SEPLAT. There is no disputing the fact that there is a clear connection between the two companies.
To follow a revitalised and forward-facing credit administration process assumes greater bank customer engagement and better pre-approval assessment and monitoring. The new loan framework must of necessity follow a different algorithm. It will be crucial to do pre-lending forensics on the borrowing entity. This could help in shaping the terms of the loans and define the appropriate loan structure.
Going forward and to relax investor nerves, the management of SEPLAT Plc will certainly need to clarify the precise 'related party' relationship between SEPLAT Plc and Cardinal Drilling Nigeria for its investors on both the Nigerian Stock Exchange (NSE) and the London Stock Exchange (LSE);
It will also need to clarify which interested parties are common to both entities and at what levels this begins and stops and propose a corporate governance covenant that creates an arms-length relationship between SEPLAT Plc and Cardinal Drilling Nigeria recusing SEPLAT from transactional obligations involving Cardinal Drilling Nigeria.