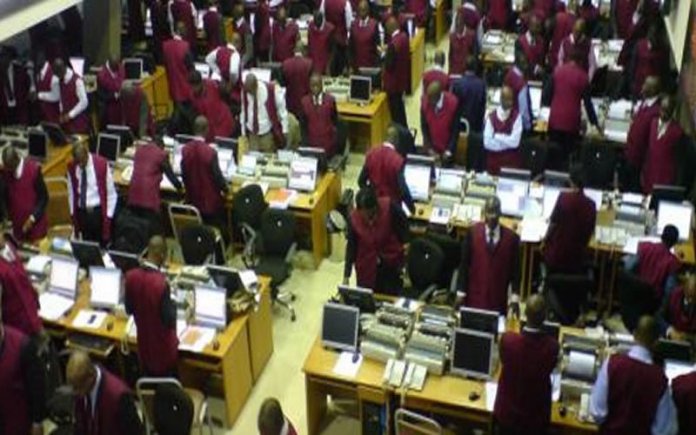 Goddy Egene
The equities market shed N463.7 billion last week as the bullish streak was halted by persistent profit taking. Following the unprecedented growth recorded in the month of November, many investors have been locking in profits. Despite the pockets of profit taking, the market had maintained a positive weekly performance.
However, that positive momentum could not be sustained last week as the Nigerian Stock Exchange (NSE) All-Share Index (ASI) went down by 2.5 per cent to close at 34,250.74. Similarly, market capitalisation shed N463.7 billion to be at N17.902 trillion.
The year-to-date (YTD) growth moderated to 27.6 per cent.
Although the profit taking is expected to continue, analysts remained optimistic, saying the market still offers better investment alternative.
"We expect the profit taking and negative reaction to the unanticipated front-end supply from the Central Bank of Nigeria (CBN) to be short-lived.
"Yields in the fixed income market remain relatively unattractive, and we expect this to remain positive for stocks. However, we advise investors to take positions in only fundamentally justified stocks as the weak macro environment remains a significant headwind for corporate earnings," analysts at Condros Research said.
Meanwhile, investors traded 2.265 billion shares worth N20.990 billion in 23,722 deals last week, compared with 1.675 billion shares valued at N25.425 billion that exchanged hands in 23,650 deals the previous week.
The Financial Services industry closed the most active, leading with 1.884 billion shares valued at N14.933 billion traded in 13,602 deals; thus contributing 83.2 per cent and 71.2 per cent to the total equity turnover volume and value respectively.
The Consumer Goods Industry followed with 116.400 million shares worth N2.817 billion in 3,474 deals, just as the third place was occupied by the Conglomerates Industry, with a turnover of 107.803 million shares worth N231.323 million in 897 deals.
In all, 46 stocks depreciated, higher than the 45 equities recorded the previous week, while 13 equities appreciated, lower than 22 equities recorded the previous week.
Regency Assurance Plc led the price losers with 16.6 per cent, trailed by University Press Plc that shed 14.2 per cent. Neimeth International Pharmaceuticals Plc went down by 12.3, just as Lafarge Africa Plc and Transcorp Hotels Plc lost 10.6 per cent and 10 per cent in that order. Portland Paints & Products Nigeria Plc and Ardova Plc dipped by 9.9 per cent and 9.6 per cent respectively.
Other top price losers included: NPF Microfinance Bank Plc (9.4 per cent); The Initiates Plc (8.7 per cent) and Champion Breweries Plc (8.1 per cent).
On the positive side, FTN Cocoa Processors Plc led the price gainer, soaring by 51.7 per cent, trailed by Union Diagnostic & Clinical Services Plc with 16 per cent.
Okomu Oil Palm Plc appreciated by 10 per cent, just as Livestock Feeds Plc and Unity Bank Plc gained 6.6 per cent and 4.6 per cent in that order. Mutual Benefits Assurance Plc and PZ Cussons Nigeria Plc garnered 4.1 per cent.
Other top price gainers were Oando Plc (2.1 per cent) and Wema Bank Plc (1.4 per cent).
New Tool to Enhance Africa's Trade Opportunities Unveiled
A new trade intelligence tool that enables firms easily explore and compare trade opportunities across Africa has been released ahead of the start of trading under the new African Continental Free Trade Area.
The African Trade Observatory was rolled out by the African Union (AU), the European Union (EU) Commission and the International Trade Centre (ITC) at an AU summit recently.
"Trade information is vital to the promotion of trade in Africa," AU's Commissioner for Trade and Industry, Albert Muchanga, was quoted to have said.
The AfCFTA lowers trade barriers and promotes regional economic integration. Trading under the continent-wide area is set to begin on January 1, 2021.
"Economic Integration is close to the heart of the European Union and will continue to support the African Union towards its endeavour of the African Common Market," European Union Commissioner for International Partnerships Jutta Uripilainen said.
The African Trade Observatory is valuable for empowering the economic operators during the COVID-19 pandemic, ITC Executive Director Pamela Coke-Hamilton said.
"Today, we are putting an entire continent of trade intelligence at the fingertips of African entrepreneurs, especially to support small local firms, women and young people in making the most of new opportunities," he added.
The beta version of the web platform, currently available in French and English, was released during the 13th Extraordinary Session of the Assembly of Heads of State and Government on the AfCFTA.
The Arabic and Portuguese versions would be available in the near future, the statement added.
"Following the release of two publicly available modules (compare and explore), policymakers and Regional Economic Communities will have access to a third monitor module.
"This module will provide a range of real-time indicators on trade flows, utilisation of AfCFTA tariff preferences, tax revenues, clearance time and trade simulations, thereby facilitating the evaluation of the implementation process and impact of the AfCFTA," it added.