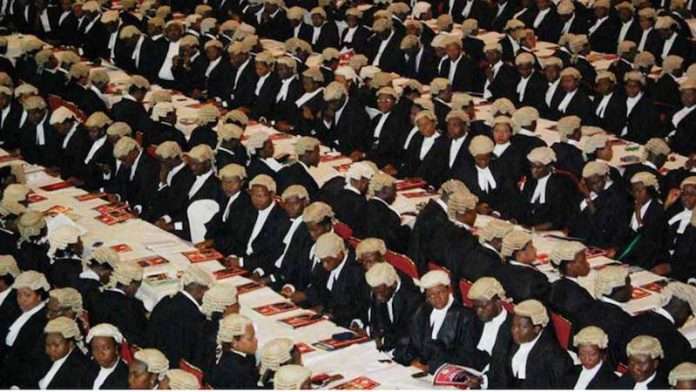 Alex Enumah in Abuja
The Nigerian Bar Association (NBA), Abuja Chapter, has identified factors responsible for the high disregard of human rights in the country by both government and others in Nigeria.
The body in a communique issued at the end of its summit to mark this year's International Human Rights Day, which has a theme: Recover Better, noted that the legal profession, both the Bar and the Bench have failed to do justice to the concept of fundamental rights.
According to the NBA, a lot of judicial officers do not appreciate the gravity of fundamental rights and do not understand the rule of law.
While the NBA blamed the poor salaries some lawyers received for their "low will to participate in human rights cases, it observed on the other hand that senior lawyers do not actively participate or demand for veritable persons to be in the judiciary or even occupy positions in the Association.
"The desecration in the profession has discouraged litigants from fighting for their human rights", it concluded.
The association argued that hunger and malnutrition persisted for lack of a rights-based policy environment that empowered the people to ask questions and hold the government accountable.
On the part of law enforcement agents, the NBA also noted that there was an indisputable relationship between violation of human rights and police recruitment/ training.
While stating that there are inherent discriminatory provisions in the nation's constitution, the body, said, "Women do not have access to justice as violence against women and poverty are still the reality of women in the society."
As part of recommendations, the NBA stressed the need to embed "in our work that human rights encompass women's rights, marginalized people's rights and vulnerable people's rights; human rights is for all and must be upheld".
It also called for a review of the constitution in order to demand for inclusion of a gender sensitive language, and revisiting the indigenity clause.
"The independence and character of persons must be of highest priority when appointing them to be judges. Lawyers should be innovative enough in fashioning out techniques in being the voice for the voiceless and fighting injustice.
"Lawyers should envisage ways of sharing the limitations of the judges to the judges at their conferences. The National Assembly should be engaged in order to make Chapter 2 of the Nigerian Constitution justiciable.
"There should be a synergy between the Bar and the Bench in order to fight human rights violations", the communique read.
The meeting had in attendance over 150 persons and employed the use of both physical and virtual platforms. Participants cut across different sectors, including but not limited to the legal, education, judiciary sector, civil society organizations, media and government ministries.
Speakers for the summit were Prof. Gbolagade Ayoola, a professor of Agricultural Economics; Prof. Joy Ezeilo, a professor of Law and Prof. Femi Odekunle, a professor of Criminology and Social Science.