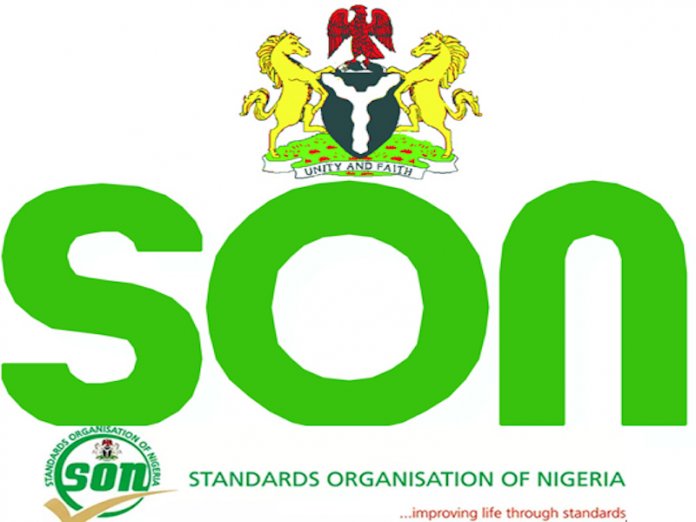 Oluchi Chibuzor writes on the benefits of strengthening the country's national metrological infrastructure
Experts have often attributed the level of economic growth of any country to the amount of metrological infrastructure put in place. Therefore, for Nigeria, through the instrumentality of the Standards Organisation of Nigeria (SON) there has been the imperative of developing, strengthening and upgrading the national metrological infrastructure so as to facilitate trade, promote export, accelerate economic development and protect the environment.
The Director General of SON, Mallam Farouk Salim has been upbeat concerning the agency's preparedness to harness the huge investment in the building of National Metrology Institute (NMI) located at Enugu, Enugu State capital. The SON boss was at the NMI recently to assess the progress of the project.
Actually, apart from developing the NMI project, the agency's other task has been to create awareness to stakeholders and operators on the importance and benefits of metrology services towards economic development and global competitiveness.
Insiders claim that the idea and maxim behind the development of the NMI has remained, "Once Measured, Accepted everywhere."
Apart from driving the national quality infrastructure project, SON also represents Nigeria in African Metrological Services (AFRIMETS) as well as in other continental and global standardisation bodies.
As a matter of fact, Salim has promised to complete the NMI project started in 2015 within next few months for value addition towards economic growth
Investigations showed that with the active support of development partners like United Nations Industrial Development Organisation (UNIDO), SON has made huge investments in developing human capacities in the field of metrology.
Economic analysts believe that the NMI project when fully operational would clearly demonstrate that Nigeria has come of age in industrial development.
With Metrology which is simply defined as the science of weights and measures, fair trade, accreditation and conformity assessment are assured, analysts further claim.
Metrology remains one of the components of Nigeria's national quality infrastructure project needed for industrial growth through improved competitiveness of locally made products. Indeed, members of the Organised Private Sector have often restated that the federal government should provide the infrastructure to support manufacturers such as metrology in order to boost trade and global acceptability of made in Nigeria products.
Indeed, economic globalisation which nations across the world now strive to attain, has its own opportunities, prospects and challenges. National and sub-regional and continental trade appears to be shrinking with the tendency of transforming centralised global market where products and services that meet global standards and quality are surviving while sub-standard and poor quality goods have no market share especially in European Union (EU) markets, American and other advanced climes.
Now, Nigeria's embrace of the African Continental Free Trade Agreement (AfCFTA) which would in turn translate to an African common market, imposes on Nigeria, bigger challenges concerning products quality and standards.
Experts believe that Nigeria stands to gain immensely from global trade if she would harness properly the potentials and opportunities offered by Continental Trade pact.
Locally made products need to be generally accepted everywhere across Africa and beyond. Local manufacturers therefore need to key into certain best practices and industrial processes in order to grow and expand their companies and businesses.
One of the major tools which analysts say should be of essence for business, trade and industrial growth in Nigeria has been metrology.
Indeed, calibration services in metrology are seen as the springboard for global competitiveness and acceptability of products and services.
Producing goods and services that meet global standards for consumers has remained sine qua non as well as imperative for operators and industry players. However, putting in place standard goods and services requires the right quality infrastructure which in turns calls for stupendous and robust public-private partnership.
The public sector avails or provides the infrastructure while private sector players patronise such facilities. This re-shapes and grows the national economy.
Interestingly, the Oxford Advanced Learner's Dictionary, New 8th Edition defines the world ''calibrate'' as simply, "to mark units of measurement on an instrument such as a thermometer so that it can be used for measuring something accurately," while "calibration" refers to "the act of calibrating; the unit of measurement marked on a thermometer or other instrument."
In other ways, calibration services could be deployed to boost trade, investment and growth across the country.
By the way, metrology which is the umbrella of calibration services has been described as the "science of measurement which is applicable to all sectors and aspects of life, be they social, economic, health, environment, manufacturing and so on."
Essentially, the Standards Organisation of Nigeria, a key regulatory agency set up by the federal government with Decree 56, 1971 as amended by the Act No. 14 of 2015, has been vested with the responsibilities to conduct tests and advise all tiers of government and consumers on matters relating to standards and quality of products and services.
Therefore, the agency's mandate and tasks are to ensure compliance to specific products standards, undertake investigations concerning the quality of facilities, materials and products in Nigeria as well as establish quality assurance system including certification of factories, products and laboratories geared towards benefiting all stakeholders and operators.
Insiders at SON maintain that the nation's quest for economic diversification, trade facilitation and business growth could be attained if there is accuracy of measurement of products/services standards for either local or global market.
In collaboration with the United Nations Industrial Development Organisation (UNIDO), research institutes, Universities, Manufacturers Group, Weights and Measures Department, Federal Ministry of Industry, Trade and Investment as well as calibrating institutions, SON has since developed the National Metrology Institute of Nigeria (NMIN), located at Emene Industrial Layout, Enugu, Enugu State.
According to Salim, ''we are developing and upgrading the NMIN to be the best and biggest in the West African sub-region in terms of meeting global standards conformity levels, while all sectors of Nigeria's economy get quality assurance services from the Institute."
Findings showed that the structure is a 19-unit laboratory facility, harbouring 24 laboratory rooms as well as administrative block. Salim disclosed that the NMIN is responsible for the dissemination of measurement standards, provides traceability and accuracy of measurement to industries, laboratories, trade and commerce, aviation, oil and gas, agriculture, health, education, automotive, mining, power and other sectors of the economy.
In fact, the motto of NMIN is ''once measured, accepted everywhere.''
The institute is being prepared to be the chief guardian of National Measurement Standards with the highest measurement reference in Nigeria through traceability to SI units.
SON officials also disclosed that there are over 12 calibration services which the NMIN laboratories are offering.
They included small and big mass with density, torque, acoustic, electrical, time and frequency, hardness, vibration, radiometry, photometry as well as metrology in chemistry.
There are also mobile calibration services to remote areas with state of the art mobile calibration equipment.
Apart from the various capacities and technical components of the laboratories, with these accredited testing and calibration laboratories in place, traceability of measurement locally is assured while at the same time helping the country to conserve hard-earned foreign exchange hitherto paid to other countries' metrology institutes.
As a matter of fact, experts claim that calibration laboratory services enhance consumer protection and safety even as they ensure level playing field, fairness and equity in trade and commerce.
Other measurable benefits of calibration services laboratories include providing confidence-booster to exporters and exports due to reliability of the products; safe environment by providing accuracy in measurements;
And improvement of the health of citizens.
It also includes provision of straight valves to other components of National Quality Infrastructure such as standardisation, accreditation, certification and testing; among others.
Calibration laboratories services therefore provide the vehicle for arriving at global competitiveness, trade facilitation, business industrial and economic growth.
The Director General, SON, has continued to appeal to industry players, public and private sectors operators, individuals and corporate organisations to patronise the agency's calibration services.
He stated that plans are being put in place towards installing mobile calibration laboratories to reach the hinterlands and rural communities across the country even as efforts are being intensified to have adequate trained staff.