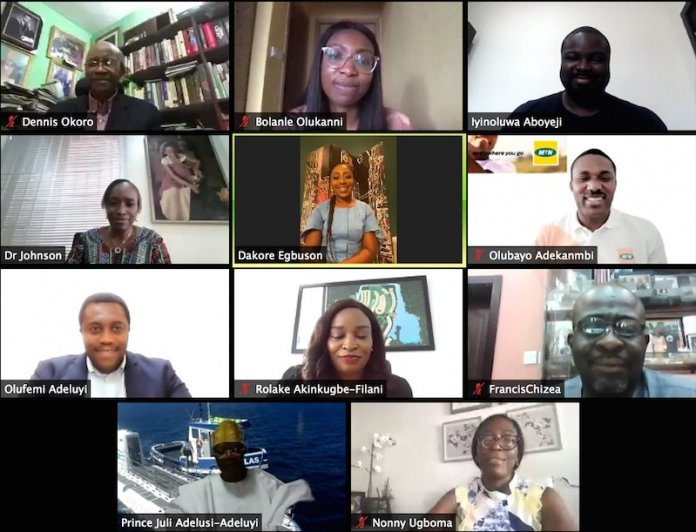 Iyke Bede writes that the MTN Foundation's Science and
Technology Scholarship Scheme and its sister scholarship program, Scholarship Scheme for Blind Students, guided by its rule of meritocracy and legacy, have helped transform the lives of over 3,829 high performing students in public tertiary institutions of learning to the tune of N2.1 billion
Through scholarship grants, the MTN Foundation has transformed the lives of over 3,829 high performing students in public tertiary education in Nigeria. So far, the foundation has invested over N2.1 billion in delivering quality education to Nigerian youths through scholarships.
This year, a virtual award ceremony was held on Thursday, November 12, 2020, for the newly awarded MTN scholars. During the ceremony, two beneficiaries – Komolafe Peter Irewole and Trust Inonse – were selected based on their stellar performances in school, to speak on the scholarship program that helped actualise their dreams of attaining the very best of education.
The MTN Scholarships, which provide grants and other incentives towards boosting students to achieve academic greatness, has indirectly served as a channel of economic relief to many families who might have otherwise found it difficult to provide quality education for their children amid meeting day-to-day demands.
Awarded the MTN scholarship in 2015, 23-year-old Irewole, who is an undergraduate of Geophysics from the Federal University of Technology, Akure (FUTA), remarked how the prize money shaved a huge portion of his parent's financial burden.
The award money also went as far as facilitating the procurement of school materials needed by his younger brother who sat for the Joint Admissions and Matriculation Board (JAMB) exams that same year. More importantly, the resources enabled him to acquire the essential textbooks and other tangibles he needed to advance his grades. Following this acquisition, he experienced a boost in his grade point average (GPA). His GPA skyrocketed from a second-class upper grade to a first class grade.
"Being an MTNF scholar helped me well beyond my finances; it significantly improved my academics and impacted my mind-set positively." An elated Irewole explained the breakthrough in his grades after securing the prize money.
He continued: "Before the scholarship award, my cumulative grade point average (CGPA) was below the first class mark, the requirements of maintaining the annual scholarship award, and the fact that I had access to more personal study materials made me cross over to first class. I eventually graduated as the best student in my class (MST '18)."
This improved academic performance exhibited by Irewole is not an isolated case; it was not peculiar to him. Replicating the same pattern, another MTN scholar in Irewole's class also graduated with a first-class grade. As though a ripple effect, an impressive amount of best graduating students, with all achieving first class grades in his faculty, had also benefited from the scholarship.
"Also worthy of note is that the two first 1st class graduates of my class (MST '18) are MTNF scholars. Also, three out of the six first class graduates in my faculty (SEMS, FUTA '18) are MTNF scholars," Irewole concluded.
Prior to receiving the scholarship, their collective stories of how they struggled to improve their grades, clearly expose the challenges faced by millions of Nigerian undergraduates seeking knowledge in often poorly funded institutions that lacked basic infrastructure.
In a series of unfortunate events, Inonse lost his eyesight following a surgery he underwent at the age of four. Try as the family may to restore it, all efforts turned futile. Innonse would go on to attend primary school at the Pacelli School for the Blind, where he performed commendably.
He then proceeded to Model College, Agbowa, Ikosi. However, the tides turned turbulent, leading to gradual decline in academic performance. On his arrival at Federal Government College, Ijaniki, he faced competition in an environment filled with able-bodied students.
"For three years, my education deteriorated from 2nd position to 5th to 10th, 20th etc., I couldn't cope in that environment and there was an element of that fear when I moved to Federal Government College, Ijaniki. I can remember that I met a student then that told me that he had 4 A's and was still told to repeat the class and all of that contributed to the plethora of fear I had in me. However, I told myself I have to buckle up and give my very best. The result of that determination resulted in finding a place among the top 10 students in the class." Through resilience, he advanced to the University of Lagos to study Mass Communication.
Both Irewole and Innose have moved on to accomplishing greater feats even after school. Currently, Irewole has been retained in his position as a marine geophysicist at Pisces offshore limited while Innose has been employed at Lagos Talks 93.1FM as a writer and reporter. These two examples symbolise the essence of the MTN Scholarships.
The MTN scholarships is an unusual programme aimed at empowering Nigerian students. In addition to providing the scholars with academic and financial resources, the MTN Foundation also believes in providing them with skills necessary to thrive in their separate endeavours.
To that effect, a fireside chat session was conducted highlighting vital issues such as the role of mentorship; insights to building successful careers; the role of artificial intelligence and information technology in today's economy; government's role in positioning Nigerian graduates to compete with their international counterparts and women empowerment.
In attendance were the Honourable Minister of Communications and Digital Economy, represented by the Technical Assistant, Dr. Olufemi Adeluyi; Honourable Minister of Science & Technology represented by the Acting Director-General of the National Space Research and Development Agency, Dr. Francis Chizea; former Minister of Communication Technology, Dr. Omobola Johnson, Chief Commercial Officer, Mixta Africa, Rolake Akinkugbe-Filani, Olubayo Adekanmbi, and Chief Transformation Officer, MTN Nigeria, amongst other notable dignitaries.
Speaking at the award ceremony and workshop for incoming and outgoing awardees, Executive Secretary, MTN Foundation, Nonny Ugboma said: "Providing access to quality education is the first step to a world of opportunity for the youth of our nation. We know it does not stop there. We also need to ensure that they are adequately prepared for the workplace. We hope that this fireside chat will inspire the students to reach for greatness and innovation.
"Furthermore, it is our belief that the employability workshop held earlier will enrich the career path of the graduating students. The MTNF scholarship is more than just funds; it is a commitment to build the capacity of our youth. We wish all our graduating scholars success as they set out to take on the world and congratulate all awardees as the next set of young nation builders in the making."