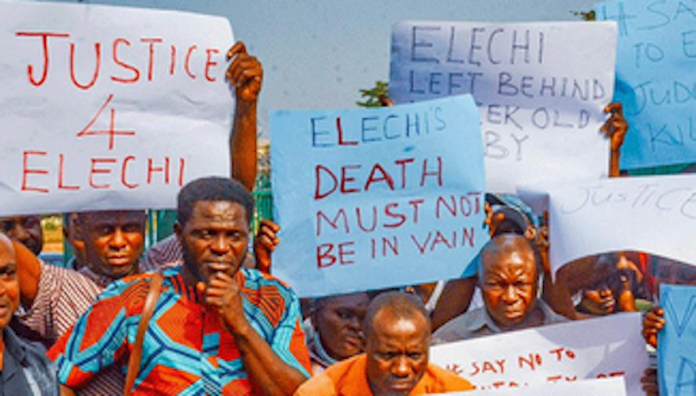 By Olawale Ajimotokan
Newspapers vendors Friday morning protested in the FCT the killing of their colleague, Ifeanyi Elechi, who died on Thursday after he was shot by a security aide attached to the Speaker, House of Representatives, Femi Gbajabiamila.
The protest by the vendors led to non-circulation of newspapers on news stands in the FCT Friday morning by the vendors as there were no newspapers on the newsstands.
The vendors carried placards condemning Elechi's killing and demanded that his killer, who is attached to the Department of State Services (DSS) should be brought to justice.
Elechi died at the National Hospital on Thursday after he was shot in the head by one of Gbajabiamila's security details, around the National Secretariat on Shehu Shagari Road after he and other street vendors selling on the road, milled around the convoy of the speaker, who was passing on the fateful day to demand for money.
Gbajabiamila has already suspended the aide who carried out the killing.
But the Chairman of the Newspapers Vendors Association in FCT, Etim Eteng, said the matter must not be swept under the couch, insisting Elechi's killing was not accidental.
"Witnesses at the scene said it was point-blank shooting by the unidentified security officer and not accidental. We reject any insinuation that it was accidental. We gathered here today to demand justice for Elechi who was killed extra-judicially. Extrajudicial killing means the killing of an individual by a security operative without judicial proceedings and this is what has happened. The vendors association through their legal adviser are demanding justice," Eteng said.
Elechi left behind a wife and a new-born baby to mourn his death.