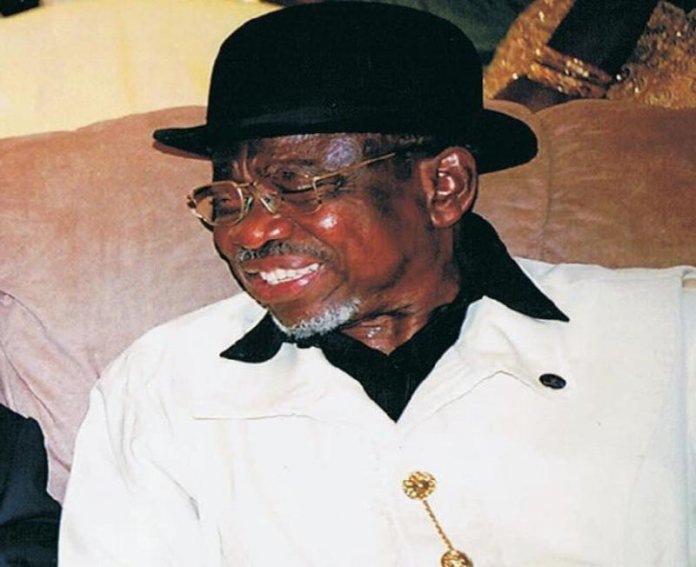 Ojo Maduekwe
The death of my father, Okechukwu Uma Maduekwe, on the 9th of September, 2020, broke me in a way I never imagined possible. Normally, I am not the type of person to cry over the death of someone. It is not that I don't feel sad at the news of death, I do. The thing is, I find it difficult to cry. The genesis of this odd behaviour, I suspect, began around the time of the death of my grandfather, Reverend Uma Ukiwe Maduekwe. I was barely 5-years-old.
I remember being close to my grandfather. Raised in the village, I often visited him at the family compound home in Ndi Awa, Asaga, Ohafia, in Abia State. On each of my visits, he would offer me yam porridge. He loved eating yam. When he died, my mother took me to his lying-in-state. As we stood by his coffin, I watched as she and others cried. I did not understand what was happening. I stared at his lifeless body like a child my age would, indifferent.
Sometimes I wonder what damage seeing my grandfather's dead body at such a tender age may have done to my ability to empathise. Ever since that day, I have never cried over death. Never believed I would cry, not even for a loved one. Until my younger sister called me on the phone on the sad morning of September 9, 2020. On hearing her say, "Brother Ojo daddy is dead", I did not know when I started to cry uncontrollably. I would be numb for days.
You see, my father meant the world to me and numerous others who also called him Daddy. He was a great man in every possible way. He made wealth early in his life. My siblings and I were not born at the time, however, I've heard people say countless times, "Your father was a very wealthy man." As the first child, he was a strong pillar of financial support to his family. Being a firsthand witness to the struggles faced by his parents, he forfeited pursuing higher education and instead chose to work so that he could assist them train his younger ones.
He ensured his siblings got the best education, right up to university level, and were well catered for. His two brothers, my late Uncle and former minister of the Federal Republic of Nigeria, Chief Ojo Maduekwe, and their last born, Dr. Chidia Maduekwe, who is presently the Managing Director / Chief Executive Officer of the Nigerian Film Corporation (NFC), had the privilege of attending university lectures in some of the finest and branded suits tailored in London, to the admiration of both students and lecturers.
Born on the 26th of October, 1931, to the family of Late Reverend Uma Ukiwe Maduekwe and Madam Ulari Ukiwe Maduekwe in Asaga, my father was the first of six children, made up of an equal of three boys and three girls. My father began his early education at the Central School, Elu in Ohafia, Abia State, where his own father was the school's headmaster. There he did his Class 1 – 3 and Standard 1 – 6, as Nigeria's education system was classified at the time.
His father would leave the classroom to become a Reverend at the Presbyterian Church of Nigeria; and my father, to further his education, tried to follow in his father's footsteps to pursue a career in Theology. Young and very driven, my father later changed his mind and instead went to Asaba to study Agriculture. In Asaba, he again felt that hunger for more. The need to support his parents drove him to Lagos, where he enlisted in the Nigeria Police Force.
While in the Police Force, he dedicated his life to the service of the country. However, he remained restless and desired to contribute to the growth and development of Nigeria as a private citizen. He would retire from the Police to join the Insurance industry.
At the start of the Biafra – Nigeria war, he left Lagos to Aba, where he was into rice and cassava farming. As a big farmer, he employed and empowered so many Ohafia men and women. This action helped to reduce food insecurity for many Ohafia families during the war.
At the end of the civil war, he went back to Lagos. In the city of excellence, he began the importation and distribution of educational materials. Regularly, he would travel to the United Kingdom, buy educational books, load them in a chartered commercial plane and fly down to Nigeria. It was through this book importation business he made his wealth.
A man of many parts, he was good at generating business ideas. He ventured into several sectors, such as publishing, transportation, printing, etcetera. Some of his well established businesses included companies like Ulari Line Transport and Ulari Ventures Limited, named after his mother whom he loved so dearly; and MANSON & Company Ltd., a publishing company that was located at 19 Kodesho Street, Ikeja, Lagos.
Some of MANSON's published works include, The Secret of Success, Moral Instruction and Discipline Handbook; Nigeria: 25 Years of Local Government Reforms and Democratization 1976 – 2001; Rebels Against Rebels, a book on the Nigeria civil war authored by foremost journalist of one-time DRUM Magazine, Nelson Ottah, amongst other books.
A leader of thought, passionate educationist, author and publisher, his work on the secret of success and moral instruction was part of his contribution to assist in the waging of war against indiscipline, a social issue which continues to plague Nigeria. He also created a nationwide acclaimed wealth creation newsletter on how to 'Make Money Without Capital'.
My father was not only great, he was a good man. I cannot recollect anytime where he turned down someone in need of his assistance. Even when he did not have, he would agree to assist, with the hope that fortune will smile upon him at the last minute. "Your father was a good man" is a phrase I've come to hear people repeatedly use to describe him.
Indeed, my father was a good man. As someone that has been assigned the role of collating his burial tributes, I have been blessed to read about what he meant to a lot of people; extended family members, village people and strangers alike. A person's status or age never mattered to my father. Everyone that ever got to know him was treated with the respect, kindness, and grace deserving of any human. At my father's table, every human being was welcome.
One of 16 children from six mothers, I grew up in a polygamous home where fairness and unity was at the core of how we lived. We dined and played together, and all had equal opportunity in education. Some of us went to private universities, and others to public universities, depending on where we got admission. School fees were never an issue for my father. This is not to say that our family did not struggle like millions of other Nigerian families.
Life was not always rosy. There were times we delayed resuming school because there was no money to pay our school fees. Or was it the times when after barely managing to pay the fees, there was no extra money for our upkeep. Nevertheless, he made sure we all got the best of education. This was how much invested he was in our individual growth and success.
My father did not play favourite; he ensured there was no discrimination. He taught us to love each other, and to extend this love to strangers, irrespective of their race, tribe and religion. While growing up, our house was a Mecca of some sort. At certain times we had extended family members, village people, in-laws, and even strangers living with us.
He was a generous giver. Everyone who came to him for assistance was attended to. He also contributed greatly to the development of his community, Asaga, through recognised institutions like the Asaga Development Union (ADU), where he was an active member of the Union's Lagos branch right up to the time of his passing.
A great lover of God, he was deeply invested in the development of the Presbyterian Church of Nigeria, in every of the Parishes he worshipped in, such as Ikeja and Ohafor. He offered the Church his love, commitment, care, fatherly advice, contribution and devotion.
For his great passion and contribution to youth development, Okechukwu Uma Maduekwe was appointed Man 'O' War's National Patron for the South East; was a Patron of Friends Forum, an association focused on good friendship and Christian brotherly love; and awarded the Justice of Peace (JP) for his contributions to the development of his community.
A strong and faithful believer in God the Creator, Okechukwu Uma Maduekwe, Patriarch, Father, Grandfather, Husband, Brother, In-Law, Uncle, Mentor and Friend, is survived by 16 children, 14 grandchildren, a brother and a sister, several nieces and nephews.
More than a father to me, Okechukwu Uma Maduekwe, the man who molded me into the person I am today, was a good man. It is painful to lose someone you love, however, days when I think of him and want to cry, knowing that he lived a good and exemplary life, I console myself. Indeed my father was a good man, and it is a privilege being his son.
––Adieu Papa! Rest in God's perfect peace, until we meet in heaven to part no more.